Sometimes when starting a new beginning it pays to know nothing about it otherwise the pitfalls and inexperience are enough to extinguish any enthusiasm.
This is what Anna Axisa and her then fiancé Peter learnt when they took a leap into the unknown.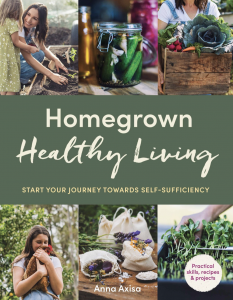 They were pushed to make up their minds by the doctor's news that Anna had multiple sclerosis, a chronic and incurable auto-immune disease which affects her balance. 
As they both believe how we live our lives matters, they decided to adopt a back to basics, simple "village style" form of living. 
In order to begin their new life, they went looking for cheap land, off grid with no infrastructure or services, where they could create a permaculture farm that would make them self-sufficient and unburdened by debt.  
Determined to become what they coined 'homesteaders', they bought a 10-acre hillside on a south facing slope for $100,000 in the Manning Valley at Killabakh on the Mid North coast.
Peter immediately started implementing a series of earthworks, aligned with a holistic, whole-systems he'd read about to create a number of flat, useable, interconnected terraces. These would be used for vegetable growing and rotational pasture grazing for animals he planned to introduce, which allows intervals for vegetation to rest and recover.
The couple got married and asked their wedding guests for fruit trees as wedding gifts. These became their citrus orchard.  Then Anna stumbled across an advertisement for a small run-down compost worm business for sale. The couple drove to Medowie near Newcastle and bought it, even though they knew nothing about worm farming and had to make multiple trips to transport the worm containers back to their hill. 
The modest enterprise they bought in 2014 is today a thriving business they call "The Worm Biz "that now supports their family of four. They harvest, pack and send 10,000 worm boxes a year to customers, each box Anna estimates contains 4000 worms. 
The couple began their married life camping under a tarp, working hard to establish the newly acquired worm farm, excavating and terracing further land on which to set extra worm mounds, shovelling horse manure into a delivery van from neighbouring paddocks and putting in dams. This done they constructed a solid shed, ran lighting from an old car battery, put in a solar shower, dug out toilets and used ice- filled eskies to keep their food fresh.
Anna rejected medication for her illness and decided to use food and a healthy lifestyle as her medicine. To continuously nourish the soil, she puts all the worm castings in the above ground gardens to grow vegetables in what becomes nutrient-dense soil.
Now that Worms Biz is currently supporting 200 metres of worm production in windrows spread across four terraces, the couple have installed portable electric fencing powered by solar to rotational graze their two dairy cows on the terraced paddocks, plus chickens and other small farm animals.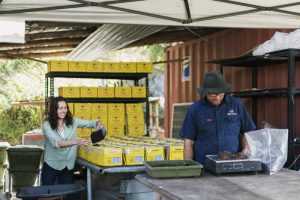 They are also growing organic vegetables in 14 raised garden beds, 4 metres long by 1.5 metres wide and there is extra space on the terraces for medicinal herbs, flowers and other edibles. 
The shed morphed into a simple homestead, a worm packing shed was constructed, a dedicated children's play space for their two daughters Lacey and Elke, a kitchen garden with perennial and seasonal crops and a layered 'chain' of ponds on both sides of the hill as a reticulated watering system. 
Never one to sit still, Anna has introduced honey bee hives, lambs, goats and small pigs. She has also found time to write a book to share their hard -won knowledge. Not bad in nine busy years.
Anna has poured a lot of love and thought into her book. Even though you may not contemplate starting a self-sustaining farm, it is worth reading for it is beautifully illustrated with step-by-step guides in each chapter packed with useful information.
The book is divided into a number of sections each with colour pictures and illustrations. It begins at the homestead, how they designed the hillside, the seasonal rhythms, a typical week of work and the animals they chose. 
From there it moves on to a section called Living by Nature; what is permaculture, water saving methods, dealing with the food waste problem, why composting is important, different ways to compost, starting a worm tray, understanding worm castings as nature's fertiliser, general work farming questions and troubleshooting. 
Anna goes on to extol the power of sowing a seed, seed saving, garden herbs, herbal honey, edible flowers, beetroot and what can't you do with it, growing sunflower microgreens, even growing and grinding Arabica coffee for her coffee-loving husband.
There is a fascinating chapter on food as medicine in which she advises how to fight disease don't feed it, why she recommends cooking slow food, adding nourishing broth soup to your diet, making gee, growing and turning into paste turmeric, garlic and ginger, preserving lemons, harvesting Chia seeds, whipping up Bliss balls and more.
From here she moves on to wild fermentation and says she believes good health starts in the gut. With this in mind she lists a number of foods including how to make sauerkraut, kimchi, lacto-fermented cucumber pickles to name a few, plus how to make homemade lemonade and brew kombucha.
Keeping in mind her farm is totally sustainable, she shows us how to make natural homemade ointments such as aloe vera, moisturisers such as coconut oil, skin softening exfoliants, natural deodorants and castile soap.
To finish off this valuable manual packed with ideas and tips, Anna explains how she keeps positive mental health despite her diagnosis. She does daily meditation, practices mindfulness, chanting, sets for herself positive intentions and does regular body scans and other life enhancing rituals. 
As a result, she continues to feel healthy, but warns living regeneratively is a journey, not a destination. "You'll have successes and failures along the way, but there will always be something new to learn". 
The one thing she still hasn't mastered is how to bake a decent loaf of bread, but she says that is just part of the adventure!
Sherry Stumm
"Homegrown Healthy Living"
Start your journey towards self-sufficiency
By Anna Axisa. 
Contact: homegrownhealth.com.au