Belinda Messer had always wanted to run her own business but, sadly, it wasn't til her mother died and left her a little bit of money, that she was able to create a place 'that my mother would have loved'.
'I thought about it for over 12 months, wanting something Wingham didn't have, and this is what I came up with,' said Belinda.
"This" is "Not A Café," a wonderfully eclectic, musician friendly shop, arts centre, and meeting place for locals. It's filled with crafts, books, CDs, toys, garden items, musical instruments, clothes, carvings, paintings, all manner of creative expressions. And everything in the store is made in the local region. 'I take everything on consignment, which means that I don't have to outlay money up-front, so I can stock the shop and use the money wisely in promoting the business.'
Originally a western suburbs gal, she moved to Wingham from Sydney's northern beaches about 20 years ago. Her first job in Sydney, was a stenographer with the Rural Bank. 'Great experience, as I focused on customer service moving up the ranks over the six years I was there. I've done other things, had staff, been in the rat race, but what I really wanted was my own business that one person could run.'
Creativity
'I'm a creative, and this business is a great outlet for me. I can utilise all the skills I've gained over the years. Belinda taught dance, and also trained the Manly Football Club's Cheer Squad. In those days, it was just a bunch of teenage volunteers who loved football. She had her own dance school for awhile, and always loved music at school, and art, but not the theory. 'I like to draw ,and write poetry, but I got busy with life. Then I got into music, and I joined a local band here briefly.'
She went to the local markets seeking talent, but only once. After that word of mouth took over. 'People walk in here and show me their creativity. The age range goes from eleven to 90. The eleven year old does beautiful intricate bobbin lace work, and the 90 year old makes porcelain dolls, some are even musical and move. She makes the whole lot, the heads, the clothes. She says it's like Christmas when she opens up her kiln.'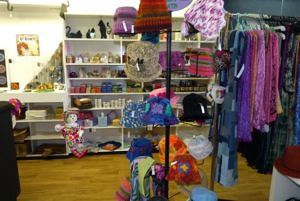 Surprising Talent
And while Belinda has a lot of men making items, it's the women who come up with interesting woodwork. 'The men stick to the more traditional pieces, the people who bring in wooden items a
bit out of left field, tend to be women!' When people first started bringing things to Belinda, She took everything. 'I didn't judge the when they came through the door. I've only been caught by surprise once, and that's a gentleman who do exquisite cross stitch. They all come in with the green shopping bag, and you never know what they're going to pull out. So many of them lack confidence. They don't think their things are good enough, they're afraid of asking too high a price, so I work with them and help build their confidence. Most people make things for pleasure, the sale is an affirmation. That someone else likes their stuff is really important. Mostly people just want something a bit different. I don't like to push them, but it feeds my creativity. I love to make suggestions, perhaps give them ideas to take something to the next level. One of the best parts of my job is being able to ring someone and tell them I sold one of their pieces. I have a girl,15, who's
an excellent photographer
, but still unsure. I sold one of her photos the first day it came into the shop. She was blown away. This is a bit like an antique shop. If you see something and you love it, buy it, or you miss out.
Visitors to the shop from out of town or who live in the area can't believe everything is made locally and is unique.
Local Support
'There are many reasons for the shop, which didn't really become evident till I opened the doors,' said Belinda. ' People are still finding out about us. Most people coming in want to buy something original, they're over buying stuff made in China. And people like to support our region.' Belinda sees the opportunity to, hopefully, start other shops and showcase other areas. 'I won't own the shops, I'm not an empire builder, I'm against greed!' she says. 'For a small licence fee, other people can open up the same concept, and trade under the Not A Café name. And they have to abide by the same rules; no huge mark ups, paying the artisans and artists weekly so they don't have to wait a month, keep the space clear so people on walkers, pushing prams and so on can walk around the shop.'
Musical Sundays
Now that Belinda has moved the shop into the former Anglican Op Shop premises at 53 Isabella street, she has masses of room and a big space at the back. She plans to run some workshops, book readings for kids, and encouraging some of her clients to run a class or two. She has invited local musicians to come and play in the shop giving the musicians and singers it's  an opportunity to promote themselves.
Belinda has been surprised at the number of people who come into the shop and wander around or just want someone to talk to, somewhere to or sitting in front of a poker machine. So, she is turning the rear room into a space with chairs and a sofa and a gold coin donation coffee maker with magazines, where people can wander in and sit down. This sociable area is the domain of Potter the Schnoodle puppy who welcomes visitors. 'I think he'll make a difference in some people's lives who drop in. There are a lot of lonely people in this town.'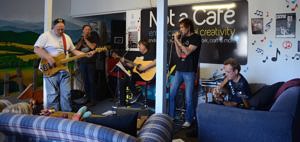 Generosity
Belinda's generosity is reciprocated. 'People help me out in so many ways. One lady volunteers to come in one day a week to run the shop while I sign up new artisans and book in new items. The mural on the back room wall was painted as a gift. Someone made the giant teddy for us. People bring in donations, crafty things, fabric and such.
I had a customer in the other day who wanted to take some photos of a blacksmith working. He was surprised when I told him I could connect him with the 15 years old blacksmith who sells through the shop. It's lovely to see the old trades being handed on,  like the spinners.'
Belinda often passes the names of her artisans on to people who're looking for a something specific, a folk art painter for example. 'I'm happy to do that, even if I'm not selling it. Life isn't all about
making money.' Her faith in human nature has been restored and she's trusting the universe.
'I just love being here. I think there's something special about it. Someone came in looking for a person to do some leadlight, which I didn't have. Half an hour later a woman walked in and said
she did leadlighting, was I interested!
'This is a place my mother would have loved. I often feel she's here with me.'
Not A Café is open Wednesday – Sunday, 10am-4pm
53 Isbaella Street, Wingham
Ph: 0429 964 335 Eml: notacafewingham@gmail.com