SAM NEILL
Text Publishing. Rrp $49.99
I went on a holiday for a week and took Sam Neill along.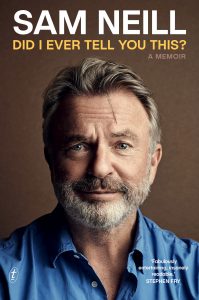 Well, his memoir – Did I Ever Tell You This. But it was just like hanging out with Sam. 
It is not easy to reveal yourself on the page. But here, as you read you can hear his warm voice recounting episodes of his life. Like all of us, his life is rich in episodes of joy, despair, sadness and hilarity. Success and failure. 
And there's lots of personal photos.  
Sam is self-deprecating, charmingly chuffed about some successes, and modest. He's also interesting, irreverent and revealingly honest.
He's a born storyteller. 
Sam yarns about how he fell into acting, life in New Zealand and his landing in Australia to find a second home. There are many adventures, friendships, parties and behind the scenes show biz.
He doesn't spill the beans on his love life or family very much, it's just charming to feel you have Sam all to yourself as you read. You want to share anecdotes too!
Sam's cancer diagnosis is dealt with and the book ends with a phone call telling him he's in remission. We cheer along with him. 
Sam Neill's memoir is a delight to read. And I laughed aloud at some irreverent anecdotes. 
I was sorry when I'd finished sharing Sam's life. 
I look forward to whatever he may choose to write next. 
DM