WHAT THE HELL ARE THEY THINKING!
New South Wales is facing a biodiversity crisis which was significantly aggravated by the bushfires that destroyed much habitat within the mid-north coast area and the State.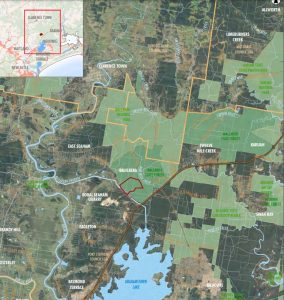 Koalas are threatened with extinction. 
Despite this, NSW Forestry Corporation has continued to log our precious native forests at an industrial scale, even in the area designated to become the Great Koala National Park.
Just when you thought Forestry Corporation behaviour couldn't get any worse, they are now determined to create a massive quarry in the beautiful Wallaroo State Forest, to be known as The Stone Ridge Quarry – but only if the proposal meets Department of Planning approval. Large areas of bushland will be bulldozed to make way for the quarry.
The proposed quarry is at Balickera, not far from the southern end of Bucketts Way.  If approved, the quarry will operate for 30 to 50 years, perhaps longer. They propose to extract 1.5 million tonnes of material every year for the life of the quarry – leaving two massive voids behind. The landscape will be changed forever. They piously tell us:
"Forestry Corporation of NSW has been managing environmental sustainability, tourism and renewable timber production in NSW's State-owned commercial native and plantation State forests for more than a century.  We balance environmental conservation and community recreation with timber production and access for other primary industries such as grazing and beekeeping to ensure our forests sustainably deliver multiple benefits to the community for the long term."  
How on earth you might ask, can this gravel quarry fit with this description?
The public cares about nature. 97% of Australians want to see more actions to conserve biodiversity, and 80% or higher want to see nature restored in cities and towns, even if they don't know the full extent of the biodiversity crisis we face. Our regional economies depend on the protection of the public estate – National Parks and State Forests – to sustain us in so many ways.
 All For Money?
The Project area missed the catastrophic 2019/2020 climate fuelled fires. Forestry Corporation has reported that around 830,000 hectares of native State Forests and 62,000 hectares of State Forest timber plantations across NSW were impacted by fire in some way – which is about half the State Forest estate. Over 2.7 million hectares of national parks (38% of the NSW national park system) burned. Despite this, the NSW Government owned Forestry Corporation will sacrifice Wallaroo State Forest in return for undisclosed royalty payments from the quarry company. And bugger the environment.
There are many reasons why this project is very bad idea. There are significant economic, environmental and social issues against it.
Economic justification for the project is shaky. No independent cost benefit analysis has been carried out that shows the proposal offers a product that the considerable number of new and emerging quarries in both the MidCoast and Port Stephens Council areas can't already provide.  
The economic and environmental value of the Wallaroo State Forest has simply been ignored. It is unacceptable that threatened species habitat will be destroyed.  It is generally accepted that koalas have an iconic place in our natural environment and there is strong community support to protect koala habitat.  Taxpayer funded conservation programs, especially after the 2019/20 fires already amount to millions and millions of dollars. 
Importantly, koala habitat supports many other species of flora and fauna which require protection if they are to survive in the wild.  
The NSW Government has itself said this:
"Koalas in New South Wales face a range of threats, including habitat loss, fragmentation and degradation, climate change, disease, declining genetic diversity, vehicle strike, bushfire, and dog attack. These mounting pressures, exacerbated by the impacts of the Black Summer bushfires, and combined with historic declines, mean that without intervention, koalas could be extinct in New South Wales by 2050.
Taking urgent action, the NSW Government has set an ambitious goal to double koala numbers in New South Wales by 2050." 
This Project will produce all of the above threats to local koalas and other wildlife. It is time that the NSW Government did more than just talk about protecting koalas and other threatened species. 
Stone Ridge quarry will result in a huge number of heavy truck movements on the Pacific Highway between Balickera and Karuah.  Try and get your head around thousands of huge truck movements heading north and south on an already congested road.   
Nature Gone Forever
Quarries are noisy, dusty and potentially polluting. Large quarries like Stone Ridge change the landscape forever. That's why strategic planning that identifies areas where quarries can operate appropriately is so important – but it hasn't happened.
There needs to be recognition that the impacts of climate change are on ongoing and that threatened species and ecological communities will require pre-emptive and flexible management frameworks to allow for appropriate action to cope with the impacts of rising temperatures and climate change. This means that existing, functioning natural environments such as the Wallaroo Sate Forest should be protected for the environmental and other benefits they provide. Such environments are better able to withstand the impacts of climate change than regenerating old sites.  We need the State Government to protect the natural environment that belongs to us for our kids and their kids.
This quarry will have an enormous social impact upon nearby residents. 
Life in the Country Gone Forever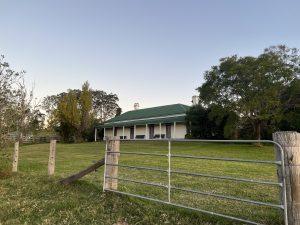 Anna Kerr's family has lived in the historic (1830) Balickera stone homestead for five generations. The homestead is just over 1k from the blasting boundary of the proposed quarry. Cattle graze peacefully on their land which is surrounded by beautiful bushland. Bushland that is a haven for wildlife. She is naturally very concerned about the effect the quarry will have. Concerns such as: 
the devastating loss of natural environment, including essential wildlife corridors and threatened flora and fauna,
the loss of forestry for leisure pursuits and a change to the ambience and character of the rural setting, 
the cumulative impact of the noise and vibration from the blasting on the structural integrity of their heritage listed home, 
the impact on their cattle and their ability to have quiet enjoyment of their property, 
the impacts of the resultant dust and fumes on air and water quality, particularly in view of the emerging evidence of silicosis cases among those living and working in proximity to quarries, and 
vastly increased truck traffic on Italia Road and other roads and associated noise and safety concerns.
I asked Anna what personal impact the quarry is likely to have on herself, her family and her neighbours:
"If allowed to go ahead, the quarry will have a detrimental impact on the health and well-being of all residents and visitors to the area. My family and near neighbours will be particularly impacted as we are the closest neighbours. However, residents all along Italia Road and beyond will also suffer. People choose to live in the country for a reason – they want to escape pollution, traffic and stress. By destroying the natural environment this project will also destroy the quality of life for this rural community."
The Stone Ridge Quarry development has not yet been approved and nor should it. If the locals and forest protectors have any say in it, it won't be.  
John Watts