For more than 100 years the corner shop was an institution for millions of Australians. More than a simple shop, it was the heart of many neighbourhoods.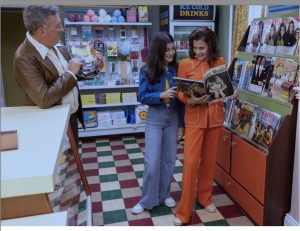 These days you can buy anything with the click of a button, but ask anyone about their childhood corner shop, and they can still describe it in vivid detail – what they bought and how they bought it, the lollies sold,  what the shop looked like, the owners who ran the business.
I remember Humphreys General Store on Barrenjoey Road Mona Vale on Sydney's northern beaches (it became a Mexican Restaurant decades later and is now a lovely restaurant.) The Humphreys became "Uncle Al and Aunty Glad" the dearest and kindest of neighbours for years and years.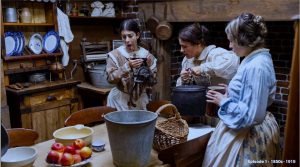 So I was keen to watch  "Back in Time For The Corner Shop" with Annabel Crabb on hand to help Carol and Peter Ferrone and their children navigate the highs and lows of being shopkeepers through 150 years of Australian History starting in the 1850s.
It charts the social economic changes that shape how we shop, live and connect as a community. We see how the role of the corner shop – otherwise known as the General Store, milk bar or mixed business – has shifted and its status as a community hub has changed.
The fashion and décor styles through each era are a delight. (Oh my gosh, did I really wear stiffened petticoats!)
But it occurred to me, that perhaps it should be mandatory for housing estates to include a corner store within the community estate. A place where the shopkeeper knows the kids in the neighbourhood who can ride their bikes or run to the corner store to get something mum forgot. Or spend pocket money. (Do kids still get pocket money and a Savings Account? Or do they just use a credit card or online bank?)
There's a great local General Store in Tinonee. If they don't stock it, they'll get it. There's newspapers and magazines, wine and lemonade, home-baked sponge cakes made by 80 something Deena, take away coffee and frozen goods and shelves full of stuff you forgot to get at the supermarket. They sell petrol and it used to be the Post Office. (Till a post office opened in the old butcher's shop but then closed so it's now a drive to Wingham PO.) 
It's a place lonely locals tend to hang out and chat, catch up on the news, and know someone will notice  "Haven't seen Fred the last few days. . . better check up on him."
Sometimes the good old times weren't so bad after all.
(ABC TV Tuesdays 8pm)
DM