NIMBYISM, DEVELOPERS, PROTESTERS, COUNCIL OR THE LAW. . . WHO DECIDES IF CONCERNS ARE LEGIT?
If you have a gripe where do you turn?
Letters to the Editor, ranting on radio, bending a friend's ear, getting the run-around at Council, calling a lawyer or the law . . . where do you go with a local issue or concern?
The New Year has seen a myriad of issues come to the fore. Some the result of weather/climate change, crook roads, rising prices, troublesome neighbours, shortages or yet another edict from Council. Some are legit whinges, some deadly serious, and others fall in the middle where either side has a case.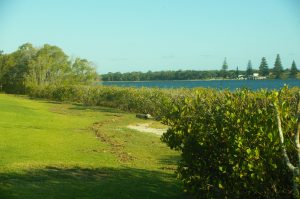 On bigger issues frustration grows when there's no perceived action or solution  from Council, the Ombudsman, the Office of Local Government, ICAC, the Police or your local solicitor or lawyer. 
The last resort seems to be The Press. Get your complaint out there and get on the telly news, the front page or the local radio bulletin.  Whingeing on social media might make you feel better when friends commiserate, but actually it achieves little.
I do feel frustrated, helpless, angry and sad at many issues raised with me. Sure, there are some nutters out there, or totally unreasonable people, but most people who complain feel they have legitimate cause. But it's frequently hard to know where and to whom to go to and also afford in order to complain or seek a solution. 
Understanding both sides can be tricky or else you realise both have a cause to complain. And sometimes, we each may align our sympathy for one side or t'other. 
For example. Some residents at Harrington are livid that Council has sent machinery and men to cut ("prune") down to eye level the mangroves along the river in front of Harrington Waters Estate. Not all of the mangroves, it seems only those blocking the view to the water in front of certain luxury homes.
Council's Director of Livable Communities (who created these titles??) Paul de Szell responded to our query that…
"MidCoast Council is undertaking pruning of mangroves along a strip of the foreshore at Harrington Waters, as outlined in an adopted plan of management for the area.The plan allows for the pruning of the mangroves every two to three years along a section of the constructed foreshore next to the Manning River.
It has been four years since we have undertaken this pruning (last pruning – October 2018). The current pruning is being undertaken by contractors employed by Council and is expected to take approximately three days.
The plan of management has been in place since 2004 and was initiated to stabilise the bank and to maintain views of the river and, by doing so, eliminate unauthorised damage or removal of the mangroves.
The pruning is also being undertaken in accordance with a permit issued by NSW DPI- Fisheries. . ."
It was this last comment that had some locals cranky. 
One wrote to me. . . . MidCoast Council have allocated the funding to pay for these few rich people including a wealthy retired politician to have all of the highly protected mangroves cut down so that they can have their views. For the rest of us it's a $220,000 or $110,000 individual fine.
This approved work is paid for by @midcoastcouncil and is agreed to by the Department of Primary Industries. After a phone call to council this morning we are told that it's an agreement between the developer of the Harrington Waters Estate and the Council.
With all of the terrible roads and broken infrastructure in this area surely these funds could be better spent on helping the community instead of a few rich people who want to maintain their view. Not to even mention all the environmental impacts this has on the fish and wildlife nurseries that rely on these protected trees to breed and maintain our fish stocks for the thousands of fishers who live in and visit this area."
Well, I have to agree about the importance of the mangroves… they are vital.
I asked some locals and received mixed responses.
'Well if I could afford a mansion on the river I'd probably be cranky if my view was obliterated."
'The development should never have been approved in the first place. Developers with money inevitably get their way."
And this pragmatic one "The mangroves are important. So it's better that they get pruned and continue to function otherwise they would all be mysteriously poisoned and gone forever."
A lot of problems arise from lack of information, communication and sheer transparency.
There's a quiet treelined street in Taree of older style homes, some locals believe are heritage listed with old fashioned gardens which might not be everyone's cup of tea. But into this serene and friendly street a house has suddenly been sold in the middle to become a private medical radiation treatment facility. This is needed no doubt. But in the middle of a suburban street where the locals don't want a business building and the nightmare of parking? It is in the hospital vicinity but surely. . . and why weren't we told,  they cry.
 The deliberate smothering of plans might be a business ploy but it's uphill to object when the place has been sold before anyone knew of the plans.
Some people have found that a rubbish dump, a view, a quarry, or a sudden development obliterates their neighbouring trees and land without any awareness of these events. 
It's all very murky and it's rare the locals win against the bigger companies and those with fistfuls of dollars.
Meanwhile in Gloucester's backyard John Watts reports . . . .
Most complaints about roads received by MidCoast Council relate to the failure of the Council to undertake roadwork, but controversy is brewing about a plan by Midcoast Council to actually carry out roadwork in a usually sleepy farmland area adjacent to a horseshoe bend of the Manning River at Bootawa. 
Moores Road runs from Bootawa Road all the way down to a quiet reach of the Manning River. However, as is the case in many areas of NSW, for part of its length the road is simply a mark on the map, or what is usually referred to as a 'paper road'.
What has upset a number of the Moores Road residents is that the Council has received $522,000 in government funding to turn this paper road into a properly formed road to allow better public access to the river. 
On 2 December 2022 the owners of four properties on Moores Road wrote a detailed letter of complaint to the Council giving many reasons why they objected to the Council proposal. On 16 December the Council wrote a letter in response.
On 3 January Council provided me with further detailed comment in response to a number of specific questions.
One issue raised by the residents was whether the unformed (paper) part of the road is actually a public road under Council management and suggested that many of them were unaware that it was a public road. 
Whether it is a public road is simply a legal issue and Council has engaged a surveyor to undertake a full and detailed survey to prepare a plan of the road alignment which will be provided to all residents before any work is carried out. 
Robert Scott on behalf of the Council commented:
'It is important to note that we are not creating anything new by doing the proposed work. The existing road reserve permits public access to the river. Any of the property owners would have been clearly able to see that there was a public road reserve through their property when they initially purchased it.'
Perhaps any resident who was unaware of the existence of the road should have a chat to their solicitor or conveyancer who acted on the purchase of their property.
Whilst it is true that no new road reserve is going to be created, to suggest that the Council is not creating something new when a completely new formed road is going to be constructed is a statement that could well be open to some debate.
It appears that at least one of the local residents has on occasions improperly attempted to prevent members of the public accessing the river via the road reserve, which is obviously a recipe for conflict, a conflict which might be avoided if the road was properly formed.
Other issues raised by the Moores Road residents relate to such things as toilet facilities, garbage disposal, campfires, water safety and disabled access. In response the Council has advised that there is no proposal to permit camping near the river and that no further amenities or facilities are going to be provided. 
It does seem that these issues are no different in kind to any area where the public might have access, but the work will almost certainly result in a greater chance of poor behaviour with increased visitation. 
It is clear that these are genuine issues and that their impact should be properly considered before the proposal is allowed to proceed.
The residents have also suggested that there will be adverse environmental impacts on wildlife and in particular on the Manning River Helmeted Turtle, Platypus, Fish, Water Birds and Koalas, although they have not at this stage provided any expert evidence about such impacts. Whilst the nature of such impacts might not be different than at present, an increase in the numbers of visitors may increase the environmental risks.
 The Council has indicated that it will be looking at the actual issues associated with the road's construction and that no clearing is required. Mr Scott commented:
'By and large the majority of users (of public areas) do not generate these issues…'
And:
'The main issue for (the Council) is the public access that is presently being restricted both deliberately and inadvertently…'
And:
'We have over 190km of coastline and considerably greater length of rivers and creeks and our programs encourage sensitive, appropriate and considerate use of them rather than exclusion and restriction.'
At the suggestion of one of the residents objecting to this proposal I contacted Jennifer Grainger from the Manning River Turtle Group for her take on the proposal, and she commented that there will be issues relating to garbage disposal, toilet facilities, wildlife protection, methods of fishing and safety for those accessing the river and that these all need to be considered, but added:
'On a positive, 'if' the area is safe then personally I like to see people getting out on our rivers and appreciating or learning to appreciate nature and how to protect aquatic habitat.'
It is unclear at the present exactly what environmental studies will be carried out by the Council before the work is allowed to proceed. The area is within an area of high koala population and greater road use will obviously increase the risk of koala road strikes and stress on the local koala population. Three koala deaths are known to have occurred on gravel roads in the Bootawa area in the last few months.
There are other issues involved with the road work including the fact that some residents have built structures such as fences on the road reserve and that the existing formed roadway does not follow the road reserve in some places. These obviously need to be resolved. The road reserve is likely to need some realignment, although some residents of Moores Road seem staunchly opposed to any such realignment.
It seems that the main community mover behind the proposal to construct the road is a group calling itself the Bootawa Community Action Group. Their spokesperson is Dr John Harris whom I contacted for comment. Dr Harris has lived in Bootawa for 22 years and he is a former Principal Research Scientist who led NSW Fisheries' freshwater research group. He is now an Adjunct Associate Professor at the Centre for Ecosystem Science at the University of NSW.
Dr Harris indicated that for some time he has been keen to see better public access to the Manning River, and particular river access from Moores Rd.  He pointed out that there is only really one public access point between Gloucester and Wingham. He said that over the years many access points had been sold to adjacent owners by the government but welcomed the fact that in recent times government policy had changed in favour of not permitting such sales.
He and his group obtained over 300 signatures on a petition supporting this proposal.
I asked him about the suggestions that building a road would cause the risk of some anti-social behaviour and he agreed that there was some risk, but that it was not a sufficient one to prevent public access, however any such issues would need to be properly managed by Council.
I asked him whether he agreed that there might be some risks in relation to wildlife such as koalas, turtles and platypus. He responded that as a scientist with some expertise in the area he was confident that any environmental study would find the risks to be minimal.
Whilst public access to the Manning River is obviously very important, it is not the only issue, and environmental and social impacts are also important. It seems clear that at the present time the environmental impacts of the roadway construction are largely unknown and a full assessment looking in detail at all impacts, particularly on koalas, turtles and platypus, should be undertaken before any decision is made to proceed. 
JDWatts
Meanwhile the forest protestors against logging in the Bulga Forest hang in there. (See story by MP Sue Higginson on P8)
DM