Karen Gilbert and her husband Ian bought 100 beautiful acres outside Tinonee in 2018 planning to earn a living off the land. 
MidCoast Council turned their dream into a nightmare.
Explains Karen, "We started with beef cattle but in 2019 the drought forced us to sell most of the herd as we could not afford to feed them. We then discovered YouCamp. 
This was a new concept set up for farmers. It was an incentive to earn additional income off unused land where you allow people to camp in tents or caravans on your property. It was like the AirBnB for campers. 
We did really well in our first 12 months. People loved it and our little campsite surrounded by the creek grew from 2 to 10 firepits. We named our campsite The Meadow at Bluebell Hill. 
In 2020 YouCamp got bought out by Hipcamp and bookings increased. In our first year of running The Meadow we earned a Hipcamp Award for Best Off Grid Campsite in NSW. We came 3rd place! 
Last year 2021 we won 2nd Place (out of 1500 campsites in NSW). We welcomed over 5000 visitors who came in swags, tents, RVs, caravans and converted buses. Everyone was self-sufficient as we had no amenities. 
People would come and go and we never received a single complaint. It was proving a really popular business and we were the biggest and best Hipcamp in the MidCoast Council jurisdiction. At the last count there are over 150 Hipcamps within the MCC boundary.
In January 2021 a MCC compliance officer came knocking. Apparently the MCC knew about Hipcamps operating but they did not approve. The compliance officer told us to get a DA or shut up shop. When I argued there were hundreds operating locally, he replied that the same fate would apply to all Hipcamps and AirBnB's in this area.
In early March 2021 we attended a DAP meeting with staff from MCC Environment, Water/Waste, Roads. We told them we were not providing any amenities. It was just a 5-acre grassy meadow where people brought their own water and dealt with their own waste – this is known as Primitive/Off Grid camping. What part of that needed a DA? There was no development!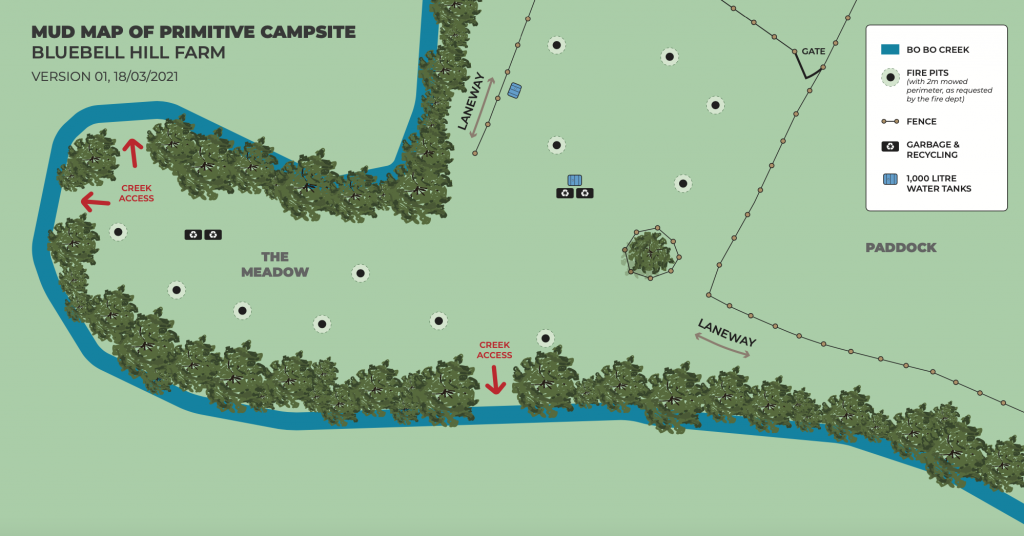 Council told us in the circumstances we wouldn't have to do much more as we had covered most of what was needed but could we do a Statement of Environmental Effects, get a bush fire report done and a site map showing entry/exit etc. They were positive about it all. Said it would be approved. They supported our initiative. We came away feeling relieved.
Over the next 8 months, I spent thousands on a Bush Fire Assessment, a Town Planner to help me with the DA and an engineer to draw up a site map. We also invested $20,000 on regrading and gravelling the main laneway to The Meadow so it could cope with heavy traffic.  We submitted all the paperwork and looked forward to the approval. 
Then in October 2021 things changed. All of a sudden, a Flood Engineer got involved. He had not been there at the DAP meeting, had never been out to see us and had never been mentioned to us. He wrote a letter which stated in his opinion we couldn't have camping in The Meadow in case of flash flooding and people getting trapped or washed away.  
We immediately responded that this was a scenario that would/could never happen and arranged another meeting at Council. We went through everything again. We told the Council Reps that during wet weather or when we observed the creek rising, we closed the campsite and stopped taking bookings. We never allowed people out to The Meadow when it was heavy rainfall as we didn't want them to destroy our beautiful lawns or to get bogged. Also there was a gate which we closed to stop people going out the back. No-one would be out there without us knowing. We lived on site. We had everything under control and during the 1 in 100 year flood in March 2021, we were closed well before the flood happened, so no-one was on site to get washed away! 
Our point was this…wet weather always meant the campsite was closed. There was no danger to anyone. But the Flood Engineer's response was the same – that flash flooding could occur in the middle of the night and wash people away! We replied that we actively followed the BOM, local SES reports and NSW weather alerts. We kept ourselves informed and were aware of rises in the creek as we had livestock down by the river flat so we needed to know if the cattle had to be moved. We were not in the practice of allowing people out to the campsite if the rains were persistent. We would ask people to leave if the ground started to get waterlogged or we would simply cancel their bookings in advance. Since we started we had never had campers onsite in extreme weather conditions. It was in our interests to keep everyone safe.
In the meantime, I started checking on other local campsites by rivers and creeks and found Bretti Reserve, Camp Cobark, Dawsons Caravan Park, Knorrit Flat (all MCC approved) plus dozens of Hipcamps advertising that they were located beside creeks and rivers. All were happily running their campsites even though flooding was an obvious high risk. In the case of Bretti Reserve and Dawsons River campers had to be evacuated. 
I felt like we were being made an example of and that the council flood engineer (who had admitted he was brand new to the job, and had contacted us in his first week) had something to prove. He told us if we moved everything above 30mAHD (right up on the hill) we could be approved. I replied we had just spent $20K on a laneway to The Meadow and had no money to build another laneway up the hill plus being on a hill, noise would carry over the valley, there were no trees up there for shade, it was always windy and people liked camping down near the creek.
So the endless back and forth of emails began. He would not budge. We experienced 3 floods from 2021 to 2022 and not once was anyone out the back in the campsite. Not once did anyone get stuck out there. Not once did any caravans or tents get washed away. It was bloody ridiculous and everyone I spoke to agreed with us. And what really got to me was that this flood guy "expert" never ever set foot on the farm, never saw it, never came out here to talk it through with us, never even spoke to us in person.
In June 2022 I received an email from Council saying we now needed an escape laneway which would have to be inspected by another engineer to check its soil type/gradient/traffic suitability/blah blah blah. 
This was the final straw. We figured we were never going to get approval. Despite the fact that MCC repeatedly said they supported Agritourism and proudly boasted that they were looking at ways to support farmers doing it tough. MCC were clearly playing the long game in the hope we would concede. They were coming up with more and more brick walls. 
We had spent all our money (the same amount that we had earnt from Hipcamp over 3 years was spent on the laneway and the DA). So we made a decision. We would close. 
MCC has destroyed one of the best Hipcamps in their area. We had over 300 5-star reviews, a 5 Star Google Rating and actively promoted local businesses in Wingham, Tinonee and Taree. We were asked to host campers for the Wingham Acoustic Festival and by MCC themselves to host Blaze Aid (oh the irony!) We hosted 3 weddings, had farm day visits in school holidays and were a favourite destination of local aged care groups and disability groups such as Valley Industries. 
Now No DA Required
And to top it all off NSW Government have finally woken up. From Dec 22, Primary Industry owners with over 15 hectares of land can become Hipcamp Hosts without a DA. Hipcamp are currently working in conjunction with the NSW Government to promote Agritourism. Sadly, too late for us. 
What hurts the most is that MCC would have known this change was coming. They could have told us. They could have given us a break! They just didn't care.
We have sold to a farmer who will run cattle on the glorious property we so loved and cared for. 
We will move far away from the rule of MidCoast Council and consider our options."
Karen Gilbert 
formerly of Bluebell Hill Farm, Burrell Creek