Following my last article regarding the positive impacts of trees on our seemingly increasing hot summers this one is designed to give an insight into a few specific species that I perceive as performing well in our area. 
I've shortlisted these due to their ability to provide a dense canopy that not only actively supports biodiversity (especially for the recovering local wildlife in the recent fires), but species that generally lower temperatures across urban environments. 
I often recall McDougall Street in Kirribilli Sydney that shows how fantastic trees can be. (It was recently featured on Better Homes and Gardens if you caught it. The street is famous for the tunnel of blue when the trees flower in the warmer months!) The Jacaranda trees were planted before air conditioning was invented. In those days (as I'm sure many still remember) street trees were planted to cool the houses and cars parked on the street. People didn't worry about leaves dropping on the concrete because they knew without these trees they would melt in summer.
Today however, there isn't really a thought given to an avenue of trees in new housing developments. Either the streets are so narrow that there is no room for shade trees; or space is prioritised for larger house block sizes. Consequently, the roads, roofs and concrete driveways heat up during summer and never cool down. The days get hotter as summer drags on.
Nevertheless, whether it be in a front yard or the back there's always a spot for a tree and shade can still be achieved by using the right species in the right situation. So, here's a few ideas for some of those situations…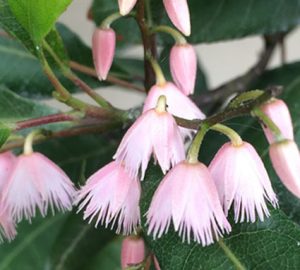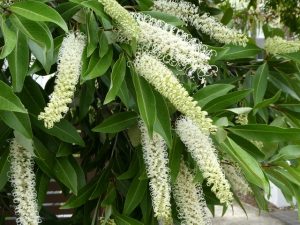 When people come into the nursery and ask for a little tree to sit under on a summer day, they are very shocked after one of the first things that I suggest is a Gum tree. 
Plant breeders have made this possible by developing dwarf varieties with all the benefits of a large gum tree (including fast growth and shade) without turning into forest giants.
For a small gum with show-stopping colour, grafted red flowering gums such as C. ficifolia 'Dwarf Orange' (Orange flowers) and 'Summer Red' (red flowers) are garden-friendly at just 3-6m high and 3m wide. They flower in summer.
Moving away from gums, the blueberry ash (Elaeocarpus reticulatus) is one of the best fast-growing garden trees as it is evergreen, narrow and quick off the mark. This prettily named tree comes from the rainforest and does indeed have blue coloured berries. They'll never take over the blueberry market, but as far as birds are concerned, they're delicious. The blueberries follow the tree's dainty white or pink flowers, which have fringed petals. This tree is an ideal choice for a tall screen planting in sun or shade. When closely planted they'll grow about 3m wide and can eventually reach 10m-15m high. The pink-flowered form is called 'Luscious'.
Also, from the rainforest is the Ivory Curl tree (Buckinghamia celsissima), a dense tree with glossy leaves complimented by beautiful cascades of cream-white flowers from summer to autumn. It grows in naturally moist areas and so if planted in an area similar it can get up to a whopping 25m. However, if planted locally and out in the open where rainfall is much lower than that of its rainforest environment heights average around 6-8m.
For a smaller flowering tree, select a tall shrub that can be trained into a tree shape. Tall grevilleas such as 'Moonlight' (white flowers) 'Sandra Gordon' (yellow) and 'Honey Gem' (golden orange) can be grown as small slender trees. Simply select a plant with a single stem and remove the lower growing branches as the tree grows. These varieties may reach 3m-8m high and 2m-5m wide. Closely planted they provide privacy and dappled shade. The birds and insects will love these nectar-rich flowers adding to the delight of having a tree in your garden.
For a denser but equally fast-growing tree or screen, native frangipani (Hymenosporum flavum) is a great shrubby tree 6-8m high and 5-6m wide. For a shade tree, select a specimen with a single trunk and remove lower growing branches as the tree grows. As well as shiny green leaves, native frangipanis have clusters of creamy yellow flowers with a heavy fragrance. This tree can grow in sun or shade but produces its best growth with a little shelter from hot afternoon sun, good soil and regular water.
Where there's plenty of room for a spreading tree, the lemon-scented myrtle (Backhousia citriodora) offers shade and shelter along with fragrant, lemon-scented leaves. It grows to around 8m high and 4m wide in gardens and, in summer, is laden with clusters of white flowers. As this is a subtropical rainforest tree from the east coast of Queensland, it needs a little frost protection when young and benefits from regular watering until it is well established.
These are just a few species for thought but as always if you're looking for more ideas, inspiration or even want to plant one of these for shade where you live; pop on into Wingham Nursey where we're always happy to help you choose what might be the best choice for your space.
Caitlin Sawyer
Wingham Nursery
02 65534 570