Hello! My name is Ellie. Some of you may know me from my plant-based recipe blog and Instagram account, Elsa's Wholesome Life. I published my first book in 2017 and I am very excited to be back with even more delicious vegan recipes, inspired by the incredible cuisines from countries I have visited in my travels.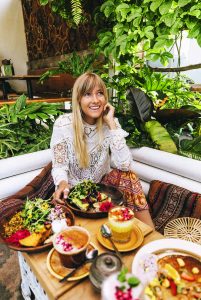 But first, a little bit about myself! I grew up in Lennox Head, a small Australian beachside town that is close to beautiful forests and lush farmland. Growing up in this special part of the world really gave me an appreciation for a healthy and active lifestyle and I developed an interest in wholesome food from an early age. I became passionate about cooking and holistic health, and this lead me to study in this field at university. I am now proud to say that I am a qualified dietitian and nutritionist. 
Along the way, I started my blog because I wanted to share my experience and teach others how to live a wholesome life, too. There is a lot of noise in the nutrition area these days and my aim has always been to provide clear information about a plant-based diet, as well as simple, well-balanced vegan meals. Aside from cooking classes overseas, everything I have learned in the kitchen has been completely self-taught, and I love creating delicious recipes that I know people will easily be able to make at home. 
Alongside food and wellness, my other big passion is travel! Earlier this year, my husband and I moved back to Australia after living in Bali. We absolutely loved living overseas. Not only did it bring us many new experiences, allow us to make new friends and challenge us, it also helped us appreciate our home back in Australia. Living immersed in another culture gave me a greater respect for different ways of living, allowing me to be more open-minded about alternative food beliefs. I also learned a lot about different ingredients and cuisines along the way. 
We lived in Bali for just over two years and used our home as a base from which to travel the world. Since writing my first cookbook, we have visited more than 20 countries across South East Asia, the Middle East, Europe, the South Pacific and North America. I am incredibly grateful to have been able to see and experience so many places already. Travelling teaches you many new lessons and life skills. Of course, with my passion for cooking, I was excited to try out new ingredients and take inspiration from local dishes that I could come home and 'vegan-ise'. 
One thing that I often do when visiting a new country is book into a cooking class. It's a wonderful way to meet locals, tour markets, discover new ingredients and learn how to cook some local dishes. It's also usually a great laugh! I love hearing a local explain each ingredient and the correct way to prepare it, as well as talking about their culture and traditions – you really do learn so much! 
Of course, following a plant-based diet can be pretty difficult when travelling and it was one of the biggest challenges for me, but I did learn to be more patient, respectful and accepting of other cultures and lifestyles. There were defi nitely times along the way where my diet wasn't the most wholesome due to the plant-based options being so limited, and this was diffi cult. On the other hand, I was very pleased to see how plant-based eating is gaining popularity around the world. You may be surprised to learn that Indonesia (mainly Bali) and Mexico (Tulum) have some of the best vegan food I have ever eaten! 
The cooking classes I took in various countries were some of my favourite travel experiences. In Vietnam I learned about the diff erent aromatic herbs and spices used in their cuisine, and visited the local farms by bicycle to pick organic greens and herbs. I really enjoyed wandering through the markets in South Korea and learning about the traditional Chinese medicines used there. It was incredible to experience the mix of smells from the herbs, fermenting vegetables and seafood. In Mexico I was inspired by the freshness of the ingredients and the wholesomeness and fl avour of the dishes. Finally, living in Indonesia I learned so much, including how to cook with tempeh and jackfruit. These have become two of my favourite ingredients and I now incorporate them into recipes from other cuisines. 
After so many amazing foodie experiences overseas, I have been bursting to share what I have learned with you! This book features recipes that are inspired by the places I have visited, including Indonesia, India, Vietnam, Thailand, Mexico, the United States, Greece, Italy, Turkey, Portugal and the Middle East. You'll fi nd loads of vegan takes on well-loved classics, such as pad Thai, moussaka, caesar salad and even fried eggs! There are wholesome brekkies, satisfying meals for any time of day and mouth-watering sweets, as well as smoothies, shakes and other nourishing drinks. As with all of my food, these recipes are packed full of vegetables, fruits and herbs, alongside plenty of whole grains, legumes, nuts, seeds and healthy oils. 
I have also included a section on plant-based nutrition (see page 13), which looks at key nutrients and how to ensure you are getting enough of them, as well as a glossary of my favourite ingredients (see page 20) where I talk about some of the ingredients I have discovered in my travels that have now become pantry staples for me. 
I hope you enjoy cooking the recipes in The Global Vegan as much as I enjoyed creating them. I am so excited for you to get into the kitchen to try them out – and hopefully feel like you are travelling along with me to some of these beautiful and exotic countries!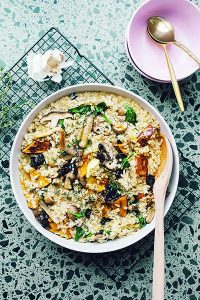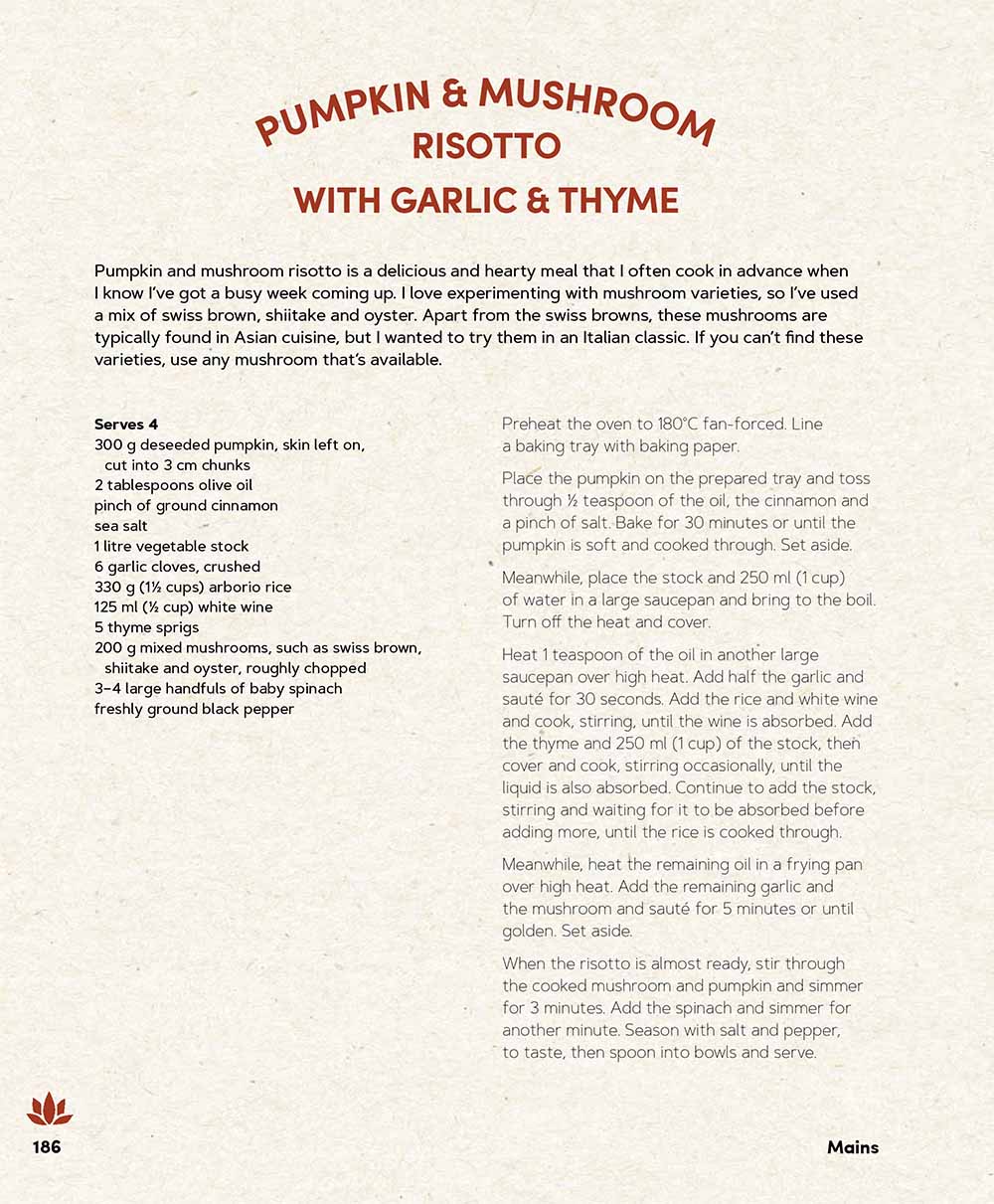 x Ellie
Published by Plum, RRP $34.99,
Photography by Ellie Bullen