Vale: William Raymond Richardson (Bill) 17 April 1942 – 11 July 2019
Tallwoods Village pioneer and developer Bill Richardson passed away on July 11, 2019 after a short period in hospital. Richardson was a well known character, thought leader and "influencer" in the mid-coast community.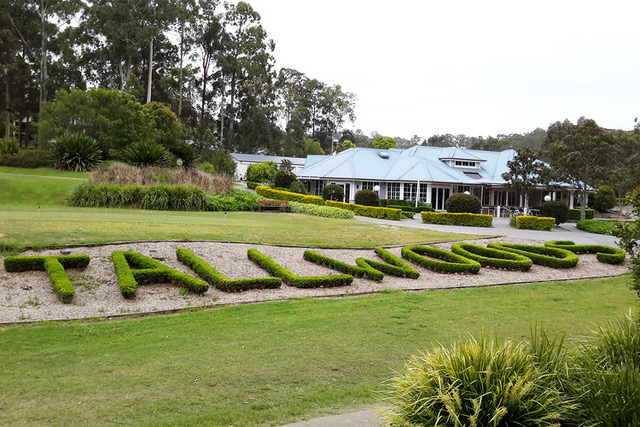 During his memorial service Bill was described by friends and family as "larger than life", an "unstoppable force", gregarious, someone who "collected friends as he went along", as an intelligent, loyal, and honourable man of great integrity.
Perhaps most famous for his Paradise Marina lunches, Bill was also known for his interest in golf, his contribution to many design achievements, and his involvement in community campaigns.
The young Bill Richardson left Guildford High School to become an apprentice at the Clyde Refinery in Sydney. The fitter and machinist studied mechanical engineering at night, and also worked at a petrol station to help makes end meet. With typical energy and drive Bill finished his time and became a salesman for an abrasives company, thrilled to have his first company car.
When Bill and Bev married they first lived in a unit above a dry-cleaners in Strathfield that was owned by a fellow member of Cumberland Golf Club. Bill had gotten the golf bug early in life, and played both junior and senior pennants for Cumberland Golf Club.
When Bill became a sales rep for Monier Pipes they moved to Dubbo. The new job saw him travelling extensively around NSW. With these expanding horizons Bill saw that his future was in real estate, and after completing the three year training program in a year by correspondence, he started Richardsons Real Estate. Over the next 30 years Richardson's became the largest real estate firm in Dubbo, focused on commercial real estate, but with an associated building group that developed residential land as well as shopping centres in Dubbo, Orange and Mudgee.
Combining his business and his passion for golf, the next project was to build 11 new golf holes on land adjoining Dubbo Golf Course along with a housing development of some 800 lots, all with golf course views and/or access. Bill then gave the new holes to Dubbo Golf Club and continued to release new sections of the "Grangewood" development on the 50 acres of land he had purchased.
During his time in Dubbo Bill was also involved in establishing the tea tree industry in Australia.
In 1996 Richardson came to Hallidays Point to work with partners on the Tallwoods Golf Course development. He designed the innovative 18 hole course, inspired by courses he had seen on his travels around the country and around the world (particularly the UK & US). He also designed and built his dream home, "B&B's on Grangewood".
Bill's daughter Kate Richardson, SC, said that her father was unstoppable, larger than life, gregarious, and very generous. She spoke of his donations to many projects, such as his work through Rotary in building a school in Papua New Guinea, and funding an important piece of equipment for one of his heart specialists, his support of cancer care and school access for the disadvantaged. Kate also highlighted his involvement in the design of an electric wheelchair that won awards on the ABC TV show The Inventors, and also the Canadian "Bill Grieve Memorial" award for innovation for the disabled.
Bill had lived with his heart condition for 25 years, but he never complained or spoke of any discomfort. Rather he praised his medicos and the technology they brought to his treatment, and soon added these people to his ever-growing network of friends.
Mid-Coast residents will know Bill most recently for his passionate involvement in the community resistance against the DA for 200 manufactured homes to be built at 303 Blackhead Road in Hallidays Point.
Bill spent hist last couple of weeks in hospital touching base with many connections and friends. The IC unit at Norwest was a constant stream of visitors, telephone calls, and family members. There were lots of tears and equal amounts of laughter. Kate said that Bill cried a lot that last week, but that the tears were of release and contentment. Bill said that "saying goodbye to everyone this week has made me really happy. Knowing that they will remember me well is a really nice thing to know. I've had a long and happy life. I've got four great kids, and I've been married to the love of my life – what more could I ask for?"
Bill is survived by his wife Bev, children Michael, Geoffrey, Kate and Stephen, their many grandchildren, and his sister Pat.
We thank Bill for his activism, his warmth and straight talking. In one of his last emails in response to the news the Council GM was proposing to make changes to the executive structure of MCC by reducing the number of Director positions from 5 to 3, Bill's reply was –
"The report gives no valid reasons for change, other than to make the GM 'all powerful' and to provide a method of "shackling" anyone lower down the pecking order."
Straight shooting, honest and a very decent man, Bill will be missed by all.