Pinch of Nom by Kate Allinson and Kay Featherstone is published by Bluebird, RRP$39.99 and is available in all good bookstores.
This is a good winter warmer dish that combines the gentle heat of Cuban spices with tender beef, which you can cook in the oven, or using a pressure or slow cooker. Serve with rice or pasta for a hearty evening meal. Using wine stock pots adds a special flavour while keeping the calorie count low.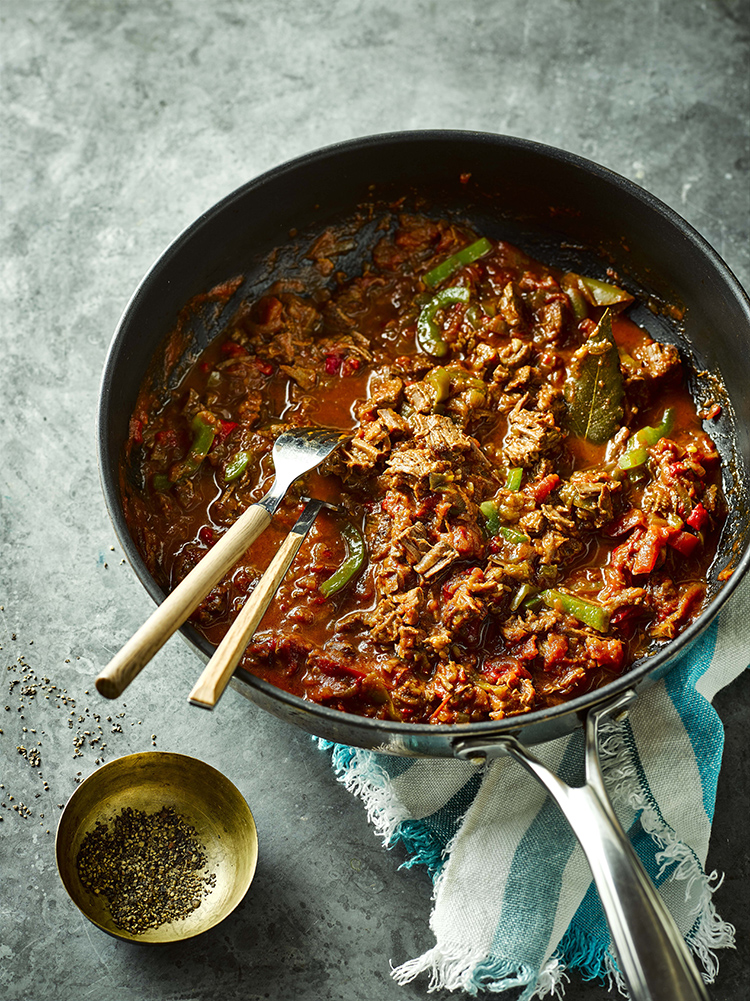 Serves 4
500g piece of stewing beef (all visible fat removed)
Sea salt and freshly ground black pepper
Low-calorie cooking spray
2 onions, sliced
240ml beef stock (2 beef stock cubes dissolved in 240ml boiling water)
1 x 400g tin chopped tomatoes
2 green peppers, deseeded and cut into strips
2 red peppers, deseeded and cut into strips
4 garlic cloves, crushed
2 tbsp tomato puree
1 tsp ground cumin
1 tsp dried oregano
½ tsp ground turmeric
2 bay leaves
1 tbsp fresh coriander, chopped
1 red or white wine stock pot
1 tbsp white wine vinegar
Cooked rice, to serve (optional)
Cooking time: 2 – 2 ½ hours (If You Use A Slow Cooker allow 6-8 hours.)
Season the meat well with salt and pepper.
Spray a large frying pan with low-calorie cooking spray. Brown the meat over a high heat then set aside.
Add a little more low-calorie cooking spray to the pan, then sauté the onions for 3–4 minutes until they start to soften.
Add the remaining ingredients to the pan with the browned meat and onions.
Bring to the boil then reduce the heat and simmer for 1½–2 hours or until the meat is tender. (You can also cover the pan and cook in the oven for 2–2½ hours at 160°/fan 140°C/gas mark 3, but make sure your pan is ovenproof.)
Pull the meat apart with two forks – it should shred easily, if the sauce is a little thin you can remove the lid to reduce the liquid.
Serve on a bed pf rice or whatever you fancy.