(particularly Les Miserables.)
Congratulations to Director Gayle Cameron on her production of Les Miserables at the Taree Entertainment Centre. Here she modestly reflects on her great contribution to entertainment in our area. 
Irving Berlin had it right when he wrote the smash hit "There's No Business Like Show Business" for Annie Get Your Gun in 1946.  This adage certainly still holds true today.
As a child I have so many cherished memories of performing and entertaining; of ballet classes, concerts, eisteddfods and recitals which then as a teenager, morphed into professional "show business" work.
In the sixties and early seventies, there was not a steady income stream for dancers so I grabbed at engagements when I could- classical ballet tours, Music Hall, Theatre Restaurant, Melodrama, Variety Shows and even Go-Go dancing in a nightclub.
Upon moving to the Manning after returning from England, I became involved with Taree Arts Council as a performer, choreographer and director. I had the pleasure of being a cast member in the original Les Miserables in 1995, directed by the late Mike Collins.
It's been a joy to be direct this new revised production of Les Mis at the MEC in 2018. This is the first time in over two decades the rights to stage the show have been released to selected non-professional companies.
Les Miserables attracted top talent from all over the Mid North Coast area. A strong combination of experienced and new faces bring excitement and freshness to the production.
As a director of many Taree Arts Council's productions, I revel in the opportunity to give people in this region the chance to dare and have a go, to find their talents, to spread their wings and horizons and sometimes even, to find their "home" in theatre.
Local theatre is a wonderful training ground and leveler of people.  Because of the complexity of skills required, particularly in musical theatre, it enriches the lives of those who participate, whether it be on stage, backstage or in the audience. People from all walks of life, ages and life experiences are welcome. Theatre has a special power to bring us together in so many ways, teaching lifelong skills.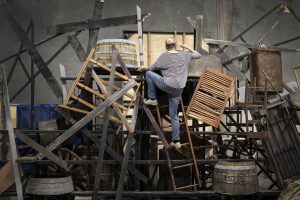 Participants discover that joy comes not only in applause, but also in reaching, learning, making mistakes and accepting that second best is not good enough. All this sounds very serious and daunting.  Yes, theatre is hard work but most of all, participation is fun and fulfilling and a great way to meet friends.
Non-professional local theatre certainly builds community pride and cohesion. In Taree and Port Macquarie we are very lucky to have state of the art, well equipped and comfortable theatres so patrons do not have to travel to Sydney to see great live theatre. It is available here at a fraction of the admission cost in the capitals. 
I hope the classic blockbuster, Les Miserables, encourages more people to experience the world of theatre and be amazed by the fabulous talent in our area. 
I have the best job in the world as director of Les Miserables.  This remarkable musical has been playing around the globe for a record breaking 34 years. You could see a star of the future who came from the stage of the Manning Entertainment Centre in this production of Les Mis. 
Gayle Cameron.
(And we all thank you, Gayle, for your inspiration and dedication to theatre in our area.  Ed. )