MidCoast Council will be spending $100 million dollars on our roads over the next four years.
However, almost $88 million of that pool will be spent on only 8 roads.
Those roads are:
| | |
| --- | --- |
| Road | Expenditure |
| The Lakes Way | $22 M |
| Old Bar Road | $15 M |
| Avalon Road (Krambach) | $10.4 M |
| Gloucester Road | $ 9.7 M |
| Markwell Back Rd and Manning Hill Road, Markwell | $ 9.1 M |
| Stroud Hill Road | $ 8.8 M |
| Wingham Road | $ 7.6 M |
| Thunderbolts way | $ 4.9 M |
| Total | $87.5 M |
In two travelling Council roadshows across the council region over the past 12 months, by former GM Glen Handford and, subsequently, Acting GM Steve Embry, we were told that our roads had been assessed on a scale of from 1 to 5 where one (1)  was very good and five (5) was very poor.
They also told us that we had a backlog of $180 Million in sealed roads that were in either Poor or Very Poor condition.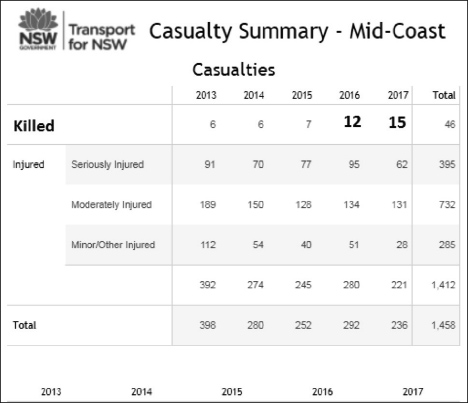 They didn't tell us key details, such as how they developed this scale. Was a suite of safety factors included in the determination of the scale, or was it just developed on the condition of the road surface? Nor did they tell us which roads would have priority and why.
So, how many of the roads in the $100 million dollar spend are actually in the Poor to Very Poor category?
Shocking Statistics
Two years into the amalgamated MidCoast Council, and we now top the NSW State list, an unenviable list…… that of road fatalities. In 2017, 15 people lost their lives in road crashes in the MidCoast Council (MCC) region. MidCoast Council now ranks alongside Lake Macquarie for the greatest number killed, by Local Government Area in NSW. If you make a mistake on a MidCoast road, the odds are you may not survive.
NSW Centre for Road Safety data summary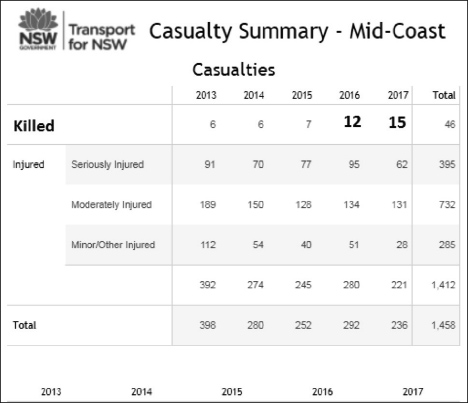 The deaths on country roads are four times that of metropolitan roads. The most at-risk group is men aged 30-59 years, which account for the majority of road fatalities on country roads. On average, over 70 per cent of the lives lost on country roads are locals and country residents. The outcome of this is significant trauma, affecting local country communities and families.
Deadliest Roads
Ratepayers intuitively knew what the problem was, when they identified roads and bridges as the number one priority for MCC to address.  However, what they probably didn't realise was that MCC has the deadliest roads in New South Wales.
The State Government has matched a $50M Council loan to create a $100M roads program. This is no gift. It is to be paid back by MCC ratepayers in the future. This is your money.  Are you convinced it is going to be used wisely, resulting in the works being delivered efficiently and effectively to improve the road network into the near future?
We are told proudly by our Council staff that this $100M will solve the maintenance backlog (potholes etc). Clearly, we need to address more than just the 'maintenance backlog', given the shocking statistics for deaths on our roads. While road maintenance issues and road safely are not mutually exclusive, clearly the issue of road safety design should mean safe roads AND pot-holes properly filled!
With the $100s of millions of roadworks to be undertaken by MidCoast Council over the next few years, what strategies are in place to directly address the issue of enhanced road safety within our region?  What targets have been set for reducing the shocking road toll?
Road Stewardship
Our farmers have always known the concept of land stewardship; the recognition of our collective responsibility to retain the quality and abundance of our land, water and biodiversity, and to manage this natural capital in such a way that conserves its value for future generations. Our roads should be no different. Road networks are the lifeblood of our regional communities. Roads are crucial to the way of life in regional Australia. They link people and goods to regional and economic centres. These road links are killing too many of us. For decades our local roads have been in a funding drought and now finally….. a generational opportunity is before us to improve the road network and make it safer for the future.
BUT, will these works include elements of an upgrade (like widening) so as to maximize long-term value and address future needs, and ultimately make our roads safer, not just less rough?
Without an explicit focus on safety, the shocking road toll is bound to rise.
So, demand a focus on safe roads from your elected representatives.