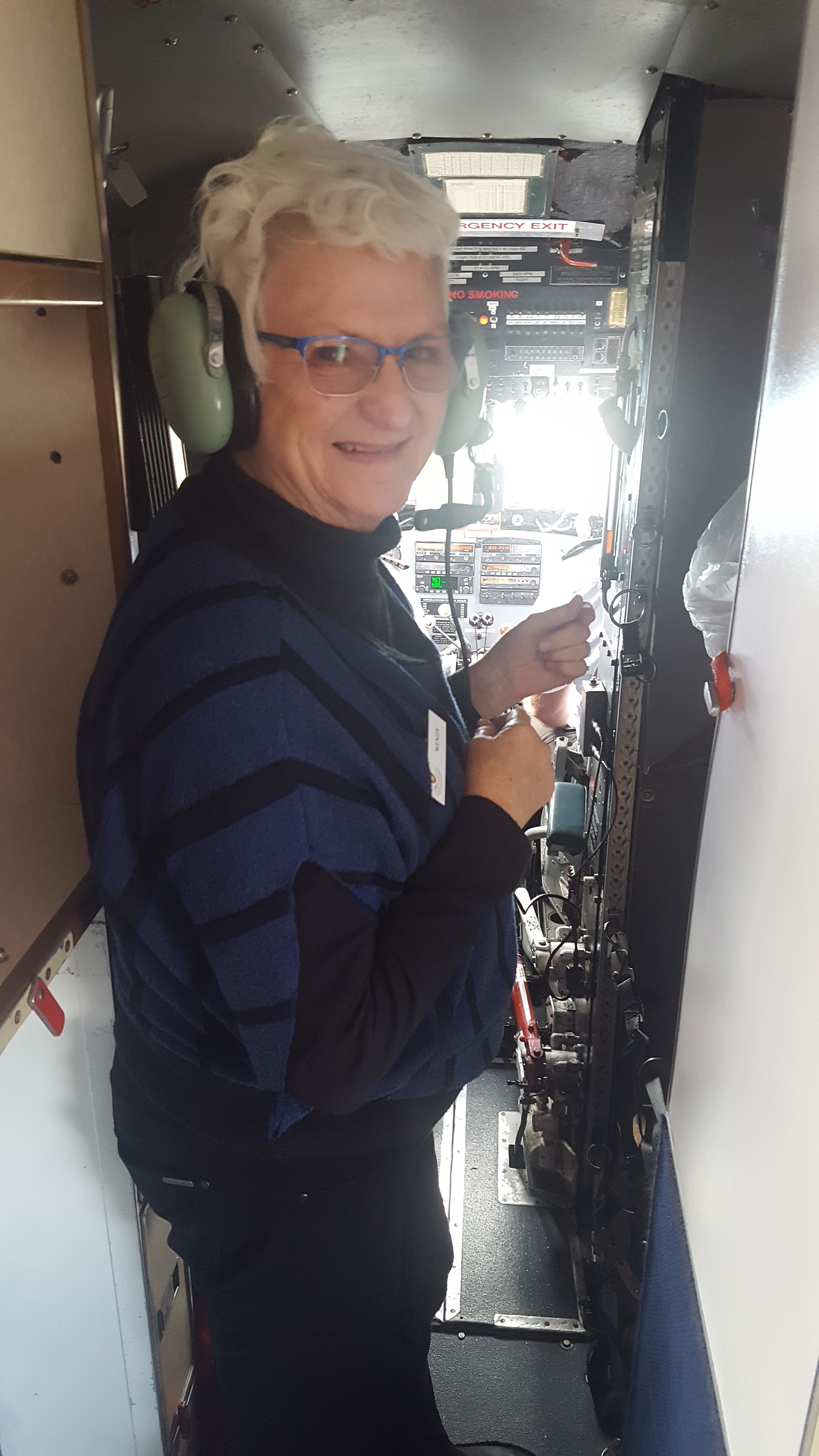 'Spend 11 days exploring the South Island of New Zealand by vintage DC3 aircraft,' was an invitation dropped in my mailbox from Bill Peach Journeys'.
How to refuse?
My dad always referred to these World War II aircraft as 'Gooney Birds,' and talked about them in such glowing terms, so how could I resist the opportunity to travel from Tuncurry to spend 11 days travelling about the South Island in such an iconic aeroplane?
When I was working as a film researcher in ABC television at Gore Hill, Sydney in 1972, one of the programs to which I was assigned was 'This Day Tonight', compered by (the late) Bill Peach.
Bill left TDT in 1974 and followed his dream of producing and presenting documentaries such as 'Peach's Australia', 'Peach's Australian Cities', 'Peach's Explorers' and 'Peach on the Mississippi', which led to the creation of his travel agency, 'Bill Peach Journeys' in 1984.
In 1991, I had the privilege of cataloguing all these programs as part of a research/preservation project, the aim of which was to locate and identify the physical items of film and videotape material in ABC Archives on the subject of Aboriginal culture and history. Many of Bill's programs fell into this category, and it was this work which led to my interest in exploring some of the fascinating regions of Australia depicted in the documentaries I was seeing on the small screen of my 'Steenbeck' film editing machine.
I finally met Bill Peach at an ABC reunion lunch in 2005, after which he agreed to launch a book I had co-authored with Tim Bowden, called 'Aunty's Jubilee – 50 Years of ABC Television' in 2006.
We Set Off
First stop was Christchurch, where we were booked into a new hotel in the city centre, directly opposite the Anglican Cathedral, which had been damaged so badly during the violent earthquake in February, 2011. The New Zealand government, led by Jacinta Ardern, has recently committed $NZ10 million towards its restoration.
We enjoyed a delicious meal with fellow travellers and met, for the first time, our journey director, Amanda Highfield, who was to be our esteemed leader, psychologist, nurse, den-mother and salon-keeper for our journey.
Meeting The Bird
We first clapped eyes on our DC-3 on the tarmac outside the New Zealand Flying Doctor Service terminal at Christchurch airport. There she was, our very own transport for 11 days, our Air Chathams' Gooney Bird with a crew of three, captain – Keith Mitchell, first officer – Daryl Pettit and our flight attendant – Violet Gordon-Glassford, resplendent in their smart uniforms.
Our beautiful Douglas DC-3 arrived in New Zealand in April 1945 from the USA, and was assigned to a RNZAF Squadron, after which she was gainfully employed dropping supplies in remote outposts of the War. The name 'Lucille' was bestowed upon her in 2002, and she had a long and varied career as a crop duster, courier, freighter and in other ventures.  She was sold to Chathams Pacific Air in 2009, after which she was completely rebuilt, and received the new name of Powhaitere.
Our flight attendant, Violet, arranged for music of the 'Fifties and Sixties' to be fed into the cabin, which greatly enhanced the atmosphere, as well as our excitement. We all sang along wholeheartedly.
As there were only ten of us on our journey, (all Australians except for Myrtle McKenzie, who lives in Christchurch), we were encouraged to spread out so that we each had a window and, on this first day, an unrestricted view of the Canterbury Plains, as we flew to Ashburton, home of a fascinating Aviation Museum, used as a training airfield for pilots during World War II. Here  you can still see the 'tie-down rings' on the tarmac, which secured the planes against the fierce prevailing winds of the Canterbury Plains. The Museum has some magnificent aircraft on display, from bi-planes to a RNZAF Skyhawk and a Macchi Jet, once used by the famous RAAF aerobatic team, 'The Roulettes', based at Sale in Victoria.
Dunedin
Later, our DC-3 headed for Dunedin, a city renowned for late Victorian architecture, which sprang up after the gold rush of the 1860's. Once again, our journey was accompanied by the tape of Music of the 'Fifties & Sixties', to which we sang along, a little less enthusiastically.
We enjoyed a lavish lunch at Larnach Castle, which has been magnificently restored by master craftsmen during the last 30 years, enabling us to wallow in the Scottish heritage of the region, visiting the Olverston Historic Home, en route to our hotel.
Southernmost Point
After breakfast, we re-boarded our aircraft to Invercargill where, for the first time, we encountered rain and enjoyed a town tour with a local-well-informed guide, before heading down to Bluff, the southernmost point on the South Island. Here we enjoyed a magnificent lunch of famous Bluff oysters at a restaurant overlooking the Foveaux Strait, and the famous signpost indicating that we were a long way from anywhere.
In Invercargill we swung by the 'E. Hayes & Sons' Museum, which houses a replica of Burt Munro's famous Indian Scout motorbike. This motorbike claimed the World Record Class S-A 1000cc in Utah, USA, and was featured in the Hollywood feature film, 'The Fastest Indian,' starring Anthony Hopkins as Burt Munro of Invercargill, who spent years rebuilding a 1920 Indian motorcycle, which helped him set the land-speed record at Utah's Bonneville Salt Flats in 1967.
Aviation History
The next day we inspected the Croydon Aviation Heritage Centre at Gore, which is another spectacular museum preserving New Zealand's rich aviation history, and houses the largest collection of de Havilland aircraft in the 'southern hemisphere'. I was particularly enamoured of the stories of pioneer aviators 'those magnificent men (and women) in their flying machines', before we boarded our very own historic aircraft once again, and set course for Queenstown. Along the way, I was invited into the cockpit just as we caught our first breathtaking sight of Lake Wakatipu and the Remarkables, the spectacular mountain range.
I first visited Queenstown in 1966 when I hired a Holden Station Wagon with a group of five other Australian girls, all of us having worked as waitresses at the Chateau Tongariro, in the North Island, and who left on a journey of exploration when the ski season ended in October.
Queenstown in 2018 is unrecognisable since I was there in 1980. It's a bustling place, still beautiful, but crowded with tourists of all nationalities. I feared that the historic Eichardts Hotel might have been demolished but, happily, it still nestles on the shores of Lake Wakatipu, presiding over unfettered views of the mountains and the lake.
Our accommodation at the Millthorpe Resort, on the outskirts of town, en route to Arrowtown, past Coronet Peak, was described as 'picturesque', which was an understatement. It is also vast, and a haven for golfers.
We took a luxury cruise on the mega-beautiful Lake Wakatipu for a delicious lunch on board, washed down with local sparkling wine, and caught a glimpse of the vintage steamship, TSS Earnslaw, which has been chugging around the Lake since 1912. We also drew close to Walter Peak sheep station at the end of the Lake, which could have been the location for TV series, 'The Top of the Lake.'
A coach journey was on the agenda for the following day, through the Mount Aspiring National Park to Haast on the West Coast. The road skirts the beautiful Lake Wanaka, now a source of hydro-electricity as its waters are dammed, and we pulled into the Warbirds and Wheels Museum at Wanaka, which houses beautifully restored aircraft from World War I until the present day. We were also treated to a collection of classic cars and motorcycles, my favourite being a French classic de Dion Bouton, 1903, a 2-seater automobile, all gleaming chrome and leather.
An interlude of a jet-boat ride on the isolated Haast River, in an extraordinary glacial valley, was enjoyed during our bus ride to Franz Josef, thanks to the river level having dropped considerably overnight, which made for more thrills than anticipated.
Grand Traverse
Our journey north took us along the coastline, the road meandering past isolated dairy farms, over many one-way bridges. Our driver pointed out an elaborate stone house that a farmer had built on a ridge, which, he said, just happened to be on a fault line! I later learned that the Alpine Fault Line runs along the West Coast, from Milford Sound to Hokitika, then inland to where it enters Cook Strait, north of Nelson.
At the mini-town of Franz-Josef, named for the receding glacier nearby, we awoke to clear blue skies, for our 'Grand Traverse', an air safari over the highest mountain in New Zealand, Aoraki, the Cloud Piercer/Mount Cook and its neighbour, Mt Tasman and the surrounding Franz Josef and Fox glaciers.  For me, few experiences can compare to our flight in a small aeroplane, encompassing two World Heritage National Parks, for almost one hour, in idyllic weather.
Gold Rush Town
Hokitika was a bustling town in the mid-1860's, after gold was discovered nearby, and fortune-seekers flocked there from all over the world.
Maoris were in the region before the arrival of the Europeans in their quest to find pournamu, also known as jade or New Zealand greenstone, critical to their hunting tools, like fish-hooks and knives and found only on the West Coast of the South Island.
Back in our Gooney Bird, we flew over the Nelson Lakes National Park and the Wairau Valleys and, on landing, we visited Sir Peter Jackson's Omaka Aviation Heritage Centre, which houses a collection of WWI aircraft and artefacts, including some rare memorabilia.
Wine Country
We enjoyed a tour of the vineyards of the Marlborough region, sampling the juice of the grape in particularly amiable surroundings. The prosperous vineyards, all planted in recent times, have transformed the region from cattle stations and dairy farms into a thriving wine industry.
In the afternoon it was a short flight to Hanmer Springs  in our trusty DC-3. (Accompanied by Frank Sinatra singing – alone this time –  'Come Fly With Me.')
Hanmer Springs is a beautiful alpine town of the north Canterbury region, renowned for its thermal pools. I did 'take the waters,' and had a particular feeling of well-being afterwards.
We boarded our little plane for the last leg of our journey,  over the Canterbury Plains to Christchurch, where we embarked on a walking tour to learn about the 2011 earthquake.
Family History
In my quest to find more information about my great-grandfather's younger brother, John Willis, I'd found a document called 'Summer Holiday in Victoria and New Zealand, 1882', which he'd written, and it was serialised in the Singleton newspaper, 'The Argus' which he'd founded. As I was sifting through its pages I read; ''The crowning glory of Christchurch is its Cathedral, whose lofty spire recalls the proverb about pride having a fall. It was one of the sights of the time to go and see the indentation the top of the spire had made when falling on the asphalt pavement'.
Our last night together was magnificent gourmet 7-course seafood feast, and we learned that 'Bill Peach Journeys' is working on another DC-3 Aircruise, this time exploring the North Island of the 'shaky isles'.
I hope there will be room for us in that magnificent flying Gooney Bird.
Wendy Borchers retired from ABC television in Sydney and now lives in Tuncurry with her husband Max.