Tucked away in gentle green pastures around our hills and valleys and near riverways and beaches, we have some magnificent horse studs. Equally, there are horses seeing out their days as family pets or grass munchers, patient horses in riding classes for kids, indeed people of all ages, the wonderful Riding For The Disabled, and a thriving competitive horse racing industry, show jumping, and dressage events.
In one quiet nook of beautiful Mondrook, Georgina Saunders and her family have established "Hillstead Equestrian Park." For the past three years, they've held hold show jumping events, starting  at the old Racecourse at Cedar Party Reserve, but they found the surface out there to be a bit hard on the horses for show jumping. So,  they have now set up at Mondrook.
Georgina started riding at age four, and started competing in Eventing at age of 13 until her early 20's, before having a long break, working,  getting married and starting a family.
In the last five years she has slowly got back into Eventing, and competes as much as she can, given the demands of her business as a plant broker, where she sources plants from all over Australia for landscapers, architects and designers. From tube-stock to super-advanced trees, natives, ornamentals, grasses, hedging, screening, climbers, to citrus and fruit, vegetables and herbs, succulents and indoor plants. Georgina also offers plant advice, substitutes, suggestions and delivery to the site.
But Hillstead Equestrian Park is very much a family business, with Georgina's mother and her husband Denis Pigott also involved.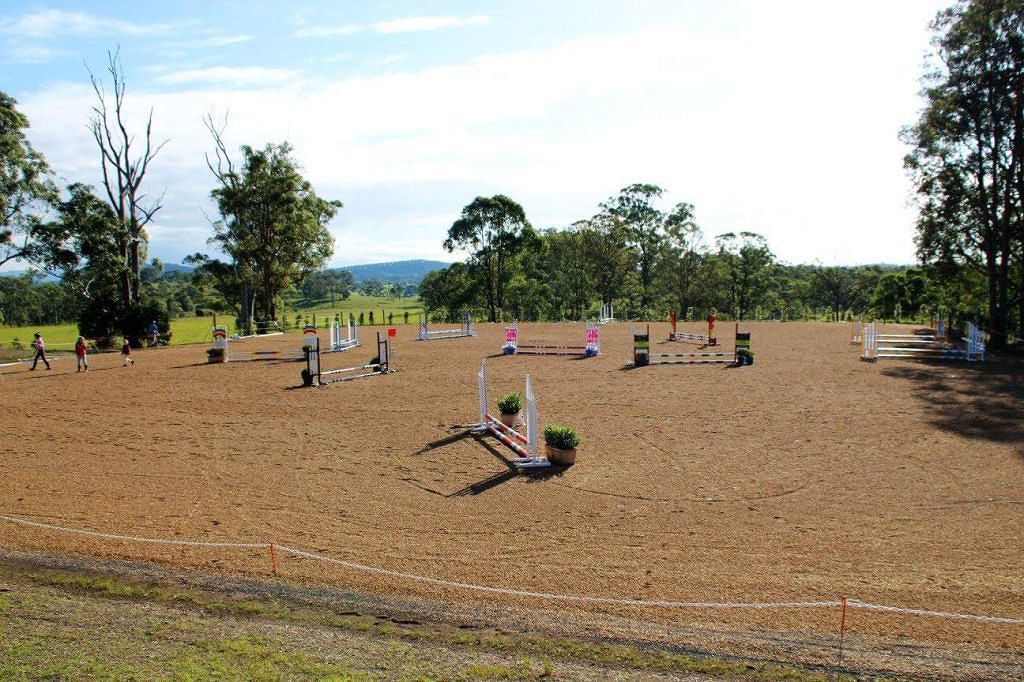 Inspired by Mother
Georgina says  is it was her mother's love of horses that inspired her.
"Mum started riding in her early 40's and, as I  got older, mum became involved in a Pony Club as a mentor and Zone 23 Chief Instructor for many years, where she met her partner, Denis, and they married in 1992."
Denis Pigott represented Australia at the 1976 Olympics and won a bronze medal in team eventing, and placed 20th in individual eventing. He then went on to be head coach for Pony Club for many years, an Olympic selector, Level 3 coach and course builder, and is accredited with coaching and guiding Shane Rose (silver team medallist Beijing and bronze team medallist in Rio) and Phillip Dutton (dual gold Olympic team medallist Atlanta and Sydney, and bronze individual riding for the USA at Rio 2016) in their early careers. In 2012 Denis was inducted into the WHICH Hall of Fame for his achievements.
Denis gives lessons most weeks and sometimes other instructors give Show jumping clinics. The arena is available to other clubs, individuals and coaches for hire.
Horse Community
'The hope of the new grounds and arena is to give the horse community a specialist area for riders of all ages a safe and professional environment, in which they can train, improve their riding and encourage the horse's ability,' said Georgina.
"Hillstead Equestrian Park" comes from the name of Denis's horse Hillstead – a thoroughbred off-the-track that was found in a paddock in Moree, and went on to be an Olympic eventer.
"Hillstead never knocked down a show jumping rail in eventing in his long career!" says Georgina.
The Show Jumping Club committee members are,
President: Denis Pigott
Vice President: Nicky Welbourn
Treasurer: Vicki Pigott
Secretary: Georgina Saunders.
Sub Committee
Margaret Peters
Joanne Perrottet
Mick Saunders
Geoff Goldrick
For arena hire inquiries and lesson bookings contact Georgina 0410 452 499 or email georgina.saunders@bigpond.com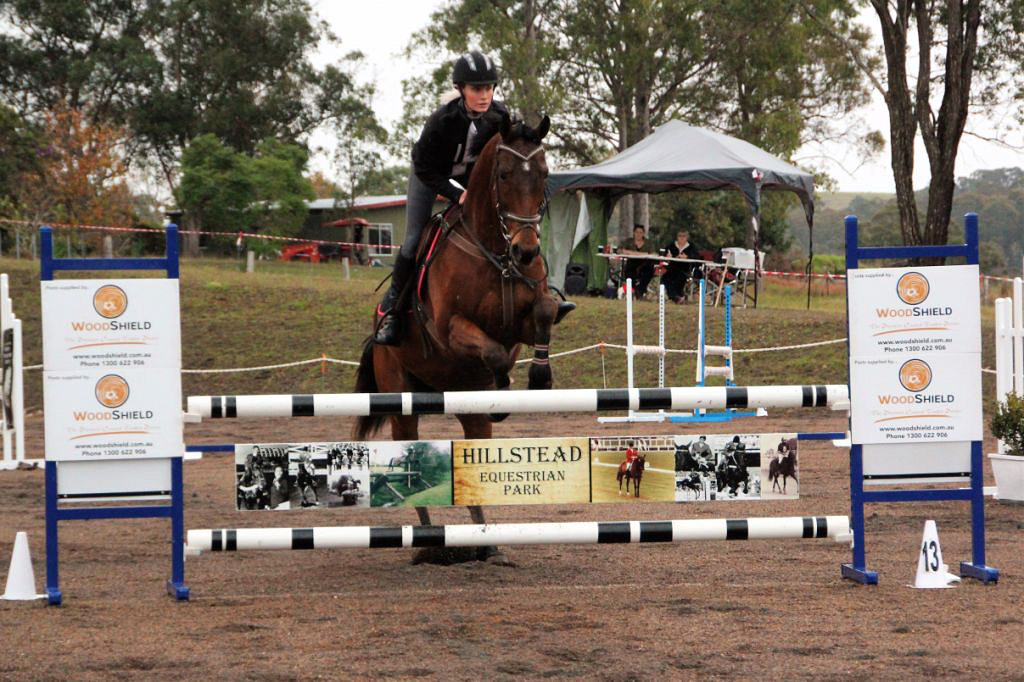 . . . . 
ZULU, FAMED RESIDENT

And, as many locals would know, Mondrook is also home to another famed horse – Zulu, who won the Melbourne Cup in 1881 and is buried in Mondrook. The stories about Zulu vary, including that he walked to Melbourne to run in the cup amongst many tales.
However, we came across Zulu mentioned in an intriguing book  about a transgender murder case, "Eugenia: A True Story of Adversity, Tragedy, Crime and Courage" written by famed  barrister Mark Tedeschi, published in 2012 by Simon & Schuster which includes a small anecdote about Zulu –
"Barrister Archibald McDonell was born at Mondrook in the Manning River district of New South Wales on 15 September 1868.  He may well have spoken Gaelic, because his two paternal grandparents, Donald and Jane McDonell, couldn't speak English.  Those grandparents had come to Australia in 1837 from Knoydart in Scotland, where they were farmers.  They first settled at Belltrees near Scone, where apparently there was so much 'trouble' with the local indigenous population that the family soon moved to Narragut (King Island) near Maitland.  From there they went to Miller's Forest and then to the Manning River area, where Donald McDonell purchased two blocks on the River at Mondrook.  There they engaged in farming activities and became one of the pre-eminent families in the district.
Archibald's parents were Charles Paladius McDonell and his wife Sarah.  In 1863, Charles McDonell had a magnificent hotel custom-built in the main street of Taree.  He named it the Caledonian Hotel and he owned and operated it for ten years.  It was known as the finest hotel in the region – so fine that the famous bushranger known as 'Captain Thunderbolt' used to stay there before he became widely known.  The Earl of Belmore, when he was Governor of New South Wales, also chose to stay there when he visited the region, and a grand vice-regal ball was held in his honour in the upstairs portion of the hotel.  Archibald McDonell's parents were therefore important members of Australia's equivalent of the British landed gentry – later called the squattocracy – who were large landowners, many of them from upper and middle-class English and Scottish families, with extensive pastoral interests, an elevated socio-economic status and often an involvement in the breeding and racing of horses.
Charles Paladius McDonell owned a racehorse by the name of Zulu, whose short body and over-long legs hardly impressed the experts.  His early racing career, from his maiden run at the Clarence River races in July 1880, was confined to the Northern Rivers district of New South Wales, where his record was quite mediocre.   But Charles McDonell never lost faith in his horse.  In 1881 he was brought down from the country to race at the Randwick Autumn Carnival, where he made a miserable showing.  Although he had absolutely no form to warrant his nomination, Zulu was entered in the Melbourne Cup of that year and awarded the minimum weight of five stone seven pounds.  The weekend before the Melbourne Cup, Zulu finished second-last in the Essendon Stakes.  What interested the bookmakers and bettors most was that when he pulled up after the race he appeared to be lame.  Many fans could actually see the swelling in his offside fore fetlock.  That night, Zulu's odds in the betting for the Cup quickly diminished to 100/1.  What only Charles McDonell and trainer Stan Lamond knew, was that every time the horse ran, the swelling would come up, followed by a rapid return to normal after a rest.  They allowed rumourmongers to spread the word that Zulu was virtually a cripple and could safely be written off as a possible Cup winner.  On the day of the Melbourne Cup, nobody noticed that at the last minute there was a huge betting splurge in which Zulu was quietly backed, reducing the odds from 100/1 to 50/1.
The race got underway normally, with Zulu and his stable mate, Wheatear, both towards the back.  Both of them began a swift move forward, when suddenly a dog ran under the fence in front of Wheatear, causing him and two other horses to fall and pushing another horse heavily against the fence.  The jockey on this last horse was crushed against the rails and became the first jockey to be killed in a Melbourne Cup race.  At this point, Zulu left his rivals labouring under their heavier weights and came charging down the outside overtaking all the other horses to win the race.  Afterwards, he limped off the course. However, only half an hour later as the horse was being led away from the sheds, all trace of the limp had disappeared.  The newspapers nicknamed him 'the horse with the educated limp'.  The Manning River district, particularly the towns of Cundletown, Wingham and Taree, went wild with excitement at the win by their horse.  The following weekend Zulu broke down in the Victorian Racing Club handicap and was then walked home to Taree.  After that, he raced only a few times locally around Taree, and was used to pull a cart into town on market days."