Australia Day celebrations always remind me that it is a time to reflect on our past. We should strive to make our future a place where Australians, in fifty plus years, can look back and say that the decisions made in 2016 made Australia a more equitable, more environmentally sustainable, safer and better place to live.
We learn from our mistakes. Our mistakes make us think things through more carefully. Our environment, our families, our neighbours and this great country we live in require us, every one of us, not to repeat the mistakes of our forebears and to make our future bright, productive and full of good will to others. Okay, I'll get off my bandwagon and turn to a related precious item of history.
This month's selected piece is a unique part of Australian history (for which I have a collecting passion). Many years ago I was fortunate enough to come into possession of a Royal Doulton jug depicting a great piece of Australian history. This jug has a picture of Captain Arthur Philip raising the flag at Sydney Cove, now Circular Quay. The flag was being raised on the 26th January 1788, to proclaim the Colony of Sydney Town in New South Wales, for George III of England.
The jug was made in 1938 to celebrate the sesqui-centenary of NSW. It was a limited edition piece with only 350 made worldwide. Each piece was individually numbered and this jug is No. 159. It was crafted by the premier ceramic decorator of the time, Charles Noake. It would be interesting to know how many of these jugs might have survived the ensuring 78 years. The jug also lists the Governors of NSW until 1938. The base has great information about its making.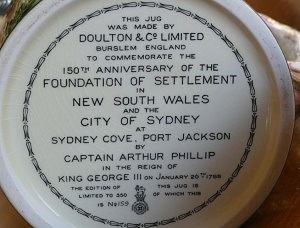 We were in Sydney in mid-January this year, with our daughters, to see the stage show 'The Sound of Music' at the Capitol Theatre. I am always amazed going over the Harbour Bridge and looking down on the Opera House and Circular Quay (Sydney Cove) and thinking of the changes and progress over the last 228 years since white settlement started in NSW.
We have come a long way since those early days of the NSW Colony, but have we learned from our mistakes? Do we still abuse our environment? Do we believe Australia is the greatest place to live? Do we put our family first and look after those people around us?
The difference we make today will benefit our children's future.
I love collecting Australian History pieces including Australian pottery and unique old items from our past.
I have been involved in collecting a wide variety of items over the last 30 plus years and am always happy to help people out with appraisals of their items.
Call Rex on 0427 880 546 or visit Olympia Antiques, Taree