Collect today for an investment in the future
Often we make the most interesting discoveries when we least expect to find them. They turn up in the most unusual places.
Jenny and I were exploring the Canberra area and we called in at an antique shop at Hall, on a day trip to Yass. I went in and looked around and there sitting on a cabinet was an old pond yacht in a sorry state. I recognised the shape as a "Balmain Bug," a sought after yacht from the 1920 – 30s. I made the interested customer enquiry and got the response, "You don't really want that old thing. It's in really poor condition." My response was I liked the shape and the age and could he put a price on it. We made the deal and I walked away a happy man. I had seen these restored and they always look good.
After a number of years of enjoying this little yacht I decided I would test my buying power. I had started selling a few things on Ebay and decided to try it, unrestored, as I bought it, lots of photos and an accurate description. I decided that I wanted to at least double my money and made a starting price of $49.00. Well, eighty bids later and $1485 as the final bid I was packing up that little yacht and sending it to Canada!! I was really surprised, but with a big smile on my face.
Another really interesting find was at the Taree Collectors Club's Antiques and Collectables Fair where a great old friend of ours, Ian, had brought along a family relic that he thought went back to the 1700s. Ian has just completed his autobiography, "The bone in the Fishcake" in his ninety – fourth year after a quarter century labour of love. He was clearing out some things and was happy to part with this item. (see photo)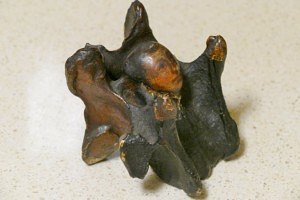 Ian explained that it was the figure of an angel, hand painted and very uniquely done. The most interesting part was that it had been done on a vertebra bone of a horse. These type of religious relics were kept in a special place in the household, keeping watch over those whom dwelt there.
It remains a treasured possession in our collection reminding us of the ingenuity of our forefathers and also of a good and really interesting friend.
Anyone needing assistance with antique appraisals phone Rex – 0427 880 546.