On peaceful Mitchell's Island a successful experiment in retirement living is showing a new way for baby boomers to reinvent their post working lives.
It's an experiment that has attracted attention around Australia and overseas where similar shared homes have established a new way to enjoy retirement living – and save money.
Three couples – Heather and Rick Bolstler, Daniel and Eve Weinstein and Judy and Michael Hollingworth – were all friends of long standing in Sydney. All were working professional people, children had left home and the couples had taken holidays together over the years.
But as they entered their fifties and began contemplating retirement none of them wanted to lose their companionship or their interesting and fulfilling lives. And having seen what was on offer, even in up market retirement villages, and not wanted to go there, they began to discuss alternatives.
And as Australia faces a boom in retiring baby boomers, these couples were not prepared to settle for the accepted retirement lifestyle of their parents or their contemporaries.
PROVEN FRIENDSHIPS
The friendship between them had provided support during family crises, health problems, bereavement, raising children, and professional decisions. And in an offhand remark when one of them commented that it would be nice if this sort of support, friendship and lifestyle could carry on in to retirement, an idea was born.
While all recognising sharing their retirement years mightn't be an easy thing to achieve, as it would be challenging but they considered worth giving it a try.
There were many long and frank discussions. Even though they knew each other well, living under one roof would alter the dynamics and threw up endless practical questions.
There were still all working, so they decided to test the concept by renting a big house in Sydney and tested shared living on a trial basis for two years.
'People our age are generally housebroken by their 60s so we clean up after ourselves and tend to be neat,' said Daniel. 'But we sat down and talked through practical things like finances as well as what really matters to us as you need to have common values.'
The more they explored other co-housing concepts and examples around the world they came to the conclusion it would not only be a supportive thing to do but they'd save money by sharing the expenses of one household. So the search for property began.
FINDING THE RIGHT PLACE
'We'd taken a lot of holidays together down the South Coast but decided living there would be too cold, so we looked north,' said Judy. 'We had a mutual friend who lived on Mitchell's Island and we'd all visited her individually at certain times and so we started looking around the Mid North Coast.'
They looked at properties that had been sub divided for age diverse communities as they realised how important the need for support from a community was and how valuable it was to integrate people of all ages into a cohesive community group.
'We've come out of an age of generations of nuclear families who didn't know anything else,' said Daniel. 'We could see the sense in what we were doing, but other people became so interested as it seemed an unusual thing to do. But we'd thought about it so long and planned it so well it didn't seem an odd thing to do. We wanted to be healthy, live in the country, save money and as we knew no one, we took our friends with us!'
'It was tricky to race up from Sydney on weekends and look at real estate, but then we fell upon this piece of property – four acres and a wonderful setting overlooking Browns Creek,' said Eve. 'We decided if things didn't work out we could on sell the property as we got it for a good price. We didn't want a large holding as we were never going to be primary producers. '
'We started coming up on weekends to clear the land but then we began to fall in love with it and started planting native trees and planning the landscaping,' added Judy.
'But as we were still working we needed someone to drive the project and Heather and her husband took on that role. We had a large shed erected as living quarters with a couple of bedrooms sectioned off so other couples could come and stay at weekends.' (Heather wrote a book about the experience called "The Shedders.")
THE RIGHT ARCHITECT
They selected local architect, John Basden from Nabiac who initially found the brief rather challenging as the block faced east west rather than north south and each couple required their own privacy of a bedroom, bathroom, study and a deck each with communal shared spaces.
Said John, 'Most people have been building homes the way they buy cars – to fit everything at holiday time – and then for 48 weeks of the year it's too big. Three homes like that would cost a fortune, so The Shedders' place is only the size of one and a half 'normal sized homes'.
But the resulting home is cleverly designed with clean flowing lines and practical aspects taken into consideration such as wide corridors should one of the occupants ever be in a wheelchair. Each deck has its own private outlook to the farmland, the water, and the woods which surround the property. Many retirees are looking to downsize, and John Basden advises, ' By going smaller it frees up the options to get the correct orientation of the house for thermal comfort throughout the year. If you don't need to fill the whole block to fit the 'wishlist', the small floorplan can be positioned to open sideways to the yard and garden, for example.
'Paying to heat or cool a building where you don't actually have to, is pointless. The fireplace or air conditioning should be an occasionally used luxury, not something you need to make a bad building habitable.'
These couples enjoy living in the peace of the country yet still in quick access of the hospital, shops and a good cappuccino.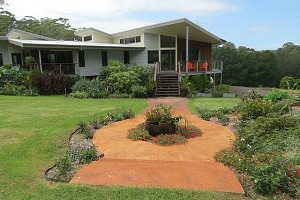 SETTLING IN
The group are now all well settled and carving new lives and interests, but the move from Sydney was an evolving process.
'I took a year off to nurse my sister through a terminal illness and then decided we hadn't saved enough to retire so I worked another year as CEO of an environmental standards organisation,' said Judy.
'There was a bit of a bumpy patch initially,' said Eve. 'We'd changed our direction in life and therefore our identity changed and we didn't have the same support group of family and friends that we'd had in Sydney. It was an organic process that happened in stages. We all had to go through the process of breaking the ice in the local community and meeting people through our various interests.'
The men still have on going businesses where they consult from Mitchell Island. 'Though it would be helpful if we had decent internet,' said Michael resignedly.
'After moving I found I needed a double hip replacement,' said slim and fit Eve. 'After my rehab in Sydney I came back up here and set up my yoga studio in the old shed, which also serves now as extra guest accommodation.'
Eve, who ran a yoga studio in Sydney, holds regular classes in the spacious shed and Judy, who met Eve when she began training as a yoga teacher in 1979, is a regular in the classes along with local neighbours and students seeking a senior yoga teacher.
THE REALITIES OF AGEING
Judy, after experiencing the wonderful help from palliative care workers looking after her sister, is now a registered palliative care volunteer and has started a campaign to raise awareness and to create a support group to meet the growing need for palliative care services for Manning Valley residents.
And while the group feel they have settled well into the Manning Valley community they have also adjusted and settled calmly and happily to sharing a home together.
'We have good communication, we can talk openly if we don't see eye to eye over something. We've learned negotiating skills and are honest and we have a set of agreements which was really unspoken, such as not letting things fester. Or someone will raise something with another person about what might be bothering someone who seems out of sorts. We all respect each other and know each other well. We look out for each other, we enjoy each other's company, but we're not in each others pockets unless we want to be. We all travel and sometimes there can just be one couple here for weeks at a time,' said Eve.
Added Judy, 'We have a bit of a weekly roster, who wants to cook when, and that includes the men, and we all clean the house together every Friday morning!'
POSSIBILITIES FOR THE MANNING
They all agree the Manning could be promoted as the ideal modern retirement location given some imaginative and innovative thinking and promotion.
'I'd like to see Council provide more opportunities for volunteers to participate. We all know the Council is broke, so why not supervise volunteer programs? We've seen some brilliant volunteer run projects work in other areas which are highly professional, take some of the weight off council yet are fully volunteer run,' said Daniel. 'Retirement is a growth area here so that opens opportunities for volunteers to get involved who are bored or don't want to do the same leisure thing every week. I'd like to see Council offer internships to give kids work experience for example.'
These are motivated, energetic professionals, who are enjoying life and making the most of this stage of their lives in a place they feel is still a well kept secret.
'We had a big party at the hall on Mitchell's Island for Eve's 70th birthday,' said Daniel. 'And our families and friends came up along with our new friends and people began to see that what we've achieved with our lives is pretty darn special. It's given a lot of people food for thought about taking control of your destiny.'
The baby boomer generation were always ones to defy convention and make new rules. City folk from professionals to hippies who moved to places like Nimbin in the Northern Rivers and lived in communes, also broke the rules of conventional architecture as well as lifestyle.
But one thing remains unchallenged – the need for community. Neighbours living in isolation, old people dying alone undiscovered, children not having friends down the road or down a track, are no longer acceptable. MacMansions have had their day. Community means feeing part of a family, looking out for each other; becoming part of the Manning family.