Taree Rotarian, Dr Grace Maano, has returned from the Democratic Republic of the Congo where she provided Emergency Obstetric Care Training Workshops.
It was not without its adventures as well as bringing much needed care to very remote families. Dr Maano has over 20 years of work experience not just in obstetrics and gynaecology but also in emergency medicine. She is a Taree women's health specialist and a Fellow of the Australian College of Rural and Remote Medicine and founder of  Hiraya MidCoast Women's Health Clinic.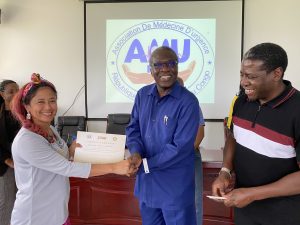 In the Democratic Republic of the Congo (DRC) Dr Maano provided training in emergency obstetric care at three locations including a village accessible only by dugout canoe. 
This was the second training trip to the DRC for Dr Maano, who is also president of Taree Rotary Club. She travelled both times under the auspices of Rotary Australia World Community Service (RAWCS) and HandUp Congo, a small Australia-based non-profit with long-time ties to the Congo. It is led by Wingham resident and fellow Rotarian Lucy Hobgood-Brown. 
The 2023 training equipment and workshops were funded by donations through RAWCS and HandUp Congo, along with proceeds from a raffle and ticket sales to the Avatar: Way of Water launch at Fay's Cinema, organised last December by Rotary Club of Taree. This event raised $3,233.20 for the obstetric emergency training.
The DRC is among the five poorest nations in the world, notes Dr Maano. "Maternal mortality rate is 800/100.000 compared to Australia's 8/100,000," she says. "Due to poverty, most women can't afford health checks to diagnose issues like pre-eclampsia, much less pay for anaesthetics for surgical interventions when needed. We heard horrifying stories of women who had to be forcibly held down by healthcare staff when they needed C-sections, just because they couldn't afford anaesthetics." 
The central African nation of 90 million people also has high rates of infectious disease and child mortality. Common diseases are malaria, tuberculosis, lower respiratory infections, neonatal disorders, diarrheal and water-borne diseases.
Dr Maano explains that much of the population lives in very remote areas, accessible only by canoe. "We travelled by motorised canoe to one training venue called Lotumbe, in Equateur Province," recalls the physician. "It took us 13 hours and was a beautiful journey for our volunteer team. However, it was a reminder of how inaccessible and unaffordable healthcare is for most of Congo's population. Hospital care must be paid for in advance by the patient, and their family must provide cleaning and food service. If they can't afford hospital care or medications, they may die." 
HandUp Congo has constructed a free health clinic in Lotumbe, with free medicines made available to the village of 6000's most vulnerable. A general reference hospital is also located in the community, accessed by 87,000 people living in the world's second largest rainforest. Dr Maano's training workshop was held at this hospital, which has served as a treatment hub for Ebola and Covid cases in the area. 
Training at three DRC hospitals focused on newborn resuscitation, shoulder dystocia, postpartum haemorrhage, pre-eclampsia, breech and bedside basic ultrasound scanning. The training venue in Congo's capital, Kinshasa, was modern, but the two rural venues in Equateur Province had no electricity, running water, oxygen tanks or other basic emergency care. 
"Medical personnel were so eager for the training that at every hospital workshop arrivals overflowed pre-registrations," Dr Maano recalls.  From around Lotumbe, village medics traveled by canoe for more than 36 hours. 
Dr. Maano adds, "The further we got from the city, the bigger the challenges but the lovelier the people."
Many Rotary clubs, the World Health Organisation, the DRC Emergency Medicine Association www.amurdc.org,  the African Federation for Emergency Medicine, individuals and businesses have been collaborating with HandUp Congo on emergency medicine education since 2015.  For information see www.handupcongo.org or email handupcongo@gmail.com or see Building a Healthy Congo (DRC) project on the Rotary Australia World Community Service website www.rawcs.org.au.
Taree Rotary meets on Monday nights 6pm for 6.30pm start at Club Taree (golf course). 
"Join Rotary and you become part of a global network of volunteer leaders who dedicate their time and talent to tackle the world's most pressing humanitarian challenges at both the local and international levels," declares Dr Maano. 
Frances Rosamond
For information: 
Dr Grace Maano – gmaano@gmail.com