1 April 1926 – 12 December 2022
Born in Hampton, Victoria, Alex completed his Diploma of Forestry and Bachelor of Science in 1951.  He worked for the Department of Forestry in Papua New Guinea, "running the Botanic Garden in Lae" and returned to Australia in 1956, where he was employed by the NSW Forestry Commission as a Silvicultural Research Officer at Coffs Harbour.  Alex's forestry career spanned 30 years.  His research focus gradually shifted from Eucalypts to rainforest trees, with Alex preparing field identification keys for them.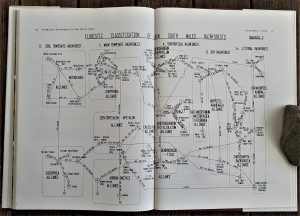 The Forestry Commission of NSW published his comprehensive NSW Rainforest Trees serially in 12 "Research Notes", from 1960-1983. These Research Notes were later consolidated and published as a single volume, Rainforest Trees of mainland south-eastern Australia in 1989, with a revised edition in 2008 (Terania Rainforest Publishing).  
1976-1980, Alex was seconded from Forestry to NPWS, to compile a complete inventory of NSW rainforests, much of it in remote areas. Floyd's exhaustive two-volume Australian Rainforests in New South Wales (1990), with detailed appendices and a microfiche of "species lists for representative locations" from his field surveys, was published in 1990.   
In 1978, Floyd reported on the parlous state of our Wingham Brush, forecasting its likely extinction within 50 years.  Although Taree's Coocumbac Island was gazetted as a Nature Reserve, in 1981, Wingham's Brush was too far gone for inclusion in the NPWS estate.  Floyd's dire review created discussions as to whether, and how, the Brush could be saved, ultimately resulting in the Wingham Brush Regeneration Team.  Alex advocated the liberation of the canopy from exotic vines as the first priority as opposed to a ground-based block by block removal of all exotic vegetation.  He also championed the retention of Wild Tobacco. However, in 2021 Wild Tobacco was listed as a weed slated for removal at Wingham Brush, despite 15 years of scientific assessment and monitoring by the National Herbarium, having verified Wild Tobacco's critical importance.  After over 40 years, the Wild Tobacco controversy was finally addressed and officially codified.    
Floyd was the foundational, and seminal, scientific mentor of the Wingham Brush Regeneration Team (1980-1996) and the ensuing development of The Wingham Brush Method of Rainforest Regeneration.  His advice was critical during the entirety, and aftermath, of the dispute between our local team and the National Trust NSW, concerning the dogmatic and inflexibly procrustean application of The Bradley Method (The Battle of the Brush).  Alex was always approachable and generous with his advice, despite the many times I pestered him, from tactics (Keep your powder dry, don't use all your ammunition at once!) to advice on successional stages and how they vary from site to site (Remember these plants haven't read our lists!).  His vast knowledge was respected with awe by regenerators and conservationists, and professional botanists, alike.  Floyd assigned Wingham Brush to his Suballiance No. 3; "the major suballiance on the well-drained, fertile, basaltically-enriched alluvial lowland flood plains north of the Manning River…These were truly magnificent forests…Today's remnants…are pitiful oases in an agricultural desert."  Little did we realise how rare these rainforests were until Floyd told us: less than 100 hectares of this suballiance remained in NSW, with the Wingham Brush representing nearly a tenth of it.  Wingham Brush was eventually gazetted as a NPWS Nature Reserve in 2000, with Floyd warning "continued vigilance" and effort will always be required if it is to survive, due to our catchment being infested with aggressive exotic weeds.   
In 1973, Floyd initiated a submission to the Coffs Harbour council, for the establishment of a Botanic Garden on the 20 hectare site surrounding the Coffs Harbour Cemetery.  Floyd reflected in an interview 2010, "It used to be the town's sanitary night soil dump and at the time other people were pushing for it to become a sports club, and even a lion park, so it took a lot of work to convince the council about the merits of a botanic garden.  Luckily we had the support of the then Shire Clerk, Rod Firman, because one councillor who favoured the area as a sports ground had gone on the record to say that gardens were only good for growing flowers for bulls to sniff."  
A bicentennial project, Coffs Botanic Gardens has grown to be an "outstanding Regional Botanic Garden and tourist attraction, offering visitors a unique blend of flora, recreation, education and relaxation."  The Coffs Harbour Forestry Department Herbarium, dating back to 1940, which Alex built upon over the years, was transferred to the Gardens after his retirement from the public service in 1988, after which he continued to passionately promote the Gardens.
The North Coast Regional Herbarium now has a collection of over 28,000 specimens, primarily from the NSW North Coast and Tablelands.  A seedbank was established at the garden in the 1980s, initially for growing its own plants.
Over the years the seedbank has expanded, supplying native seed from the north coast region to other botanic gardens, research and conservation organisations in Australia, and around the world.  While the primary function remains collecting wild-sourced seed from the NSW North Coast, many of the first plantings of rainforest and rare and endangered trees in the garden are now mature and produce additional seed for distribution.  Over a hundred and fifty endangered plants are cultivated, providing an invaluable resource.  
Two plant genera are named in Floyd's honour, the rainforest tree Floydia Floydia praelta, "Ball Nut" and, ironically, for a rainforest specialist, a grass, Alexfloydia repens, described in 1992, restricted to Boambee and Bonville, a mere 10-15 kms. south of Coffs Harbour.  This endangered, stoloniferous, spreading grass grows only in Swamp Oak Floodplain Forest, itself an endangered ecological community (EEC), in areas inundated by king tides.  Remarkably, Floyd's grass is the sole foodplant of the endangered "Black grass-dart butterfly", Ocybadistes knightorum, first described in 1994.  Other plant species bearing his name are Acacia floydii, Bosistoa floydii, Cryptocarya floydii, Endiandra floydii, Homoranthus floydii and Zieria floydia.   
Floyd also collected over 3,200 specimens for the Australian National Herbarium, Canberra (which contains 1.25 million specimens dating back to Joseph Banks 1770), from Papua New Guinea down the Australian east coast to Tasmania.    
Many private landowners consulted Floyd for guidance in conserving and expanding their rainforests.  FAWNA's Meredith Ryan recalls Floyd's research notes were cherished and assiduously annotated by her mother, the late Margaret McGlynn, while identifying rainforest tree species on their 860-acre family property, Benwerrin, straddling both sides of the Pappinbarra River, west of Beechwood.  Floyd's work inspired and has left the McGlynn family the wonderful legacy of identified rainforest species on Benwerrin.  
In 2008, Floyd was awarded the Medal of the Order of Australia "for service to botany, particularly through research and identification of sub-tropical rainforest plants, and through support for the North Coast Regional Botanic Gardens, and to conservation and environmental education."  
As Dr Robert Kooyman warmly remembers, Alex "was both humble and generous in sharing all he knew, and tireless in pursuit of understanding ever more.  Anyone alive today with an interest in Australia's rainforests knows his name, and likely has referenced his work.  His passing gives us pause to reflect on an incredible contribution.  All of us, whose lives were touched and informed by him, are richer for the time spent."   
Alex was predeceased by his wonderful wife, Cynthia (20 April, 2015) and survived by their four children, Peter, Robert, Malalia, Donald, and their families.  
Dr John Stockard, DDS OAM
Team Leader 
Wingham Brush Regeneration Team (1980-1996)