The name Karitane is often associated with pioneering paediatrician and psychiatrist Sir Truby King, founder of the Plunket Society in New Zealand. Karitane is named after the small town outside Dunedin.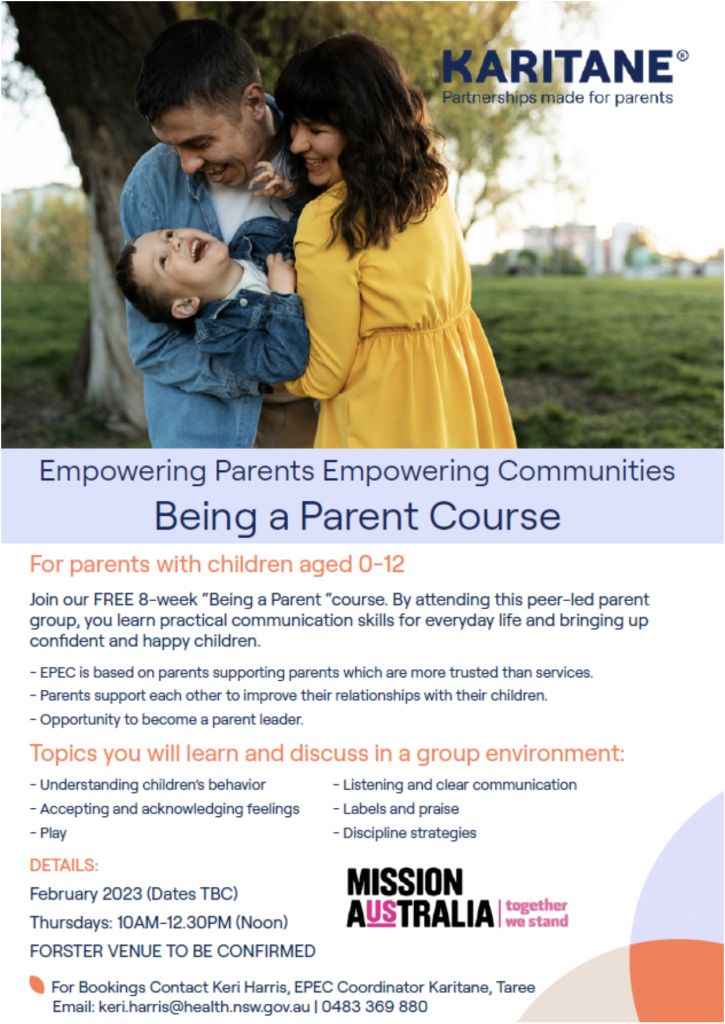 Established in 1923, Karitane is a not-for-profit organisation and registered charity supporting families in the first 2,000 days of their child's life. It has a history of innovation, providing leading specialist early parenting services while driving accessibility and support for parents across NSW to ensure every child receives the best start in life and supports Australian families when and where there is a need. The range and reach of the original nursing service has grown significantly with face-to-face and virtual models of care and an extensive suite of programs to support some of the NSWs most vulnerable communities.
August 2022 saw Karitane and Mission Australia, introduce the first 8 week BaP (Being a Parent) course in Forster. It sits under the EPEC (Empowering Parents, Empowering Communities) umbrella and is new to NSW, having run very successfully in Tasmania for over ten years. 
It is unlike any other parenting course seen in our region. This particular program is a peer-to-peer program where parents help other parents, and the main message is 'being a good enough parent'. It's certainly not your standard parenting course with an expert out the front lecturing.  EPEC facilitators sit alongside parents to help them reflect on how to develop more positive communication and parenting skills. This allows parents to be mindful of how their words and actions can impact on their children's wellbeing.
Other topics covered are behaviour, discipline, self-care for parents. The benefits from what the parents learn then ripple on to the parent's family and relationships, and has wide reaching benefits throughout the wider community. 
The program has two components: Parents first take part in the 8 week course, running 3 hours per week, then parents may decide to go on to be paid facilitators of their own groups after receiving 60 hrs of training in the BaP program. 
The Karitane EPEC team travelled to Tasmania in July, 2022 to see the positive impact this program has made over the past ten years it has been running. After completing the course and going on to become Parent facilitators – parents who have gained an enormous amount of confidence and gained employability skills to run further programs in their community.
This program will run again in Term 1, 2023 in Forster as well as introducing it to the Gloucester region in Term 2, 2023. If you're interested in joining the next course, please contact – Keri Harris (EPEC Coordinator, Karitane) ph: 0483 369 880  Keri.harris@health.nsw.gov.au