Some tips from the Tinonee Rural Fire Brigade
Tracey and Paul Dyson, residents of Tinonee, are very active members of the Tinonee Volunteer Rural Fire Brigade.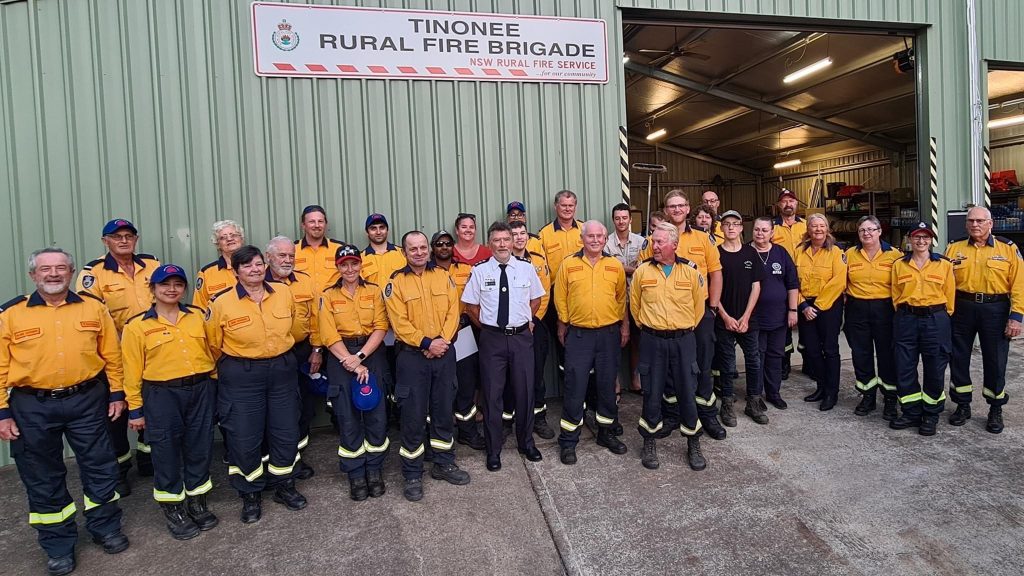 Paul is the experienced Senior Deputy Captain and has been an RFS volunteer for 40 years. Tracey is on the Community Engagement Team.
Having gone through the recent Black Summer fires they wanted to share some advice for fire preparation for this summer.
'It's all about basic preparation,' says Tracey. 'Make sure there's no bushes, overhanging shrubs or long grass around your house. Don't stack firewood close to the house. Clean out your gutters. Make sure thateverything works; pumps if you have them, a sturdy hose, make sure that there's water on hand.
Also a plan is essential. Are you going to stay and defend or leave? Have a "grab bag" ready with important documents and precious items – anything from a list of passwords, pharmaceuticals and prescriptions, passports, photos, mortgage details, birth/ marriage certificates, insurance papers. Everyone takes something different.
Have the phone numbers of neighbours and any elderly or infirm people locally. Don't forget about pets and livestock, plan what you'll do with them. In a last minute panic you forget things.
We have a list of suggestions at the station if people want to double check.'
Burning Off
Permits are required for burn offs from your local RFS…though it's a bit late in the season now. Someone from your local brigade will visit and assess what you plan to burn to make sure it's safe and not a potential fire hazard.
If a fire threatens, or you have to evacuate … along with the grab bag and your house preparations you can also think of –
Leaving water out for wildlife.
Secure your home
Download the free app – Fires Near Me which is useful if a fire starts in your area, and have a radio with batteries in case the power goes.
Know where the safety refuges are to go and shelter if required.
Home Precautions
Tracey says she keeps a fire extinguisher and a fire blanket in her kitchen as a precaution at all times. Especially if you're living on a property as all the brigade are volunteers so to get out to a property can take a little while. People in towns and villages shouldn't be too complacent as we've learned how fast fire can travel, embers fly, and fires get out of control.
if you are caught and trapped at your house know what to do in advance – jump in a dam, soak blankets in water to throw over yourself. Anyone with respiratory problems should think how to manage and prepare in times of fire. A little bit of forethought can save you.
'Hopefully we won't have a repeat of the 2019 fires,' said Tracey.
Paul agrees. 'It was catastrophic conditions. The loss of life, towns, property, wildlife, stock, was pretty dreadful. Given the conditions we knew it was going to be bad, and but with the resources we had we managed very well, considering once the fire got going it snowballed and took everything in its path,' said Captain Dyson. 'I saw something similar back in the early 1980s that swept through where Tallwoods now is as it was open paddocks then. But this last time the fire fronts were was a lot bigger and intense. The thing that impressed me was with everything happening there was co-ordination, and a sense of all pulling together.
'At the Tinonee Fire Shed we had brigades coming from all over and we put out the call to help us feed six brigades and the public response was wonderful. The community really excelled themselves. There were also some local people who were able to manage their protection themselves, fighting on their own and with neighbours which freed us up to fight elsewhere. We'd go back and check on them.
'After the fires people thought about things and figured they should join the of brigade. We have 50 volunteers, all ages from self retirees and young ones coming through as well as fantastic women volunteers. Our brigades do a wonderful job and we welcome new volunteer members, said Captain Dyson.'
And the community sends a big thank you to ALL our volunteer firies.
More information- contact Tinonee Rural Fire Brigade on 0492 892129 or email tinoneerfs@outlook.com
Follow the brigade on Facebook and Instagram for all updates.