"I am feeling very Olympic today" was that great and memorable line spoken by the character 'Sanka Coffie' (played by comedian Doug E. Doug) from the hilarious 1993 Hollywood movie, "Cool Runnings", arguably one of the better underdog sport stories, which was centred around the Jamaican Bobsled Team competing at the 1988 Winter Olympics in Calgary Canada.
Many Australians throughout the country have also been 'feeling very Olympic' as we bathed in the triumph and despaired in the tragedy of our athletes competing at the Games of the XXXII Olympiad, the 2020 Summer Olympics, officially branded as 'Tokyo 2020'.
And while there's been significant global controversy and debate leading up to these Games as to whether they should have proceeded during the Covid crisis, the end result has seen our nation and perhaps much of the world inspired and spiritually invigorated with hope and confidence. A feeling that we can also overcome; all that is required is the good will of humanity, as was so wonderfully displayed by the youth of the world (and the not so young) at the Tokyo Games.
It's been refreshing and breath taking to watch not only our Australian athletes, but those from the entire world; the 11,000 women and men from 205 countries competing across 339 events from 33 sports.
One very striking theme, illustrated consistently from our Australian athletes at these games during TV interviews, should be a lesson for many of our politicians in power: don't talk about the results or the rewards until the event is over, focus on the task, and if you do the work and deliver, then you will achieve the results.
Also feeling very Olympic here on the MidCoast, is our own Councillor Peter Epov, who was a TV Commentator at two Summer Olympic Games: in Los Angeles 1984, and Seoul 1988.
Back in the 1970's and '80s, Councillor Epov was a highly successful volleyball coach, having coached the Australian Men's Volleyball Team at its first ever appearance at a World Championship in 1982, in Argentina, several weeks just after the Falklands War.
In 1984, several months before the LA Games, while working as a professional sports administrator and the National Coaching and Competitions Director of the Surf Life Saving Association of Australia, then preparing to stage the 1985 Coolangatta Gold, Peter was invited by Ron May, the Executive Producer of Network 10, the official Australian Broadcaster of the LA Olympics to work as commentator for the sport of Volleyball.
Recalls Peter, "It was all kind of strange, mysterious and indeed surreal. Ron invited me to lunch and I had assumed the purpose was to discuss the next Coolangatta Gold. As the Project Director for the 1985 event it was part of my role to facilitate the television coverage.
"After about 25 minutes conversation, he totally surprised me with a question: 'So what do you know about Volleyball?' I replied: 'enough to get by' and so started a strong professional relationship and a friendship which would last beyond the term of Network Ten's coverage of two Summer Olympic Games."
Initially, May's plan was for Peter to cover 15 to 20 minutes from each day's competition, somewhat like recording a highlights package.
"This was particularly attractive, as I would be given a Commentator's Accreditation which, back in those days pretty much allowed free access all the Olympic competition events in the media section, which was located in the best viewing areas. Also the great thing was that my accommodation, meals and travel were all paid for by Network 10 and they even threw in some spending money.
"On arrival in LA, I was slated to work with Peter Waltham, who had been a newsreader from a rival TV network in Perth drafted for the Olympics. And so what started out as a 20 minute highlights package ended up with Peter Waltham and I recording up to three matches per day which on average were around two hours long, and as a result of that work the sport of Volleyball was broadcast daily back to Australia.
"So in total, over 14 hours of Volleyball were broadcast in Australia from the LA Games, a stark contrast from the Moscow Games which only had 3 minutes from the gold medal match. And this was actually achieved without any Australian Teams having qualified for the LA Games.
"This coverage was also achieved at a time when there was only a single TV channel broadcasting the Olympics which resulted in enormous national exposure for the sport of Volleyball leading to a massive increase in participation, public interest, and government and corporate support for the Sport.
"We were receiving telegrams in LA from all over Australia, calling for more volleyball.
The Olympics were such a great success for Network 10, rating in the 40's, which was really high, and so the owner at the time, Rupert Murdoch, threw a huge party at the Beverly Hilton in LA for the commentators and the entire crew. I still recall Australian Tennis legend, John Newcombe, leading Mr Murdoch and his huge entourage of Newspaper executives around the room and introducing him to all the commentators.
"On my return to Australia I was invited to join the Board of the Australian Volleyball Federation as Honorary Director for Publicity and Promotions.
"The success of the LA Games led to Network 10 successfully bidding for the 1988 Olympics in Seoul, Korea and I was again invited to be, this time, the sole commentator for the Sport of Volleyball.
From Seoul, we broadcast just over ten and a half hours of Volleyball back to Australia, which was again quite a remarkable feat as there were no Australian Teams competing. This time Network 10 was owned by Frank Lowy and the Westfields Corporation. Mr Lowy was very unassuming but appeared to be quite interested in the telecast. I ran into him several times in the studios. On the first occasion, Ron May went to introduce me and Mr Lowy said; Oh, I know Peter, he's the Volleyball guy!
"I was very lucky to score a seat for the memorable Opening Ceremony of the LA Games at the Coliseum and I can still remember and feel the build-up in the electricity as the amazing stadium progressively filled with the spirit of 100,000 people. Once you feel this energy it's very hard to forget.
"To be part of the Olympic Games was an amazing and incredible experience, one which I can only highly recommend.
"My wife Helen and I had plans to attend the Tokyo Games, but Covid 19 had other ideas. Perhaps Paris?
"Oh, and PS, I also happened to run into one of the other Network Ten Commentators at the Los Angeles Olympics, the esteemed Editor of this paper! Over to you Di."
. . . .
Nothing Murdoch does is small potatoes, so he went all out, and at the time technical live and staggered broadcasts were quite a feat.
I was the entertainment reporter for "Good Morning Australia" the first live breakfast current affairs show in Australia hosted by Gordon Elliott and Sue Kellaway. ( Later Kerri-Anne Kennerley outdid us all by hanging in there for ages!) I took little notice of the frenzied build up to the Games and who would get a gig. Sport was not my thing!
So I was amazed when I was called to the big Chief's office on the carpeted top floor of Channel Ten (out at Ryde.) I thought I must have been for the chop and was trying to think what I might have done to have the big banana fire me rather than our EP.
Managing Director Wilf Barker leaned back in his swivel chair behind a massive desk and finally said, 'Your lucky day, Di. We're sending you to the LA Olympics!' And paused.
There had been endless scrambling, pitching and pushing to be one of the coveted broadcast team apparently.
I blinked and looked at him and said, "Why? Why me, I don't know a thing about sports!"
Wilf sort of winced, I guess because I didn't go on bended knee in appreciation, and tersely explained that I would cover the "colour" of the opening ceremony and do human interest stories for the network. I was being assigned a young producer to work with me and a cameraman and we'd do our own thing after the opening and produce as many stories a day as possible.
When I met and thanked the lovely gentle and talented EP Ron May for this opportunity, it turned out he'd gone around Channel Ten asking all the crews who they liked working with and who was easy going, competent and had an eye for a story . . . and that was me.
And in the course of preparations (we also had a uniform) and photo ops and homework I met a tall bloke…the volleyball guy – Peter Epov!
To be part of the LA Olympics of 1984 was an honour, and eye opening, challenging, exhausting and fun. After covering the opening ceremony…one of the first big spectaculars, Station Manager George Brown kept sending back messages to do more stories "like the last one." So I trawled athletes, LA and the underworld of the Olympics. It was a special time.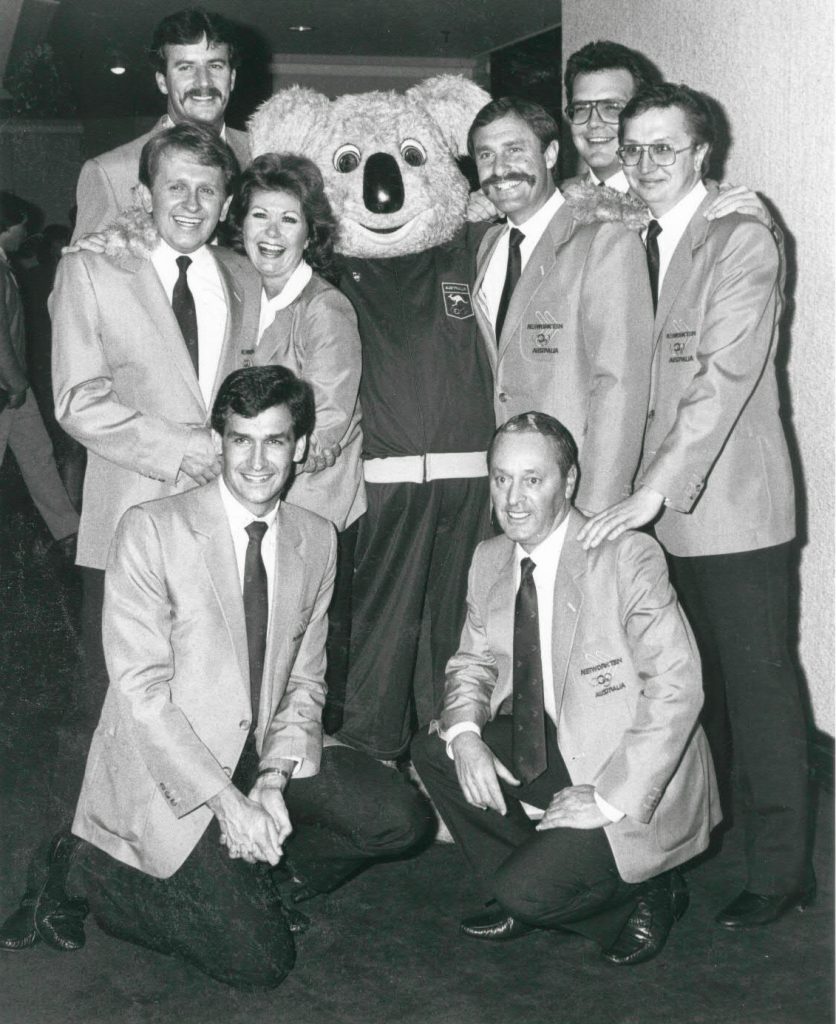 We commentators, journos, crews and technicians were all holed up in one hotel and ferried from there to the stadium. There was one phone line back to Australia and we were allowed turns during the social daily get-together at the hotel.
My mate Tom Keneally was covering the Games for the Herald, and royal husband ( Mark Phillips, at the time married to Princess Anne) known as Foggy, was making his commentator's debut for the equestrian events. (Poor bugger was nervous and wouldn't you know it, the first 4 minutes of his commentary, there was drop out and he had to ad lib, but managed rather well.) Later in our social and phone home time I complimented him on a good job then he disappeared for his turn with the phone.
When he came back to our little group Tom asked him had he been whingeing about the tech difficulties. But Foggy said 'No. Just talking to my children. They're with my mother in law on the boat.'
(That would be the Queen on the Britannia.)
I was at Murdoch's party Peter mentions, and of all the celebs there, I spent time chatting with a nice fellow, an American chap who was doing some commentating about something I don't recall. Tall, good looking, friendly. Called Bruce.
You might know him better these days as Caitlin Jenner.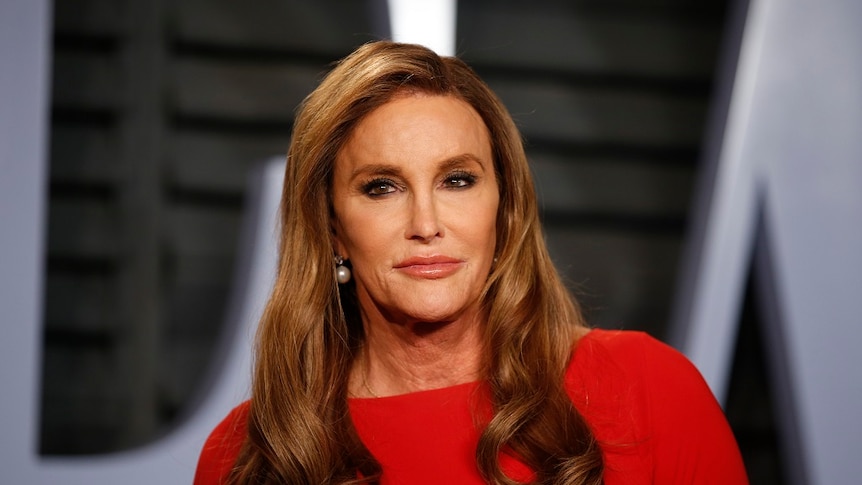 Ah, they were the days, hey Pete!
DM
("Di one day we'll have to spill the beans on the filming of the movie 'Coolangatta Gold' where we next crossed paths! And PS, Jenner was a champion decathlon athlete." PE.)