One of the traumas of travelling is leaving beloved pets behind.  But Wingham Canine Lodge and Pet Motel gets a five paw rating.
BOARDING
Cats have the choice of an apartment in the cattery overlooking the 100 acres, or a bedroom with air con in the granny flat.
Selected dogs can stay in Ros and Mike Walker's home, sleeping on or beside their bed and jumping off the jetty into the lake by day.
A heated dog hydro therapy pool will be completed in June – with an infinity edge to maximise the Pet Motel's ridgetop view west across to the mountains.
A certified puppy trainer, Ros offers boarding and training weeks for puppies aged 11 to 14 weeks. The pups stay in her home where they learn foundation skills such as toilet training, loose leash walking, and come when called as well as being socialised to other dogs, people and things in a fun and positive way.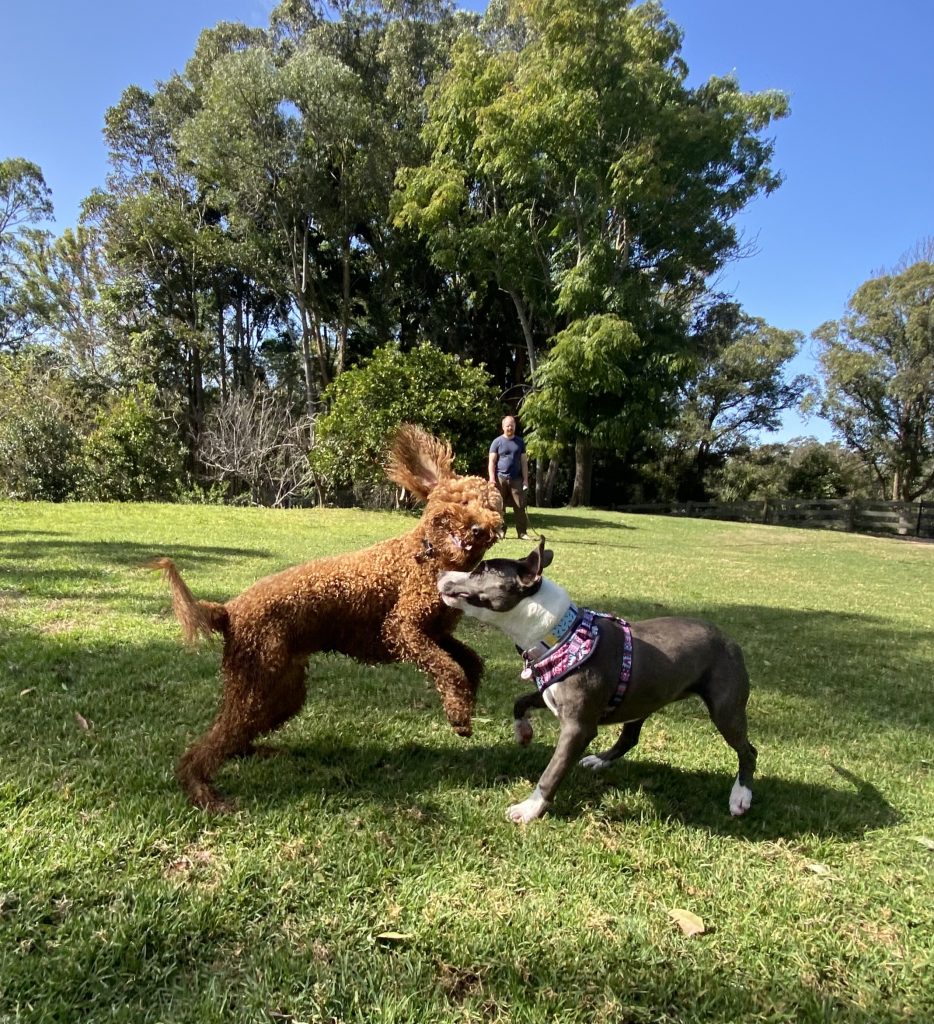 Puppy School
Dogs and their owners will soon be able to attend a new vet clinic-based Puppy Playschool free for pups is under 12 weeks of age who have had their first vaccination.
This will help create friendlier, safer and less fearful dogs in the community says Dr Elena Dreyer who, with husband Dr Geert Lampen own Manning Veterinary Hospital, where the Playschool will be held.
"We are offering two weeks free to encourage dog owners to bring their dogs before their vital puppy socialisation period ends at about 12 weeks of age," Dr Elena says.
She often sees fearful dogs attending the hospital. "Pups who come to Playschool will get to know our clinics as places of fun and be much more comfortable coming in for future vaccinations and medical appointments."
The classes will be run by Wingham Pet Motel's Ros Walker and partner Mike, who have been successfully operating Puppy Playdays at the boarding facility for 6 years. They also train dogs for television and offer board and training weeks for puppies.
"There'll be a big focus on puppy play and handling as well as foundation training to teach appropriate behaviours such as bite inhibition, four feet on the floor and loose leash walking, which are so much easier to teach early, before inappropriate habits have formed," Ros says.
After the two free weeks, owners have the option to pay for another four classes.
"Puppies that are correctly socialised between 7 and 12 weeks have a far greater chance of being friendly, able to play with other dogs and will better cope with 'scary' things throughout their life. They'll also be less likely to end up in a shelter because of behavioural problems."
Ros and Mike see adult dogs coming to the Pet Motel every day who are fearful of people and other dogs.
"Life is just so hard for these dogs and their owners, but with very early socialisation that is positive and fun, it doesn't need to be like that.
"Because the first 12 weeks are when dog's when sociability outweighs fear, this is a window of opportunity for puppies to adapt to new people, animals, and experiences. After that, it is much more difficult."
For many years Ros volunteered in dog shelters, helping to modify the behaviour of under socialised rescue dogs. "It was a very difficult task and made me realise that it's far easier to get your pup into a good socialisation class early on. We just need to prioritise our puppies for the first few weeks as soon as we get them."
To enrol in Puppy Playschool at Manning Veterinary Hospital in Taree go to
www.winghampetmotel.com.au/puppy-playschool or phone Ros and Mike on 6557 0055.
WHAT: Puppy Playschool
WHEN: 11am Sundays
FOR WHO: Pups one week after first vaccination
HOW MUCH: 2 weeks FREE for pups aged 8-12 weeks then $150 for 4 more classes
WHERE: Manning Veterinary Hospital, Taree
BOOK: https://winghampetmotel.com.au/puppies