Andrew Leigh and Nick Terrell
La Trobe University Press/Black Inc.
Paperback RRP: $27.99
(We're in this together)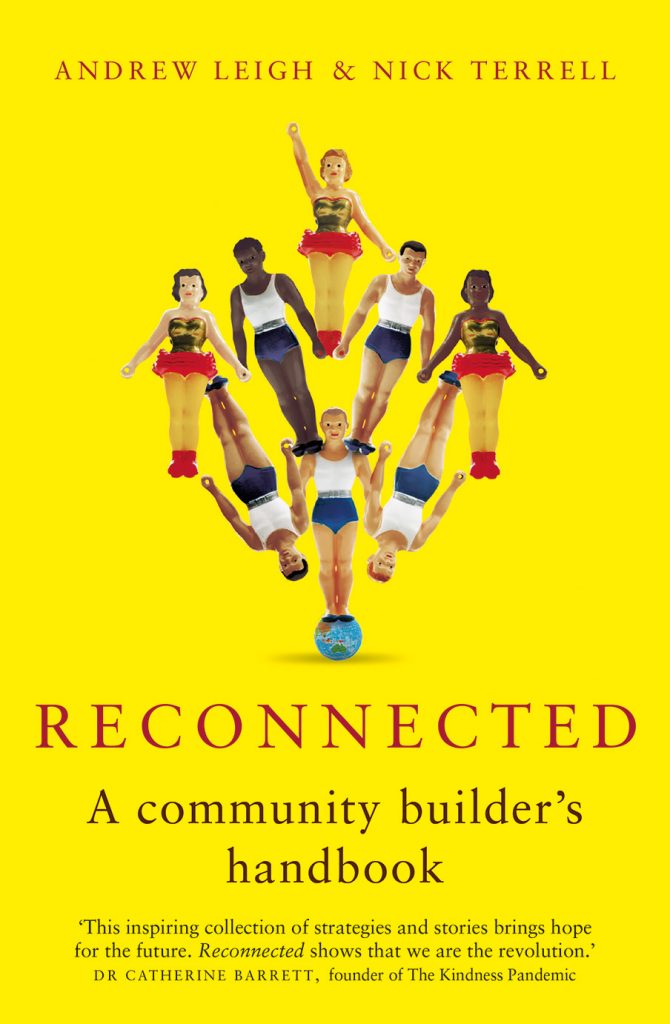 'A more connected community will be a happier community'– that is the message coming through strongly and clearly in the pages of Reconnected: A community Builder's handbook.
This book is filled with optimism and ideas, as well as thought-provoking, and in some cases disturbing, facts.
Andrew Leigh and Nick Terrell begin by documenting the decline in civic life. Australians have only half as many close friends as in the 1980s, and we know half as many of our neighbours. Almost three in ten of us 'hardly ever or never catch up with friends. Half say they are lonely at least one day a week'. Religious attendance is down two-thirds since the 1950s. Union membership is down two-thirds since the 1980s. Most sports – including tennis, AFL and bowling – have dropped in popularity since the start of the century.
We were isolating ourselves well before the COVID-19 lockdowns.
That is one side to the reality of life in Australia in 2020, but as the title suggests, there are also groups, individuals and organisations connecting with the people around them. Reconnected is a tribute to the amazing social entrepreneurs and others whose work enriches our communities. It celebrates the ideas and actions that bring people together.
One of the many examples is that of Orange Sky Laundry. Nic Marchesi and Lucas Patchett saw the need for homeless people to be able to wash their clothes, so they set up a mobile laundry truck. But, as the authors explain, Marchesi and Patchett 'discovered the real genius of the Orange Sky proposition was a set of collapsible plastic chairs'. While their loads of washing are on, Orange Sky's friends pull up a chair, sit down and have a chat. For some people this is the only conversation they will have until the laundry van comes around again the following week.
Leigh and Terrell look at some of the most successful community organisations and initiatives – from conversation groups to community gardens, from parkrun to Pub Choir – to discover what really works, and why. They explore ways to encourage philanthropy and volunteering, describe how technology can be used effectively, and introduce us to remarkable and inspirational leaders.
Reading this book, you can truly see how each one of us can make a difference – especially when we collaborate.
Andrew Leigh is the Federal Member for Fenner in the ACT. Before being elected in 2010, he was a Professor of Economics at the Australian National University. Nick Terrell is an advisor to Leigh, and has worked closely with Australia's charity and non-profit sector. He is committed to protecting the voice of community organisations and promoting the value of their contributions to Australian communities.
While both authors work in politics, their book is not party political. It is written in an engaging style that easily draws you into the conversation about what a community means for each of us, especially in 2020, when COVID-19 has made us review our lives.
If you feel unsettled or even depressed by the lockdowns and isolation, this book will help you see how you can connect or reconnect with others. As the authors say in their conclusion, 'Whether you're a volunteer or a donor, a policymaker or a charity leader, each of us has a part to play.'
I'll add to that – the many examples in the chapters of Reconnected show how we can also have fun and feel hopeful and fulfilled when we contribute to our community. It is an inspiring read for the summer break, to take you into a safe, happy and connected 2021.
Bernadette Foley
Bernadette is an editor and writing mentor, www.broadcastbooks.com.au
Ebook RRP: $14.99