Meet Mitch Spiteri . . the friendly foodie drawing customers to his tiny takeaway Country Café in Tinonee.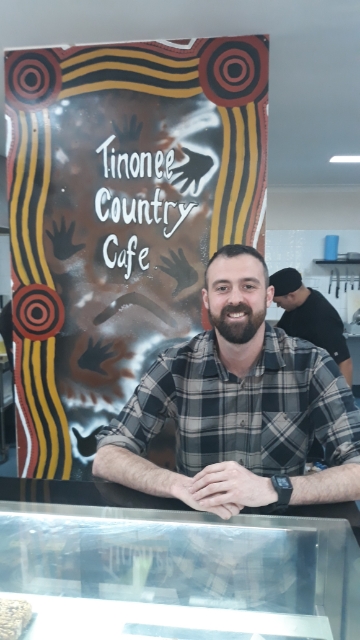 After the loss of Tinonee's Memories Café, this compact takeaway is proving to be a big drawcard with locals and passers by as word of mouth spreads about the interesting and generous meals, salads and shakes. 
Mitch is a local boy who grew up "in the bush, now known as Brimbin." While a local, his father's heritage is Maltese and the family have always been connected to the food industry. Mitch trained as a baker, worked on tour boats up north and smart cafes in Melbourne.
Mitch's passion and experience has always been in hospitality, and though a chef and an all rounder he admits his strength and love is customer service and engaging with people.
At Tinonee Country Café with a couple of tables and a sociable outdoor counter… the crowds are coming for breakfast lunch and dinner!
Mitch also has the Coastal Café at Wallabi Point.
We think he should convert one of those cute historic Tinonee houses into a Cottage Cafe… where we can sit down and linger over a meal!
Tinonee Country Cafe is at 61 Beecher Street Tinonee, between the General Store and the Post Office!