Rachael Johns
Harper Collins RRP $ 32.99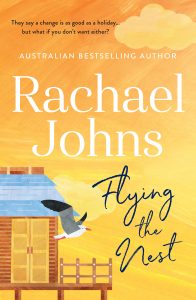 Definitely for the modern parent, where family plus in laws try to keep up and fit in with a modern marriage.
When her husband suggests they try nest parenting the main character, Ashling Wood realises her marriage is rocky.  (Nest parenting is where the kids stay in the house and the parents rotate to a third residence.)
An offer to renovate a cottage at the beach leads Ash to wonder is this a chance to renovate her marriage as well as the cottage.
However when tragedy calls her back to the city she is faced with the dilemma of her family or her future. Can her family life fit in with a permanent move to the beach or could she attract her husband back to the nest?