It is so heart warming to meet a 16 year old lad, who has found his passion and is not only pursuing it, but running it as a business in addition to his school studies. 
Meet Tyler Budden from Rainbow Flat who fell in love with the blacksmith's art and is now an artisan metal craftsmen specialising in superb knives in his homebuilt forge in a shipping container in the back yard. 
'I just became fascinated with metal casting and bronze making when I was in a science class in Year 7 at Great Lakes College, Tuncurry,' he explains.
So fascinated that he went home and decided to build his own forge in the back yard with his school mate Rourke.
'I watched a bunch of UTube videos and got the basics so we built a dodgy little furnace in the yard and started melting scrap metal, car springs and so on. Learning by trial and error.  My mum was a bit worried initially,' he says in an understatement. Before long Tyler moved onto blacksmithing and used his new self taught skills to create knife blades.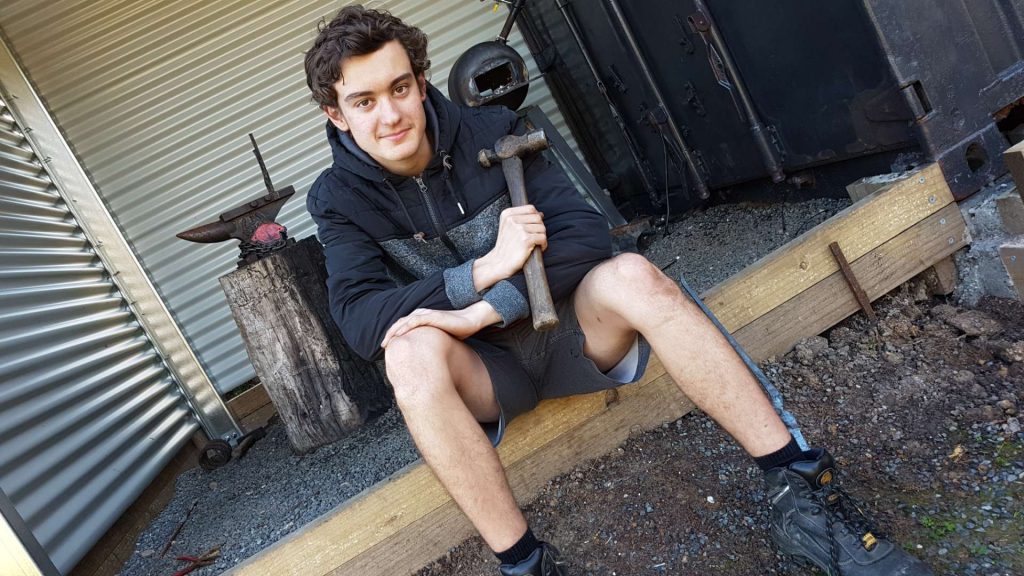 Birthday Gift
'After I had learned all the basics I then started to make Damascus knives. Then I heard about Wayne Saunders who used to give Blacksmith demonstrations at Timber Town and now runs Ironlord Forge in Wauchope. I really wanted to meet him.
'For my sixteenth birthday my parents surprised me with a two day one on one knife making course with Wayne.
'It was so cool! Wayne gave me some great pointers and advice and has helped refine some of the skills I had learnt – being self-taught it was great to have such a successful mentor share his knowledge.
I have loved learning about the different knives and forging processes like Damascus, which is where multi layers of different steel are stacked and melted at over a 1000 degrees then folded over each other multiple times using an anvil and hammer to fuse the layers together. Depending on how you layer, cut and stack the steel, it creates unique patterns on the blade once etched in acid.'
His Dad Sean who is a diesel mechanic, saw how keen Tyler was, and by now his mum, Kristy, realised he was careful and sensible as well as talented, so his Dad got a shipping container and they turned it into a forge at Christmas time last year with a proper furnace.
Serious Knife Making
'So in my spare time I started making knives. We are in a rural area with no close neighbours but then the bushfires came along and I had to quit due to the restrictions. However later I then got into knife making seriously,' said Tyler.
Tyler now buys top quality steel sheets from a metal supply shop in Sydney. He handcrafts some of his own tools and all his own handles, often from recycled timbers. Tyler has had several clients send their own timber which has special meaning to use as handles, like timber from a grandmother's farm, timber from the spoke of an old wooden horse cart that has sentimental attachment.
Tyler has a growing band of customers. His first customer was his schoolteacher who opened his eyes to this passion.
'My teacher heard what I was doing so he was one of my first customers! I then set up online – https://www.facebook.com/kustomknivesandknickknacks/
 and a Facebook site and I sell a lot through 'Buy from a Bush Business' and 'Spend with Us',' he enthused. These initiatives and platforms have provided Tyler and his new business with followers and customers all over Australia.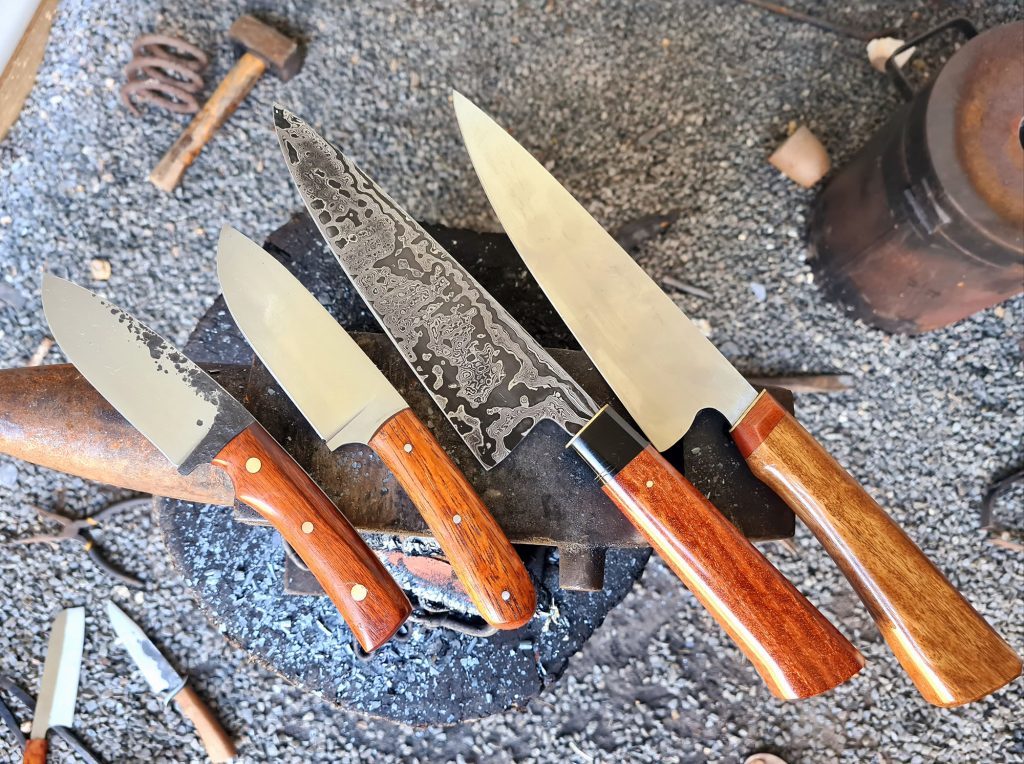 Chefs Finding Him
'Yes, I have some chefs who use my knives and give me feedback, they seem to enjoy them,' Tyler says modestly.
His knives can be personalised by setting initials into the wood handles using a brass sheet stamp polished to a mirror finish and set in the wood, which Tyler modestly says, 'Looks really good.'
So has Tyler found his path in life already?
Answers Tyler, 'It would be cool to make it a career but as for pursuing a living from knife making, I think only 10 people in Australia do it full time. It's very time consuming and takes days and sometimes weeks to do each knife. So to earn enough money to make a living would be hard even though they cost a fair bit, but the time money, effort and care that goes into them is a lot.'
Prices range from small everyday knifes that start at around $120 but the kitchen knives start at $200 whilst bigger knives and Damascus knives can go up to $400, or $700 for something like the Serbian cleaver he is currently making to order.
One suspects Tyler will always be doing something with his blacksmith skills, but a future career?
'I'm aiming to go to University and do something like engineering design perhaps,' he says thoughtfully.
Whatever Tyler Budden sets his heart to, this young man will no doubt forge his own path to success!
DM