A common rat or a whimsical and smart rakali?
Meet Chontelle. . . .
From dolphins, sea turtles and whales, to crows, terns, pelicans and seagulls, many different creatures can be seen along the Stockton Breakwall, in Newcastle, NSW.
But look closely, the more commonly seen – and controversial – sight along the Stockton Breakwall are the local stray cats that have called the Breakwall home for at least the last 60 years. Elderly members of the community have stated that they fed the cats as children, as they've "always been around." .
All the current and past cats have been the result of the dumping of un-desexed cats inhabiting the Breakwall. This is where the "Stockton Breakwall Cat Rescue & Pound Babies Group" as well as a sister group, "The Stray Cats" come in for attention.
For approximately two years, every morning the cats have been fed by members of these groups to enable the cats to be caught, desexed and re-homed, currently bringing the original population down from approximately 100 cats to around 40 current individuals.
Through my time spent on the wall where I photograph and raise money via calendars, bookmarks and more, I have only just recently discovered a lesser known creature known as the rakali, and observed an intricate co-existence between this water-rat and the stray cats – the need to eat.
Rakali
The rakali is a native Australian water-rat, and is known as our sunburnt country's otter equivalent because it resembles an otter in many ways; it's hind feet are partially webbed, it has an elongated body with a thick, strong tail that it can use as a rudder in the water, it's fur effectively repels water and it has a rounded face with an abundance of thick facial whiskers.
Dozens of people from the general public that I have spoken to believed the rakali to be a common brown rat and paid them about as much attention and contempt as one would show to a mouse found beneath their kitchen sink. (One easy way to tell the difference between a rakali and a common rat, is the tail – the end of a rakali's tail is white, while a common rat's tail does not feature this colouration).
Since I have photographed the rakali and shown the images to locals, they to have shown adoration and love for the rakali and it's cute, wide-eyed appearance.
As a species, the rakali is widely distributed and can be found in every Australian state as well as several offshore islands.
The rakali usually eat fish, crabs and mussels to name a few, while they are also quite partial to pet food when it is available. Remarkably, they have also discovered how to eat cane toads without coming into contact with the toad's poisonous glands – they flip them over onto their backs before eating them.
Life on the Breakwall can be brutal – king tides, horrendous storms, substantial winds and cold temperatures can make life incredibly dangerous, but both the cats and rakali take shelter amongst the recesses and crevasses that make up the underbelly of the breakwall. Together they seek warmth, and dry, dependable pockets amongst the rock and chunks of concrete to live out their lives.
In the mornings they come out together, waiting for their daily breakfast to share. Once, I witnessed kittens amongst the rocks and a rakali coming out from between the rocks to share the food they were eating; they sniffed each other a few times before they all continued to feed.
The rakali can sosmetimes be seen sitting atop a rock beside the pathway, enjoying some food while the cats sun themselves on the rocks around it.
Through my photography I have show that the "rats" along the wall are far from common brown rats as everyone assumes they are – the rakali is a stunning native whose intelligence is quite remarkable. I have seen a rakali pick up a piece of dry kibble and nibble on it, before then deciding that it was too dry and dunked it in the water left out for the cats until it softened!
However, the universal dangers that impact not only the rakali and cats, but birds and marine life along the wall and beyond, include discarded fishing hooks and line, plastic bags, cigarettes, beer bottles, drink cans, rat bait and other everyday items both deliberately and carelessly discarded, despite the threat to the public and the natural environment. Whether careless or deliberate it is a great pity.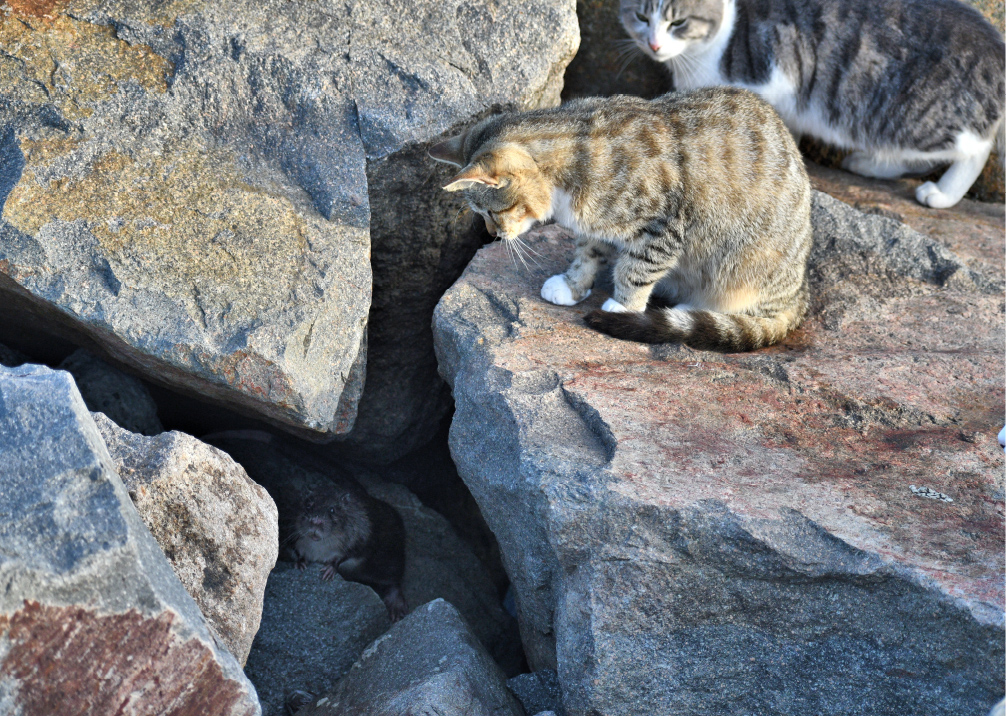 Chontelle Burns.
Stockton. NSW
And a little background on Chontelle. . .
"I grew up on a hobby farm in Wattle Flat. Growing up in the country, I was always involved with pets and native wildlife, including raising kangaroo joeys, chickens, lambs, guinea pigs, dogs, pigeons and more. I have spent my entire life working different jobs, but the one constant thing I've had is my love of wildlife. It was sparked when I was just a year old, after begging my mum to let me watch Sir David Attenborough's Wolves of the Sea. Since then I have been cage diving with Great White Sharks in Port Lincoln, South Australia and travelled on my first solo overseas trip to Antarctica back in 2015 at the age of 20.
I'm currently out of work due to Covid-19 unfortunately, but I volunteer with both ORRCA (marine mammal rescue) and Stockton Breakwall Cat Rescue & Pound Babies. I photograph and document the local stray cats on the Stockton Breakwall, plus marine mammal strandings and rescues around the Newcastle area. I have been lucky enough to come across the rakali in my volunteer work in cat rescue. Since discovering them on the breakwall, it has encouraged me to research and study their behaviour.
My passions in life are photographing the world's flora and fauna, and writing short stories. In 2020, I received a Commended Award in the Australian Photography Magazine's Photographer of the Year 2019 competition, for a portfolio consisting of two Breakwall cat images and two Tasmanian Devil images."