I have many fond memories from when I was a child of being out in the garden with my parents and grandparents playing and learning about where food on the dinner table came from (as I'm sure many readers might recall and relate.) The excitement of planting a seed, caring for a germinated plant and the satisfaction of harvest is a feeling that never dims. 
When I was 16 was probably when I was most chuffed with myself as I experimented with things I had learned outside with my father in our veggie patch.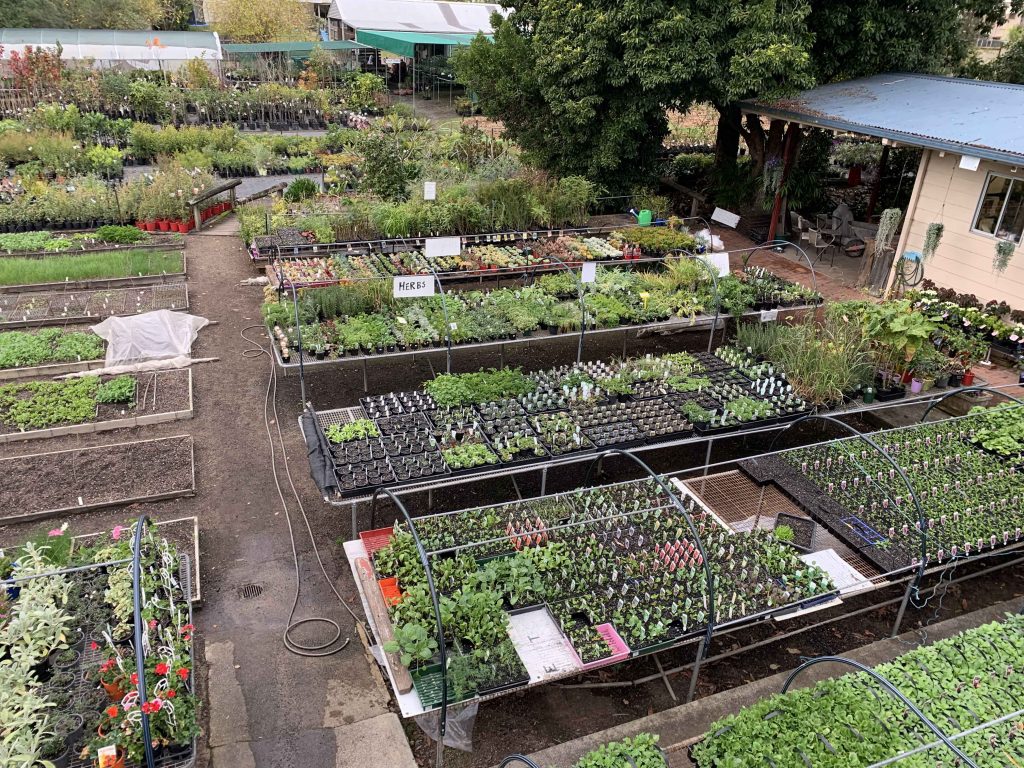 He taught me how to keep seed, sow, and look after pumpkin vines for maximum health and production. I'm not so sure he fully comprehended how serious I was about growing and selling but the soon learned!
Before he had time to put his corn, beans and tomato patch in, I had already planted pumpkins in it. To this day he has said he "didn't mind" but I'm sure he became sick of eating pumpkins by the end of summer. 
It would surprise you just how many different ways pumpkin can be eaten and used! However, with these barrow loads of pumpkins I was able to sell them and then purchase my very first car on my own. And the satisfaction and accomplishment has stayed with me ever since.
For me gardening and simply getting your hands dirty inspires forward thinking, responsibility, self-confidence, passion and creativity.
Now in my 20's I've come to realise that those experiences were not shared by all in my generation. This is often highlighted when I spend time with friends working in hospitality or just at my everyday job working at the nursery.  When friends started working in the food industry either as trainees or apprentices or for work experience, some of their tasks might have included fetching some herbs from the on-site kitchen garden. They tell stories of being absolutely terrified when asked to bring back some Thyme or Oregano as a suitable garnish. 
It wasn't the presentation that they were worried about, it was simply making sure that they came back with the right herbs. The ones that still work to this day within the industry bought back a little of everything in the garden red faced or used Google images as a reference on their phones before returning. And although they were quick thinking and innovative; it makes me realise that my time in the veggie garden as a kid had taught me a lot more than just about growing food to eat, but how it can be applied in other parts of lives such as career paths. 
Even at the nursery; I never get tired of kids smiles and passion whilst telling me just how successful and tasty their first ever try of growing watermelon, or the astonishment at the realisation that broccoli is in fact unopened buds of yellow flowers, or that corn is related to grass. The wonder and amazement that can be gained from horticulture is so inspiring and are just some of the reasons why I love my job. It encourages me to write about ways to get kiddies out into the garden and excited about veggies again. So, they can have as much fun as I and many others had growing up!
But getting kids involved in the veggie patch is not just therapeutic and a good learning tool; it also encourages healthy eating. It's a well-known fact that kids can be fussy eaters, especially when it comes to vegetables. 
Research conducted by the NSW government explains a whopping 56% of primary school students and 80% of secondary school students are not consuming the recommended daily amount of vegetables. If indeed hardly at all!
So, how do you get kids to put aside the processed food and pick up something healthy? There are several ways, but Queensland Health suggests that one of the most effective ones is by getting kids out in the garden. 
So now that the school holidays are well on their way and spring has sprung with a bit of recent rain to soften the soil (with hopefully a bit more on the way!) we can encourage the next generation into the garden and inspire them! 
At Wingham Nursery we grow all our vegetable seedlings on site-not freighted interstate or grown in a hot-houses; so they're already hardened for our climate and are economical to buy. We have everything suitable to grow now whether you're looking to get kids growing things in a few pots on the patio or a full-size market garden to feed the family and neighbours.
OUR TOP 5
Here's a list of five vegies you can grow with your kids. Each of them is a fast-growing plant, so your kids will be excited by quick results. 
TINY TIM TOMATOES 
The ideal kid-sized snack, these juicy little cuties have all the health benefits of a delicious tomato, such as antioxidants and vitamin c, in a miniature form. This is a great option for growing in pots, troughs or raised beds, as the plants don't tend to grow much higher than 40cm.
LETTUCE 
Crisp, crunchy and full of fibre, lettuce is a versatile addition to salads, makes a great alternative to bread-based wraps and forms the basis of healthy dinner favourite, San Choy Bau. Kids will love picking individual leaves as they're needed – and you'll love that none of it goes to waste!
CARROTS 
Iconic for their bright colour and high in vitamin c, crunchy carrots make an excellent and easy to prepare raw snack. They're also a hit with kids in the garden, because of the surprise factor at harvest time – they'll love pulling up the leafy green tops and discovering the orange surprise beneath the soil!
RAINBOW CHARD 
Want greens with a twist? Rainbow chard's stems come in a wide variety of tones, including red, orange, pink, purple and yellow. Kids will be so excited by the home-harvested rainbow on their plate that they won't think of any nutritional benefits – but you'll feel safe in the knowledge that it's a great source of iron. Fun fact – it's also known as rainbow silverbeet!
BEANS
Low on space? Try growing beans – they're climbers, which mean they'll grow happily up a trellis without taking up too much space in your garden bed. The pods, which are rich in potassium and B vitamins, make a great school Crunch&Sip snack, or can be eaten straight from the vine!
KEEPING THEM
ENGAGED
Once you've planted your little vegie patch, keep the kids involved and engaged by giving them specific tasks and responsibilities. You can divide tasks up among them, giving them each a specific responsibility, or you might choose to make each child responsible for a specific area in the garden. 
Make it their job to water, fertilise and check on their vegies regularly – they'll be thrilled when their little patch is thriving, all because of their efforts! In addition, it's a great way to open a dialogue around food and nutrition, toward harvest time, by asking them what meals they'd like to eat with their freshly grown vegies in and encouraging them to think about how they might like to help with preparation.
So aside from learning about the plot-to-plate process, there are several other benefits to getting the kids out in the garden. Gardening is a great way to teach responsibility – for example, by remembering to feed and water their plants, as above. It's also a great way to get kids outside, with the physical aspect of gardening helping to get them moving. 
Finally, gardening is a project the whole family can enjoy together, from the very early stages of starting a vegie patch all the way through to harvest.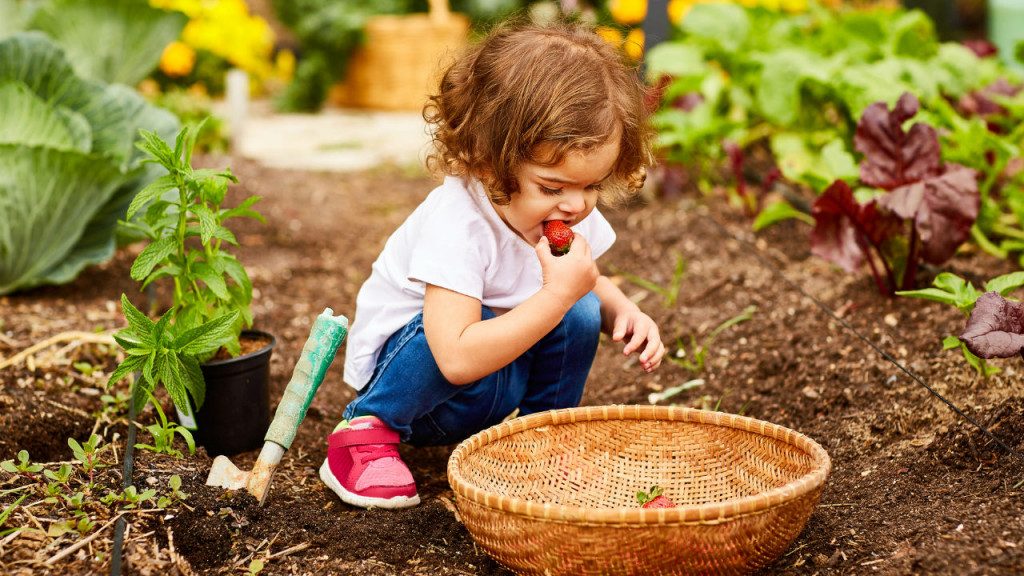 Happy gardening!
Caitlin Sawyer
Wingham Nursery
02 655 34 570