We asked Wingham resident, John Stockard, a member of the original team who fought to restore the Wingham Brush, and pioneered a world first in rainforest regeneration, known as the Wingham Brush Method, for the background story. 
Wingham Brush Nature Reserve is the site of the first formal attempt to restore a rainforest.  Prior to 1980, the forest canopy was blanketed in South American Vines and the forest floor smothered in a metre-thick cover of weeds, completely unrecognisable from how it appears today.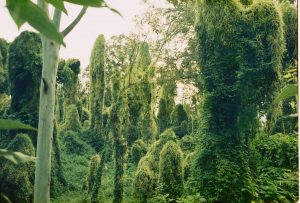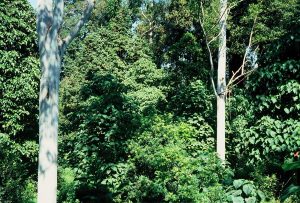 The restoration work resembled an archaeological dig at times, with bent saplings, just holding on, freed from these aggressive vines with secateurs and brush-hooks so they could stand up again and grow.  Some of the vines had extensive root systems with massive tubers and long pods of winged seeds.  Others didn't seed but produced thousands of tubers along their stems, each of which, falling down, started another vine which could grow over a metre a week in the summer.
The local team (See photo) developed a method for restoring degraded rainforest, pioneering careful herbicide techniques.  This is now known worldwide as The Wingham Brush Method and has been used in saving many other invaluable remnant rainforests.  Often only small pieces are left of once extensive stands, and the pace of rainforest clearance worldwide continues this fragmentation.
The irreplaceable Wingham Brush represents about a tenth of its type left in NSW.  This type of rainforest, the most complex ecological community in NSW, is at its southern limit on the Manning, and once covered most of our well-drained river flats up to Mount George.  Only Wingham Brush and Coocumbac Island remain of the many thousands of hectares which were cleared and burnt for agriculture; together they are the only representatives of their type along 400 kms. of coastline.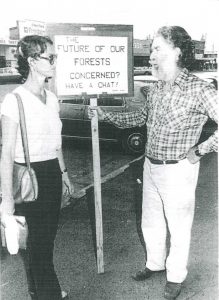 Our Identity
Wingham Brush Nature Reserve is the cornerstone of the town's identity.  Not everyone knows that our town's name, in keeping with the policy of using Aboriginal place names by the surveyors at that time, derives from the Kattang word "wingan", meaning "a place where bats drink".  This refers to the habit of flying-foxes swooping down, dipping into the river on hot days, roosting and then licking the water from their fur.
The name Wingham thus represents an outstanding landscape continuity stretching back countless thousands of years and this continuity is only made possible by the remnant forest of Wingham Brush, a threatened ecological community, being in turn a major maternity site for the also threatened Grey-headed Flying Fox.
Despite shameful and barbaric attempts to exterminate our town's namesake with organised shoots spanning 70 years, and a history of misusing and abusing our Brush, both battle on today against overwhelming odds.  It is purely accidental that a village in Kent shares our town's name.
Passed over as doomed to extinction, the Wingham Brush was finally restored by a Herculean effort from a small group of persistent locals over 20 years.  The team's work was the subject of the first scientific assessment, spanning five years, of an ecological restoration program, culminating in the gazettal of Wingham Brush as a NPWS Nature Reserve in 2000.  Wingham Brush is considered an icon in ecological restoration.
Needs Care
The precious Wingham Brush requires continual care and maintenance as it is very prone to reinfestation from a wide range of aggressive weeds, including the very weeds which had overwhelmed it and remain untreated within the catchment, washing down in floods. The Brush continues to be vulnerable to abuse and misuse by humans, not only deliberately from vandalism, but also from ignorance.
John Stockard