During much of my adult life, whilst living in Sydney, I have taken overseas visitors to two places.   One is The Snake Man of La Perouse, and the other is the Reptile Park, near Gosford.  People from Europe are fascinated by our dangerous snakes, and our marvellous lizards.  The snake pit at La Pa, or The Loop, as it was called,  was quite  simple, with corrugated iron sides (or were they thick rubber?), some weirdly writhing sacks, and John Cann –  the last snake man.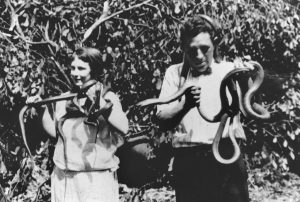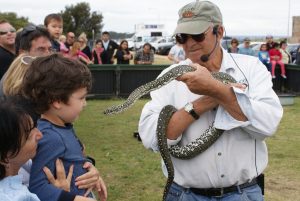 Firstly, when the show started,  came the lizards:  Blue Tongues, Shinglebacks, Bearded Dragons, Skinks and always a Water Dragon for the kids to pat. John Cann has one of these  still, which just sits in the sun all day, and is more than 40 years old.
After the lizards, out came the Goannas, so tame they would just lick a friendly person – but, one day, John Cann was bitten, and needed to have 22 stitches.   Next came a Diamond snake, commonly called a Carpet snake.
Then came the venomous ones – maybe a Death Adder, Red-Bellied Blacks, Browns, Copperheads, and Tigers, all the while being displayed and described with a showman's banter and deep knowledge of his favourite creatures.
Then, the hat 'did the rounds' for coins.
John Cann closed the Snake Man pit in 2010. His father, George,  had started it when he returned from WW2. The Canns had worked as "snakeys" for l00 years.   George had met John's Mum in a travelling show in Tasmania, where, aged sixteen, she was  billed as  "Cleopatra, Queen of Snakes."   
In the early days, another snakey friend of George Cann (who travelled widely to sell snake antidote)  asked  a friend,  a wealthy Englishman, to take over the La Perouse pit for him while he travelled to India. This man was Garnett See, whose late Uncle had been Premier of NSW.  It did not go well. Mr. See was bitten by a Brown snake on his first day, and died.    Many snake handlers were to die, though a few (including George and John Cann), became more or less immune after surviving a few bites.
During the last Cann show, on April 18, 2010 John took his liveliest Tiger snake, one that even he treated with great caution.  They were always lively snakes, for two reasons – one was to put on a good show, that had some action, the other was to show people to be very careful.   A snake that was too easy to handle might lead some people to think they could do it themselves on a bush walk.    This time the Tiger snake went for him, on his last day, and only his deft skill prevented the fangs from sinking into his wrist.  There's a video of it.
Aussie snakes and
human deaths
From January 2000 to December 2016, 35 deaths were recorded by the National Coronial Information Service.  Sixteen were the direct result of a bite, other causes listed as organ failure, brain haemorrhage, and heart attack.  Most victims were male, from 18 months to 70. And, more than half were trying to pick up, or kill, a snake, close to home, more than half in urban areas. Approximately 550 people are bitten each year, reported The Conversation, mostly called  "attacks", whilst usually  the snake is being defensive, and trying to get away.
I killed one on one occasion, on a property we owned outside Sydney, at St. Albans.  I was used to them being about, because some resident ones lived in the feed shed, which helped keep down the mice. It was hot,  I was in a bra, jeans and sand shoes.   We were building a small cabin, and a Brown snake suddenly slithered out .  To this day I can remember the adrenalin kicking in fast, and something almost prehistoric took over.  I got hold of a spade and took to "the evil thing".  It was fast, trying to get away, but I finally smashed it to death, with repeated blows somewhere near the neck.
Poor thing.  I was old enough to know just to let it slither away…but I guess having a baby asleep in a cot inside boiled up into some kind of deadly instinct.   I still think about it.  I am sorry, Snake.  Later I was to find a few snake eggs in the kicked up sandy bush soil.
Years later, in Boggabri, the paddocks and long grass areas were full of brown snakes, and we only carried long sticks to bang and swish to scare them away. And we wore high boots.
The Inland Taipan, or Fierce snake  is by far the most venomous snake in the world.  Then comes the Coastal Taipan.  Different snakes produce different venom and, even within a species, each snake may have its own "personality" or temperament.   The most likely to attack  are the Brown snake and the Coastal Taipan.
Some can become quite "tame", and so are only useful for some kinds of showmanship.  In his book, John Cann tells the story of his father putting a particularly docile one into his mouth.  Well, it bit his tongue, and it swelled so badly that George had to be fed soup and water, with a straw, for days.
There's an interesting story of a Mike Willesee documentary, in which a huge and very angry Brown snake was furiously striking at everything it could.  It bit itself in the back and died! That must be on video too, perhaps.
The early days, Snake Pit Sydney
John Cann grew up when Sydney was a different town.  There were lots of snakes around the harbour shores, and thousands near Long Bay Jail, not far from La Perouse.   A bit nearer to the centre of Sydney, the Chinese market gardeners would pay him to get rid of some snakes from their vegetable paddocks.  He caught hundreds, and kept them in a big, deep pit in his back yard.
In my suburb, old Manly up near North Head, and then rural St. Ives,  there were sometimes stories of a dunny man being bitten or just frightened whilst doing his night-soil duties.  We got an indoor toilet very early, as my mother was a refugee from Europe,  and terrified.  The 50s were days of the rabbitohs, fishos, and people who came round selling long  forked branches  to prop your washing line up in the air.
Australia has the five deadliest snakes in the world,   and still several people die each year.  Many, however, are bitten, may even become sick, but survive. This is largely due to the work of Eric Worrell, at Gosford.  He is the hero in the background of this book, a journalist who would later open the Australian Reptile Park near Gosford in l959, which can still now can be spotted by the huge dinosaur looming out of the bush near Somersby.  Eric Worrell came to the Cann home every fortnight to milk snakes for their venom, for use in his research.
He learned how to make an anti-venom, (and this changed the old methods of slash and suck),  and this has become a standard treatment in hospitals.  If you get there quickly, you may feel a bit sick, but you'll recover quickly.   Eric Worrell was given an MBE for his work.
In earlier times, tourniquets were used , then came good strong pressure-bandages. Now,   the recommendation is to stay very still,  and have someone to drive you to meet the ambulance.
The biggest snake John Cann's father ever caught was a 2.4 metre Red-bellied Black snake.  It lived in captivity for 18 years, but it might have been 40 years old when it was caught.  No-one knows.
The shows at La Perouse were fascinating, as were the surroundings – Botany Bay, the Pacific Ocean,  Bare Island, the National Parks, the oil  boats heading for the big Caltex refineries.   But we knew that the water in Botany Bay was dangerous, mostly because of industrial pollution sent down the river over the decades.
A final story from this book.  At The Loop, most visitors were enthralled, if nervous, the children delighted.  But, once there was a very drunk man making a nuisance of himself.   Finally, Mr. Cann picked up a Blue Tongue lizard and walked over to the Drunk.  Cann  opened the lizard's mouth and closed it  down  on the mans hand.  The intoxicated man started screaming and dancing about, convinced he was about to die. He did not.
Janis Balfour.
Much of the information here was taken from The Last Snake Man, by John Cann, with Jim Thomson.  Other, from general reading and Life.
 Thank you to publisher  Allen and Unwin for the photographs.  RRP: $32.99