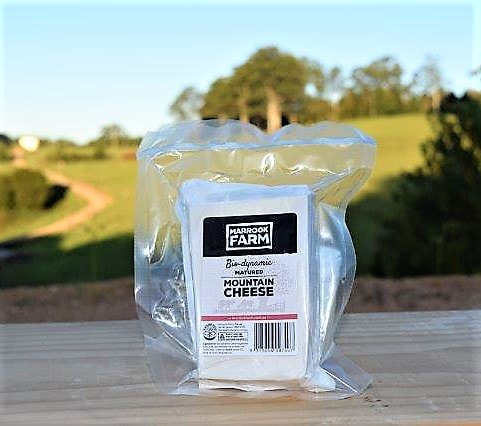 Our nutritionist, Lydia Irving, interviews Heidi Falding, of Marrook Farm.
Pure and simple, these are the words Heidi used to explain Marrook Farm's ethos for yoghurt making. Made from the most pure of ingredients, and simply delicious, is how I interpreted that phrase. David's and Heidi's Biodynamic yoghurt, cheese and kefir are incredibly pure and honest. However, after chatting to Heidi, I've learnt that the process is far from simple. 
I had the signal honour of interviewing Heidi about their fermented dairy products, how they came to be in Elands, and the importance of biodynamics.
Marrook Farm is a Biodynamic Farm, that is located on the Bulga Plateau, on the edges of Elands. Heidi and David were attracted to the clean air, water and soil that is Elands. This year marks the 20th year of Heidi and David making the most delicious and nourishing fermented-milk products such as yoghurt, kefir and cheese. This year also brings for them a new processing factory, that is located three metres from the dairy where the cows are milked. You can not get fresher milk than that!
As a nutritionist, it is not just what the foods are, but more so where the food comes from, that decides whether it is good for you or not. The nutritional difference between the milk from a cow fed grain, and a cow fed grass, is significant. The grain-fed cows produce more omega 6 fatty acids (which are inflammatory and are linked to heart disease), whereas grass fed cows-milk contains more omega 3 fatty acids (which are anti-inflammatory and protect brain health).
The best way to consume dairy is in fermented form!
Yoghurt and kefir are both probiotic (good bacteria, which supports digestive health) foods that are rich in diverse microbes. Cheese is less a probiotic food, but rather a very tasty and more digestible way of eating dairy (meaning the nutrients in cheese can be unlocked by the digestive tract).
What is Biodynamic?
This is about making milk products from the ground up, literally, as I will soon explain. Marrook Farm is certified by the Australian Biodynamic Demeter Standard, and adhering to this system  is the most fundamental part of what Heidi and David do on the farm. Biodynamic farmers work with nature, and observe the natural environment closely, it says on their brand new website. When I asked Heidi more about it, I realised it is quite simple in theory, but not simple in practice. Maintaining and enriching the health of the soil is the most essential aspect of biodynamic farming.
There are absolutely no shortcuts when it comes to the laboursome task of biodynamic farming. "What you put in, you get out!" says Heidi in a tone that reveals years of experience and knowledge of the greater benefits. Giving nutrients and life to the soil is important because… healthy soil, healthy grass, healthy animals means healthy humans.
Taking a Holistic approach to making food products is the significant difference between simple organic foods and biodynamic food. A lot of Organic farming is not thinking "holistically", as in healthy soil and upwards, but rather replaces conventional farming techniques with organic versions.
Fermentation
Yoghurt, cheese and kefir are all fermented foods. In modern Australia, fermented food is not a rich part of our cultural identity. In fact, when I teach fermentation classes, I often have to ask people to unlearn what they know about "cleanliness and sterility".
Heidi remembers being exposed to fermented foods from a young age. Her mother was a "health food fanatic" and knew the health benefits of properly made yoghurt. However, having arrived in Sydney from Switzerland in the 1960s, her mother found it hard to buy genuine probiotic yoghurt. Heidi reminisced about how it was a big deal to journey all the way into the city of Sydney, to get real yoghurt.
How is Marrook Farm's
yoghurt made?
Fresh full fat, biodynamic, unhomogenised milk is mixed in with yoghurt culture. This culture contains lots of good bacteria that feed off the milk, converting it into a thick, sour (delicious) and longer-lasting product.
Most of Marrook Farm's yoghurts are pot set, which means the milk ferments in the jar, forming the liquid on top, called Whey. This is what I encourage people to look for on labels, as it often means that it contains probiotics. The only yoghurt that is not pot set is Greek Yoghurt, which is hung up in a bag to let the liquid whey drip off. This is how the Greeks achieve such a delicious, creamy consistency. No added thickeners, emulsifiers, preservatives or sugars!
Differences between Supermarket Yoghurt and Marrook Farm Yoghurt?
A concern both Heidi and I share is that yoghurt is now associated with being sweet and coloured. However, that is just because of all the added sugar, flavouring and colouring. These non-pure ingredients are a significant concern to your health and well-being as a consumer.
Pure Ingredients
Did you know that food companies don't have to label everything that is in your food? Especially if the chemical or substance is added to aid manufacture, such as "Anti-foaming agents".
This is something Heidi and David learnt when they had extra frothy milk, and were advised to add anti-foaming agents to assist this process. They, of course, did not. At Marrook farm, they label everything that is put into their products, which is just the culture and milk.
Furthermore, most of the yoghurt in the supermarket is re-pasteurised meaning all of the microbes are killed, and the probiotic benefits of yoghurt are gone. This, in my opinion, defeats most of the purpose of eating yoghurt.
What is Dairy Kefir?
Thanks to the increasing awareness of gut health and the role of fermented food, a market has been created for David and Heidi to start making Kefir. The name "Kefir" is derived from the Turkish work to feel good. This is exactly how I feel when I'm consuming dairy kefir on a regular basis. Kefir contains three times more probiotic species than yoghurt, which means it has a lot of health benefits. Food really can be medicine!
Marrook Farm Products
Of all the dairy products that they make, kefir and yoghurt are for daily consumption, whereas "cheeses are more of a delicacy food" says Heidi. There is a full list of products on the Marrook Farm website, (which is looking very snazzy, if I may say so). Their products are currently sold all over Australia and, in the local area, can be found at Granty's Fruit and Veg in Wingham, Taree Go Vita and Hallidays Point Foodworks.
On living in the Manning.
"It's the beauty that holds us here" Heidi shares fondly of the Bulga Plateau. They initially arrived in Elands, having come from the Upper
Hunter, where pollution from mining was impacting upon the quality of their environment. The search for clean water, air and soil to build a biodynamic farm that continues to nourish the soil, led them to Elands.
The natural beauty of the Manning Valley and its surrounds is something I am sure we can all agree on. Therefore, encouraging more farmers to support and enhance the perfect processes of nature, will ensure optimal health of the Manning's environment and inhabitants.
As a nutritionist, I understand the nutritional importance of consuming 'local' produce first and foremost, that is ideally biodynamic or organic. Supporting local farmers, who look after the environment, is great for the local area, as well as the health of our community. So it is win win! We support local farms like Marrook, and they continue to grow and develop products that support our gut.
Oh, and I must mention, thanks to my sister, coincidently walking in with a jar of Marook Farm Golden Kefir (I have taught her well), I am fortunate enough to be enjoying some liquid gold, fresh from Marook Farm, as I write this. Thank you Marrook Farm for continuing to make such delicious and nourishing products. Love your guts!
For more information
www.marrookfarm.com.au
Lydia Irving  
Internal Instinct www.internal-instinct.com