Wingham businesswoman, Donna Carrier, runs a cafe and small art studio using Chalk Paint created by Annie Sloan to transform furniture.  Here Donna shares her trip to England to study with Annie Sloan in Oxford.
Chalk Paint™ is a decorative paint developed by Annie Sloan 25 years ago. It very rarely requires any preparation, such as sanding or priming, and can be used indoors or outside, on just about any surface. It can revitalise old furniture, walls, ceilings and floors with ease. It's easy, fun and makes amazing results accessible to everyone.
Annie trained as a fine artist and turned to decorative work after university in the mid 1970s, while being commissioned to paint murals in houses. By 1987, Annie had written the phenomenally successful book The Complete Book of Decorative Paint Techniques, which is considered to be the industry bible on the subject. Unable to find the paints that she wished to work with, Annie used her knowledge of colour, paint, pigments and art history to develop Chalk Paint(r) in 1990. In 2000, Annie set up a shop in Oxford to showcase Chalk Paint(r), run courses, and offer interior design services.
Born in Australia to a Scottish father and a Fijian mother, Annie moved to England to a farming life in Kent when she was ten years old. With spells in Southern Africa and connections to France, Cuba and the US, Annie has lived in Oxford for the last twenty five years.
Here Donna recounts her trip to Annie Sloan in Oxford.
"When I received my email from Annie Sloan headquarters in England  to let me know I had been accepted into a five day workshop in Oxford along with 17 others, I was both excited and nervous. I admire the work of so many creative stockists as they lovingly spend time creating beautiful pieces, upcycling old furniture, and training others. I do all this too, but mine is between making coffee, baking, and running my café in Wingham. I didn't know how much I was expected to know, but the excitement of meeting Annie Sloan was far greater than any of my fears. This was a fabulous opportunity and I was going to embrace it.
There are some cities that take your heart and Oxford is one of them. This city of thinkers is steeped in literary history, loved by students from all over the world and it feels just like a fairy tale for grown-ups.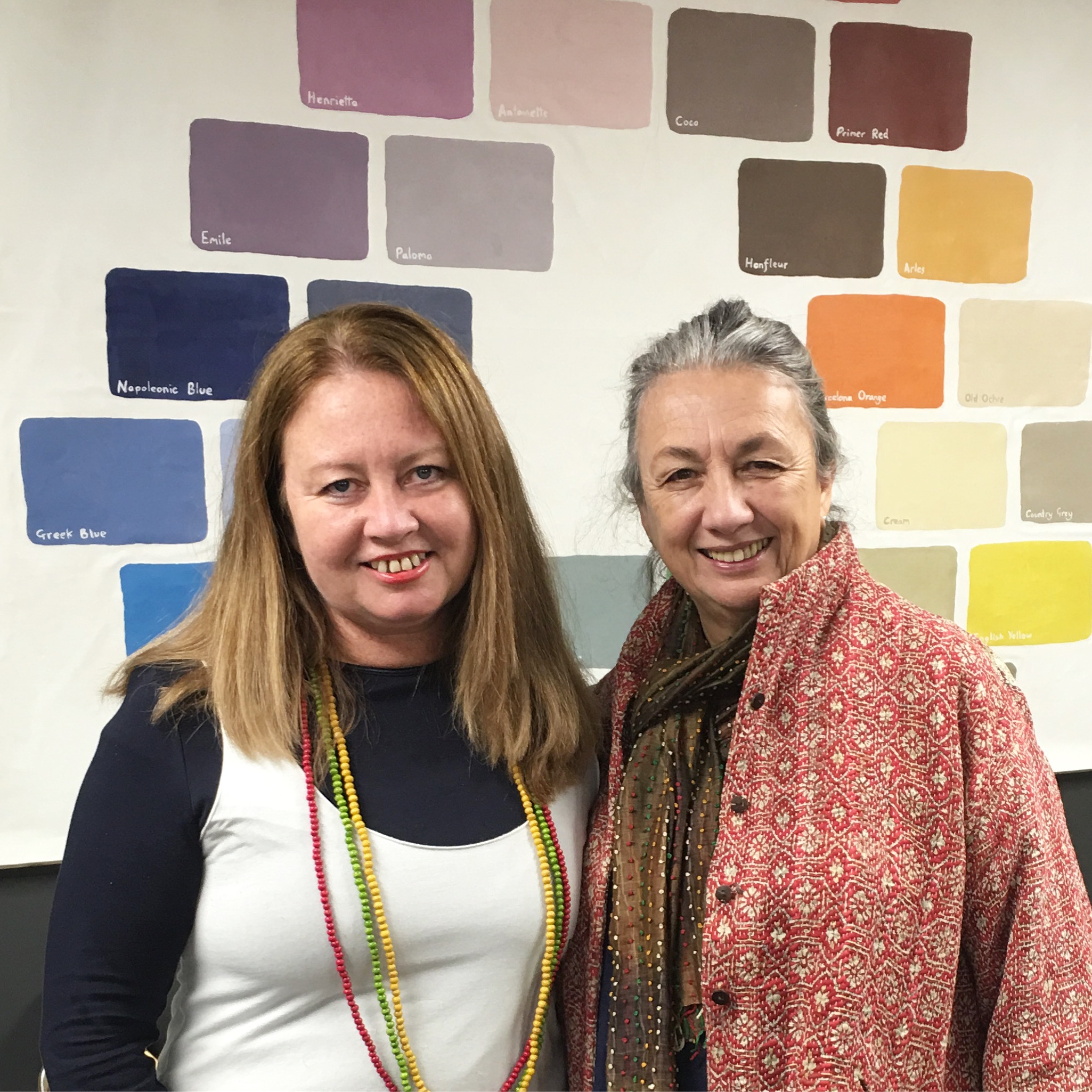 We arrived from Heathrow by coach and the bus stop backed on to a fabulous market filled with food trucks selling every International cuisine imaginable. I wanted to spend more time here, but we had just a few suitcases to manoeuvre. After booking into our accommodation, we walked along the Thames where students were rowing and playing rugby, jogging, cycling and just keeping warm.  It was cold but we were prepared, equipped with layers of clothes and the thermals that I dragged from the back of the wardrobe. That first day, we walked for hours taking in the sights, earning ourselves a Sunday afternoon beer which was apt as we had an important engagement that afternoon; we were meeting other stockists at the Eagle and Child, or as locals call it "The Bird and Baby".  This is the pub that was frequented by famous authors C.S Lewis and J.R.R Tolkien. Apparently, they would read paragraphs of their novels to each other for feedback. I felt like I was walking in the footsteps of so many famous authors and scholars whilst in Oxford. Every old pub told a story and we made it our job to discover the many layers of this city.
I was thrilled to arrive at Annie Sloan's warehouse and discover so much colour, in fact it is the inspiration behind my future refurbishment at the café. Colourful furniture and fabrics were tastefully but casually placed in the foyer, the workshop area and the lunch room. Staff were incredibly welcoming and I felt like I was in a good place. Annie Sloan is one of the most down to earth, talented, artistic women I have ever met, and after five days with her and her staff, along with fellow stockists, I felt like I had made many new friends and learnt so many new skills.
I thought I was there to learn some more fabulous techniques, but this five day workshop was so much more than that. As a business woman, the culture of the Annie Sloan Corporation was what impressed me the most. The staff were like one big family, but they knew what they needed to achieve and went over and above to do so. There was a bicycle program in place to encourage staff to ride to work, weekly yoga classes, French language classes and a staff kitchen equipped with everything they needed to make a healthy lunch. Everything and everyone was bright and cheerful, and this all came down from the top. Annie is extremely community minded and philanthropic with programs in place all over the world to brighten the lives of others. Chalk Paint™ by Annie Sloan has changed the lives of many and supported people, especially women, all over the world to achieve their business dreams and help others breathe new life into old furniture.
The Mega workshop included upholstery, upcycling, shibori and fabric printing, interior decorating and colour workshops and (of course) lots of painting.  My favourite day was the complete chair makeover where we pulled a chair apart, recovered it with fabric that we designed ourselves, and painted with chalk paint. In the future, I will be teaching this workshop and I can't wait to see others transform old chairs. Annie is a colour expert, and we spent a day working with colour. This was especially rewarding and helps me to guide my customer's instore. We ripped pallets apart and made a clock, and dyed fabric using the Shiboro technique. I learnt so much from the staff and the other stockists who had travelled from America, South Africa, Portugal, Hong Kong, Austria, Ireland, Sweden, The Netherlands, Finland, UK and of course Australia.
I already loved this product, it is the best chalk paint in the world, but a product is not only about what is in the jar, the tin, or the packet. Annie Sloan has spent 25 years creating a successful brand, with amazing stockist support, a creative spirit that flows on to all of us, a focus on the communities she works in, and a professional attitude. This is what has made the brand so successful.
She has a way of making connections, with an ability to communicate to everyone and at the same time make you feel like you are the only one in the room.
I learned a lot, plus had a wonderful time. Come and check out Annie Sloan's paints at our studio in the rear of Bent on Life!"