Acting Director of the Manning Regional Art Gallery, Rachel Piercy, and her husband Noel, have built an eco friendly home in Tinonee and haven't had a power bill since!
Q) What made you decide to build a Strawbale house?
A) We have always been interested in sustainable housing, and after years of research, we decided on a Strawbale home. We wanted a home which would use passive solar design principles, and remain warm in winter and cool in summer at a reasonable price. Using a combination of materials, we have created a home with an overall low embodied energy, high fire rating (tested by CSIRO), and a home which 'breathes'.
We also really like the thick rounded walls, wide enough to sit on the window sill, and also the low VOCs (volatile organic compounds) of all the products used in making straw bale.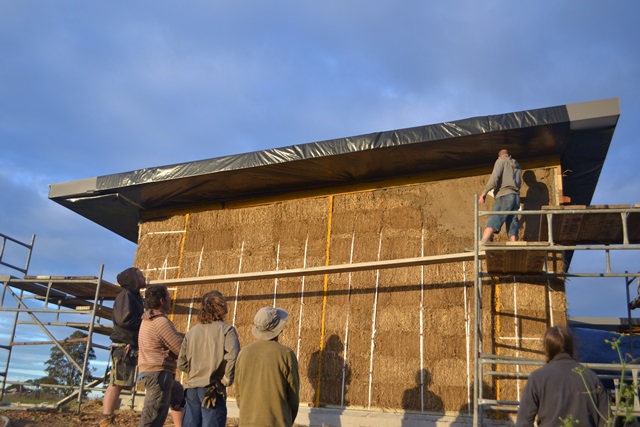 Q) Why did you choose a straw bale method of building as opposed to other forms of sustainable housing?
A) Initially, we were drawn to an Earthship, a house built into the side of a hill, facing north and with an earthen roof. If built well, this is probably the best form of sustainable living. However, our block had the wrong aspect for this type of building, as it slopes down in the west, rather than the north. The first principle of sustainable building is to use passive solar design in the initial plan.
We have orientated our house with the main living area facing north, with verandahs on both northern (for winter) and southern (for summer) sides. Doors and louvre window banks create cross-flow in all the rooms, and each bedroom has French doors leading to decks. The book and Australian federal government website http://www.yourhome.gov.au/ were invaluable in helping to design the home, as they create a checklist for your climate location, to make your property as energy efficient and liveable as possible. We also lived next door to our block for almost 18 years, so had a very good understanding of the local climatic conditions.
Q) Was it difficult to find a builder who would be able to build a straw bale house?
A) We did a lot of homework re building this house, but would not have been able to achieve it without the expertise, skill and encouragement of our builder, Matt Worth of Worth Building. We also engaged an expert team of strawbale builders from the Blue Mountains – Straw and Clay, to raise the walls and render the strawbales. We all went to the Blue Mountains to view different strawbale dwellings, and to see some construction of a strawbale home in action. Strawbale buildings use second cut rice straw, and we were able to locate a supplier in the Riverina which makes bales specifically for building. The insulating properties of strawbale are extraordinary and, for the Mid North Coast, mass installation is one of the best things you can do, as we have both extremes of temperature.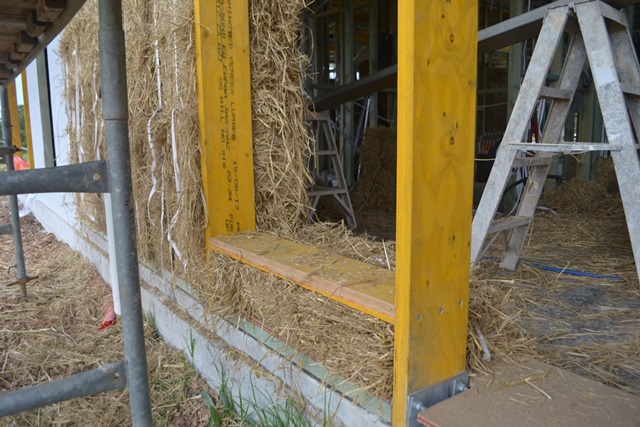 Q) Can you tell us how you build a straw bale home?
 A) Noel took long service leave to work as the project manager, and worked onsite everyday. Noel's project management skills (and a great team of local tradies) meant that the building process ran very smoothly, with the build being completed in 5 months. The building process was design, concrete slab, post and beam frame plus internal framing, roof on, then the first strawbale workshops to build the walls. This took a weekend of work with many willing friends and family helping out to put the 400 bales in place. Once the bales are in place, a first coat of clay (locally sourced) is sprayed onto the bales both inside and out. Each coat of render takes about 5-6 days to apply.  After approximately 6 weeks (to allow the clay to dry) the second coat of lime, sand and crusher-dust is sprayed on. Then after another six weeks, the beautiful smooth final coat of lime and sand render is trowelled on.  The rendering took around 8-12 months to dry completely inside, and is now a beautiful white that will never need painting.
 Q) Did you face any difficulties whilst building the house?
A) The polished concrete floors were probably the most difficult to get right. We did this ourselves and, in hindsight, would do it differently next time but,in the end, they look beautiful and are extremely hard wearing. Other than a few small design issues, the house is perfect and fits our lifestyle really well. We built the house for our family, and it is one that we can grow older in, easy to maintain and hardwearing.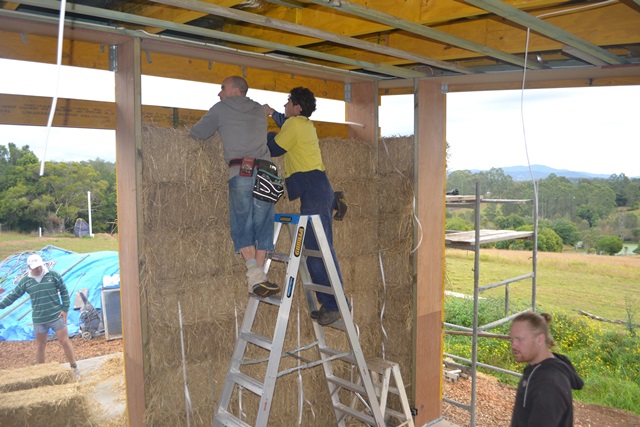 Q) What do you like best about the house?
A) There is such a lot that is great about the house, the design, the usability of spaces and the year-round comfortable temperature. The inside temperature is a consistent 19 to 24 degrees, with only the odd day in summer reaching temperatures which can be a little uncomfortable. Last winter, with a morning frost outside, inside was still 19 degrees – with no external heating; just sunlight heating the slab and releasing heat during the night. We installed in-floor heating but, since the house has performed so well for the last 2 winters, we haven't had to turn it on.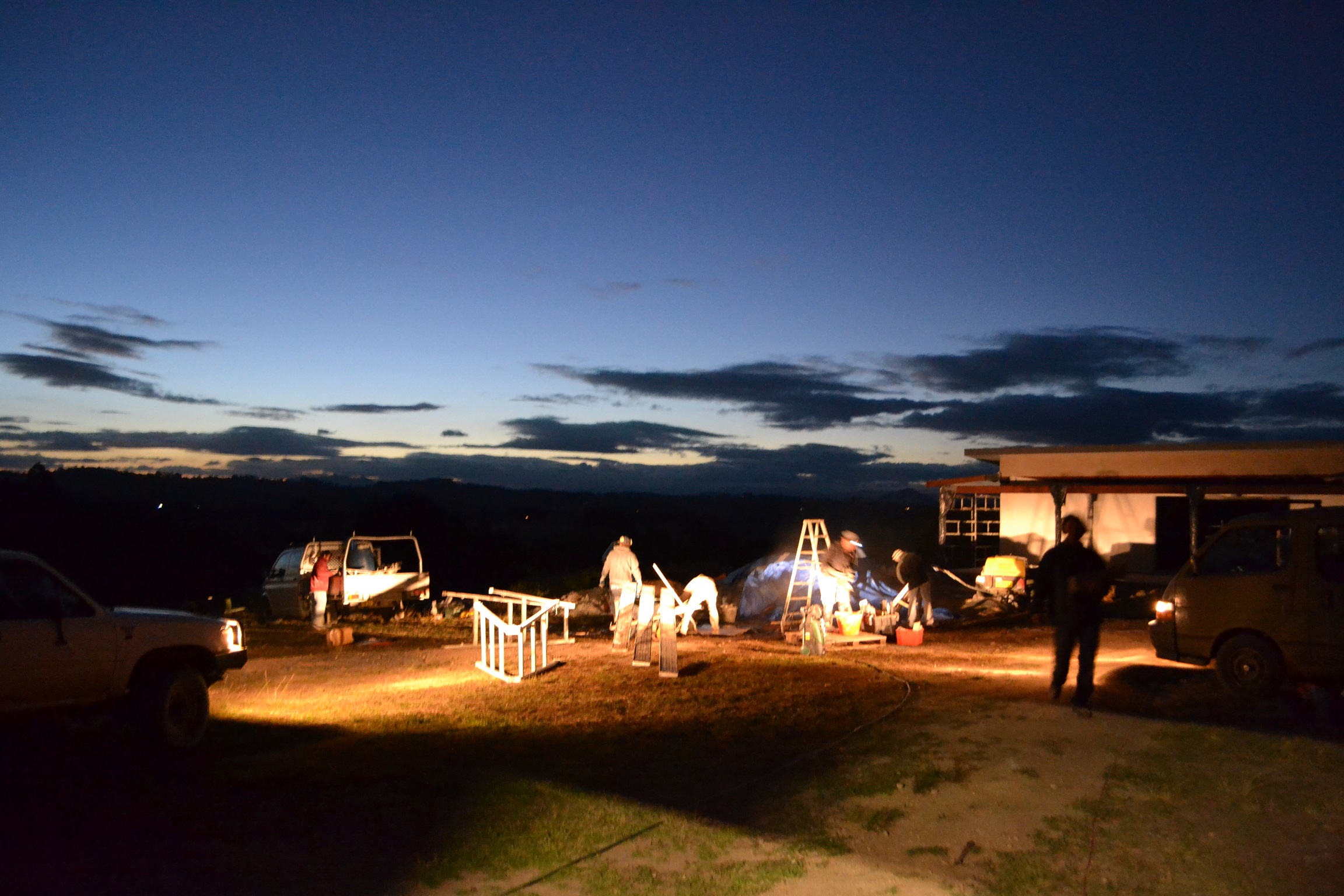 The curves of the wall around the doors and windows make it seem like we are living in a sculpture, with large window sills and 2.4m doors. The butler's pantry is great and the laundry is special as well. The house is very spacious and light, with very high ceilings. We  have plenty of space for everyone, as we deliberately made the bedrooms (3 + visitors/study room) large, rather than having a second living area. The main living is open plan, opening directly onto large decks looking out to the views.
Q) The house looks very contemporary, not at all rustic like one imagines a straw bale house to be. The walls are very exposed. How long will the integrity of the walls be maintained?
A) There are Strawbale buildings in America that are over 100 years old – and their walls are still in great condition. A variation of this cladding, is lime rendering that is used in Europe, and is much older. The walls are very tough and continue to harden over time, don't have any coating, which makes them breathable, as a natural home should be.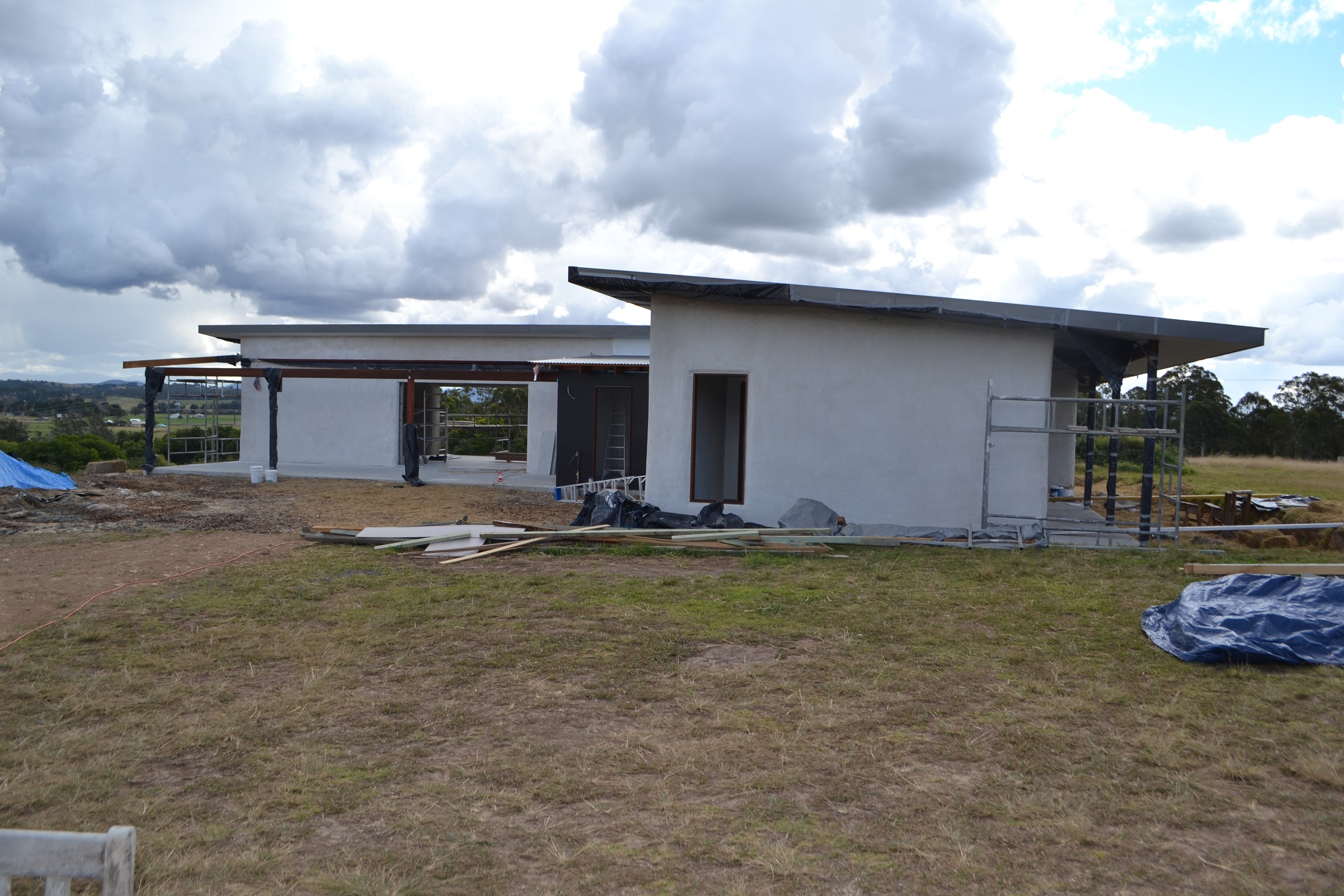 Q) I believe that you are self sufficient in power/water and waste treatment for the property.
A) Yes, we are. Even though the power lines go right past our house, the cost to connect to the grid was $25,000, compared with a stand-alone system at $30,000 which, with no more bills to pay, was a very cost effective option. Using a local solar company, which has 30 years industry experience, we have a 3 KW system, using 15 solar panels, a battery system, and a back up generator to protect the batteries and keep them topped up after a few days of rain/cloudy conditions. The life of the system should be at least 15-20 years – when the batteries will have to be replaced. We have used this system now for three years with construction of the house using solar power. We have all the power that we need, and still use appliances such as the dishwasher or washing machine during the day. The water tanks supply all the water for the house, we have gas for heating, and the worm farm deals with the house waste.
Q) Does it cost more to build a straw bale home?
A) Not really, money was saved by our being owner/builders (with lots of help), but the price worked out about the same as a home built from conventional materials.
It was a great family effort and we love our home, also knowing we are being as sustainable as we can.