There's a reason that the sun shines on New Zealand before anywhere else – every new day in Aotearoa is something to cherish!
Whether one is marvelling at the spectacular glaciers, or picturesque fiords, or simply relaxing in a thermal pool, New Zealand is magical on a Grand Pacific Tours Coach Holiday.
Relax in armchair comfort, as you travel through each region, feeling secure in the hands of a professional Coach Captain, whose reliable knowledge includes numerous stories, legends and many laughs along the way.
A New Zealand must-do is the subtropical Northland region, stretching upwards from Auckland, to the very top of the North Island. In the beautiful Bay of Islands, cruise the turquoise waters of the bay, encompassing 144 islands to the famous Hole in the Rock keeping an eye out for dolphins.
Visit cosmopolitan Auckland, the largest city in New Zealand. With World-class shopping, buzzing waterfront precincts lined with restaurants, a vibrant arts and culture scene and harbour adventures are right on your doorstep.
Couple this with a plethora of activities to enjoy in Rotorua – the hot spot of fascinating Maori culture, thermal springs and boiling mud pools. Try a delicious hangi feast cooked in the steaming ground while you're there!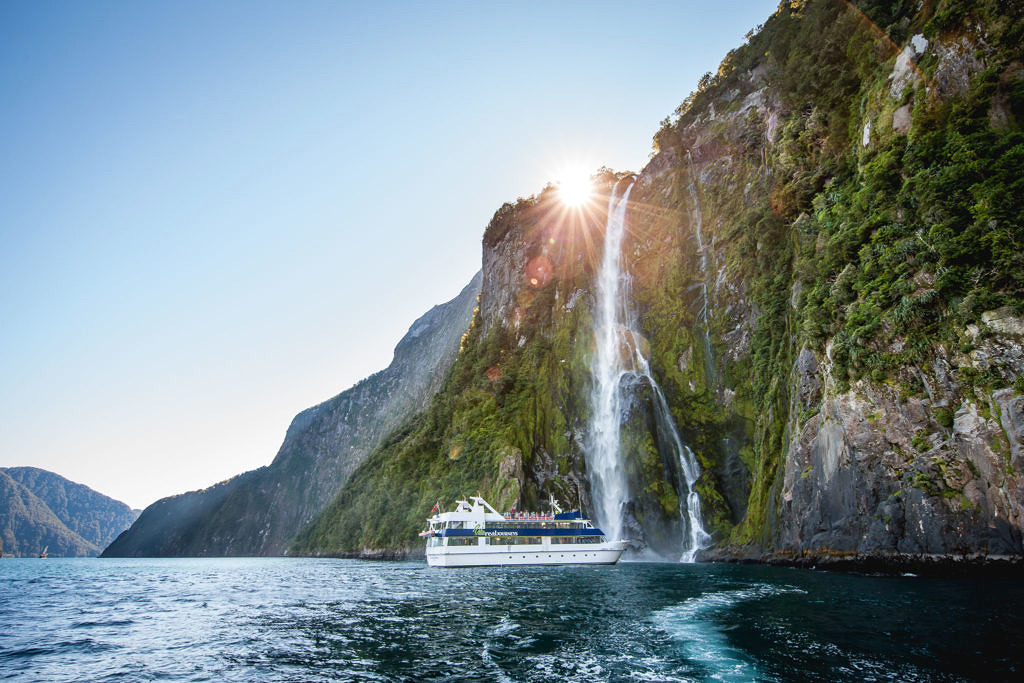 In contrast, the South Island provides a dramatic landscape, where towering landscapes meet peaceful sounds. Your holiday is not complete without a visit to one of the most stunning locations on earth – Milford Sound.  Described as the 'Eighth Wonder of the World', this magnificent fiord was carved by glaciers during the ice ages.
Other Southern highlights include Queenstown, the rugged West Coast, a place of rainforests and glaciers, and the garden city of Christchurch, the starting point for the world famous TranzAlpine Rail Journey.  It's a wonderful thought that you can have these experiences and share it with like-minded people. Start out as a group of strangers, and end up as one big family after just a few days, often providing the foundation for lifelong friendships upon return to Australia.
All Grand Pacific Tours holidays include airfares, taxes, hotel accommodation, most meals, plus a comprehensive range activities and attractions.
On selected departure dates, a FREE return transfer service, aboard their Kiwi ConnectioNZ coach from Taree and Tuncurry to Sydney Airport, is included to take out the hassle and added expense of getting to and from the Airport.
There is no better way to visit New Zealand!
Contact Lori Kirk, 02 9482 7722 Mobile: 0416 137 832  Email: lori@hornsby.italk.travel
(Advertorial.)