During the staging "ISABELLA THE PLAY" in Sydney, a magic moment occurred in the Cell Block Theatre ( the Old Darlinghurst Gaol) in Sydney.   Isabella Mary Kelly retraced the steps she had taken 157 years ago, to be wrongfully imprisoned, in this gaol, for stealing her own cattle!
In full view of a packed audience,  the actress Kath Palmer, as Isabella, walked grandly up the steps in the spotlight to sit proudly centre stage. Justice had been served at last!
This was the final scene of Isabella the Play, performed by 14 actors taking 16 parts, with violinist, Hugh Cowley, holding the play together, as did Noah Palmer with Lighting,  and Jack Donahue with Sound. It was a privilege to be part of this talented team. Alan Hughston, with singing and playing both Henry Flett and Joseph Andrews, David Plant with dual roles as Policeman and Town crier, Lyn Catt for her stunning costume designs and creations as well as playing a Gossip.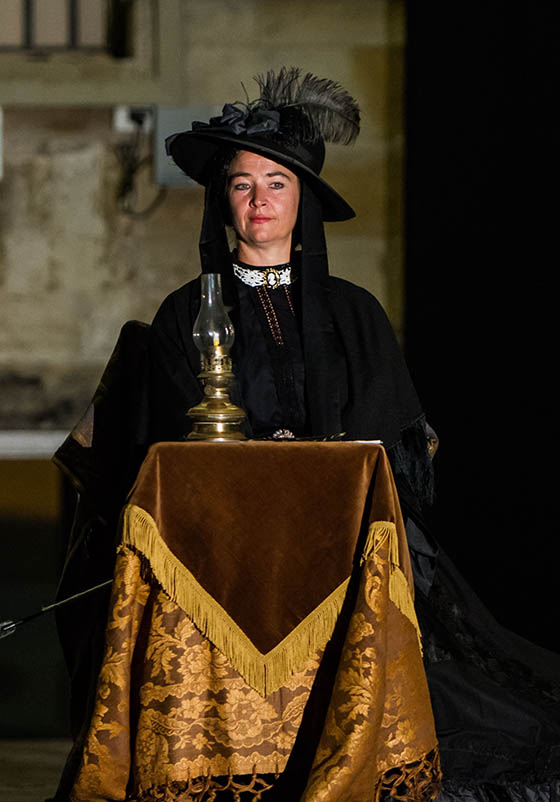 The audience loved booing Alan Catt as Skerritt, with Joy Obadin as his wife Maria and Scarlett Palmer as his daughter Rosie. The two Judges, Michael Clark and Kevin Carter, were perfectly cast playing with gravitas, Bush Poet Walter Heagney playing the Bush Poet was wonderfully at ease. Darcy Byrne was a very authentic William Turner and Rose Martelli wowed the audience with her vivacious barmaid role of Molly. Margaret Clark, playing the Newsreader, also gave a stunning performance as an inmate of the women's prison in the 1880s
The audience reaction was to agree that the play just HAD to be performed in such a unique historical venue as the old gaol.
And an audience member from Melbourne spoke for many when she wrote.
"It was really wonderful ! I loved the singing and the audience stuff. Great acting, and the story made me cry"
Thank you so much to everyone in the Manning Valley and surrounding areas for helping to make Isabella the Play such a great success.
Maggie Young (writer/director)
Wingham