He's a gentle man, softly spoken, with warm humorous eyes. Just the sort of person you can imagine as a kid growing up in Armidale who loved bugs, the bush and collected stamps. Now he lives quietly, adores visit from his grandkids, and appears to be enjoying retirement on his property at Bootawa.
Yet Jim Frazier has roamed the world's jungles, faced dangers most of us can only begin to imagine, won an Emmy, an academy award and an Honorary Doctorate, been given the Medal of the Order of Australia, had countless accolades for inventing an incredible and still unrivalled lens for movie and still cameras, and is friends with Hollywoods' rich and famous.
Some pretty good memories to mull over while puttering around his garden.
But as life would have it, in 2003 Jim faced a massive legal battle in a war with the patent piranhas of Hollywood.
How many times has the clever little guy in Australia come up with an invention that gets ripped off by the big guys in the USA? Too many, sad but true.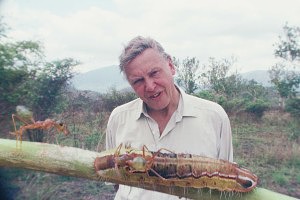 Back in the 1970s Jim and writer Densey Clyne were making nature and wildlife documentaries when David Attenborough came to Australia and asked Jim to be his cameraman. This began a long friendship and Attenborough frequently requested Jim be his cameraman on his famed TV documentaries.
Wildlife is never the most co-operative cast, and Jim began to wish he had a lens for his camera that kept everything in sharp focus from foreground to far horizon. He started to think about how it could work and approached government bodies for funding but even the CSIRO said his idea was impossible.
However Jim persisted and came up with a revolutionary design which has never been bettered and even digitalisation can't improve on it. Panavision in Hollywood, who supply most of the motion picture cameras, offered an exclusive deal and films like, Titanic, Jurassic Park, Mission Impossible, Tomorrow Never Dies, Mouse Hunt were shot with the Frazier lens.
But in 2003 Jim's exclusive licence and patent was challenged by a corporation in the US and a US judge, in what was considered an extraordinary result, ruled Jim's invention and patent invalid.
Patent Pirhanas
With the Australian film industry and Hollywood big names standing behind Jim, he fought on, until he saw he was one small fish in a river of pirhanas. His new patent and licence still hold good in Australia which he defiantly registered as the FU lens – the Frazier Ultimate. He says it's a closed chapter of his life, though he agrees a book about it all should be written.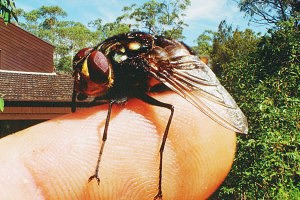 It took awhile for Jim to put this behind him, though speaking of it obviously still rankles. In his quiet way he is a fighter, and now he has taken on the biggest fight of his life – to try and raise awareness to save the planet. Film is the language he knows best and so he has conceived a series of magnificent films entitled "Symphony of the Earth."
'I am deeply concerned about the future generations of this planet and what they are inheriting. I have a concept I've been working on for years as I realised that going the political route won't work. Half the time it's politicians that get us into trouble. The real heroes of the people are musicians and singers and entertainers. They are the ones who get the message out there. Pull the biggest crowds. Music is the key, and my heart is in music and I've had a lot of experiences with music so I thought that's the way to go.
Ten films planned
I have conceived a slate of ten films that will get the message out there in a soft way, using very high profile people. I'll also do three hours of documentary of the making of "Symphony of the Earth". This will go to air first and with so many celebrities involved people will then want to go to see "Symphony of the Earth." Following the main cinema release there'll be a series of hard hitting documentaries about what is really happening to the planet.'
He cites the ongoing disastrous leakage of radioactive material into the sea from Fukushima that is making its deadly way through the world's oceans. He is very concerned at what is happening under the world's seas and in the Arctic and Antarctic.
'The seas represent 40 percent of our food supply yet chemicals, mining companies and the like are trashing the oceans. On the west coast of America there are hundreds of dead fish, seals, starfish and squid washing up. It's happening in all the places most people never see so don't know what's going on. The mainstream media never report it. They feature trivia not truth.'
Top Names to Contribute
Jim is approaching the worlds' top film directors like Spielberg ("He said he'd never go on a movie set again without a Frazier lens after Jurassic Park"), Ridley Scott, James Cameron among others, to contribute a sequence at their cost, to support "Symphony of the Earth". He's also asking high profile international cinematographers, musicians and composers to do the same.
'Obviously one has to pay people who have to work to put bread and butter on the table, but people who can afford it and have the capacity and the passion, will come on board. The problems on this earth are global and need global solutions. The films will go out in 16 languages and the celebrities appearing in them will be replaced by the Indian, Chinese or whomever in all the other parts of the world.'
Jim's main hook for the series of films is music and animals. 'I want them to film animals all around the world, after all it's the creatures who are warning us and calling out for help. I've been all over the world and I've heard sounds the average person would never hear. Every sound that can sync with a symphony orchestra is out there in the wild – brass, strings, wind and percussion.
'Once when I was in Borneo filming for David Attenborough we heard this trumpet coming from the jungle and I asked our guide what idiot would be out there playing a trumpet in the jungle? Turned out it was a cicada!' He laughs and adds, 'So what I want is to have a massive input of animal sounds and have a composer incorporate it into music with the musicians, singers and entertainers.'
His enthusiasm is infectious as he mimics the farting frog from Thailand and the parrotphernalia of parrot songs from around the world.
'It's all about entertainment,' he enthuses. 'No boring voice over which has to have subtitles.' He also has an idea to used blind singers like Stevie Wonder, Geoffrey Gurrumul Yunupingu, and the Blind Boys of Alabama to sing a song about their "vision" for the earth. He wants to include a jumping sequence, with not only animals but the magnificent Masai warriors jumping dance.
He wants to have actor Morgan Freeman recite a poem he's written.
'Imagine that beautiful voice, and Morgan is concerned about the planet too, he's taken up bee keeping as bees are endangered and are so vital to our food production.'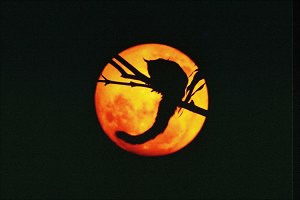 Jim wants to involve children dressed in traditional costumes also singing – 'Like those wonderful Qantas ads. But to do what I want for that sequence would cost millions, but now I've discovered the virtual choir, the inspirational international choir singing together simultaneously from all around the world that Eric Whitacre conceived. The children are our future.'
And how to achieve all this?
Partnership Offered
'If you believe in something so strongly, things can fall into place,' says Jim. 'I have just met a man in Asia who is as passionate about saving the planet as I am. He is also a significant player in the world of big business, but his heart is in the right place. His current campaign is saving the Bengal tiger. I told him about "Symphony of the Earth" which is set up as a not for profit organisation and he is offering me a partnership to get it made.'
Jim is hopeful this might be the way to go. He despairs that the Australian government has given 47 million dollars to American filmmakers to film here, which he says, 'Sucks the funding out of the Australian film industry for local productions…'
Jim looks pensive. 'I've spent my whole life travelling the earth and I saw the writing on the wall a long time ago about what is happening to our environment and I said common sense isn't very common and it's mankind that's destroying the planet, driven by greed and profit. How to stop it? Maybe it will take something like "Symphony of the Earth" to swing the pendulum the other way.' He pauses and adds quietly. 'I don't feel I can leave this earth until I've done this. I will give it everything I can.'
We're with you Jim!