Caitlin Sawyer is continuing the family tradition of a career in horticulture inspired by her grandfather Ralph Sawyer (Wingham Nursery & Florist) and her parents, Tanya and Chris.
Caitlin is currently overseas on a Sir John Pagan scholarship for Horticulture as YoungHort Ambassador and working at the Chelsea Flower Show.
YoungHort is an Australia-wide organisation inspiring young Australians to choose a rewarding career in horticulture. Their aim is to highlight the many different career paths in the Horticultural sector and the importance for more young people between 18 to 35 to take up the challenge of furthering their education through either TAFE or university courses.
YoungHort can actively assist them into a career by means of guidance and support.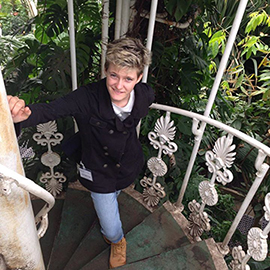 Says Caitlin, "This offers the opportunity to connect and network with people from the same demographic who are like minded and passionate about horticulture. It gives them the opportunity to create links within the industry at future conferences, have access to apprenticeship/traineeships offers before they are launched, interaction on the YoungHort Forum website, assist in the decision making for YoungHort's future and the future of the Australian Horticultural industry as a whole."
They may involve more creative fields such as landscape design, architecture and botanics or more science based fields such as production, nursery, pest and disease control. They may focus on parks and garden ecology or concentrate on one particular plant species.
These courses can be studied through TAFE and for full qualification a tertiary education course would be required.
Anyone of any age can become a member of YoungHort which gives access to newsletters, blogs, conferences, and a list of mentors who are experienced and passionate about the industry and offer support and guidance to students, drawing upon their own experiences and knowledge.
For details see www.younghort.com.au